Pärlor/Beads
Alison Nash - "Spike" the Beaded Hedgehog - Kit
Hands On Crafts for Kids - Pony Bead Crocodile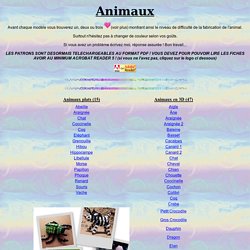 Avant chaque modèle vous trouverez un, deux ou trois (voir plus) montrant ainsi le niveau de difficulté de la fabrication de l'animal. Surtout n'hésitez pas à changer de couleur selon vos goûts. Si vous avez un problème écrivez moi, réponse assurée ! Bon travail... LES PATRONS SONT DESORMAIS TELECHARGEABLES AU FORMAT PDF !
FiA pärlerier
Pärlguiden - Community för dig som älskar pärlor!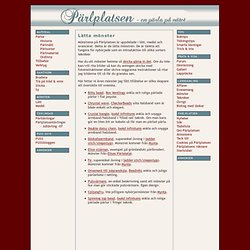 Mönstrena på Pärlplatsen är uppdelade i lätt, medel och avancerat. Detta är de lätta mönstren. De är tänkta att fungera för nybörjade som en introduktion till olika sorters tekniker.
Pärlplatsen - en pärla på nätet - Lätta mönster
٭ Free Patterns Cross Stitch Beading Loom Bricks Peyote Right Angle Weave Crossstitch Beadwork
Here are our newest free beading patterns that you can use to make beaded bracelets, earrings, necklaces, ornaments, and more. They cover stringing to beadweaving for beginning to advanced beaders. At least one new pattern is added to the collection in a typical week.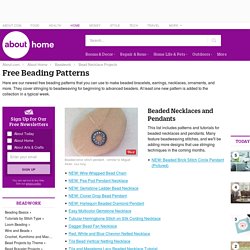 Free Bead Patterns from A to Z Links
Quick and Simple Projects - Beaded Rings and Beaded Headbands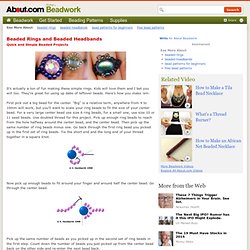 Quick and Simple Beaded Projects It's actually a ton of fun making these simple rings. Kids will love them and I bet you will too. They're great for using up dabs of leftover beads. Here's how you make 'em: First pick out a big bead for the center.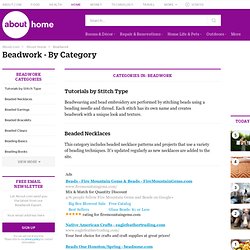 Free Beading Lessons and Beadwork Tutorials
Links to many great free beading lessons, free beadwork tutorials and beading help and how-to's can be found right here! Are you looking to learn a new beadwork stitch or to refine a beading technique? This is the place!
Startsida | Pärltorget - Pärlor på nätet!
Directory - Arts > Crafts > Jewelry > Beads
Smyckestillbehör, smyckesdelar & pärlor
Inspirationsgalleri : Sirlig Pärlor
Blogg | Pärltorget - Pärlor på nätet!
Billiga pärlor på nätet -Pärlgrossisten- glaspärlor till smyckestillverkning halvborrade sötvattenspärlor berlocker smyckeslänkar kedjor billigt göra egna smycken tillbehör
Elsas pärldjur