Speech ideas/ material/ vignettes
10 Steps to Become a Better Geek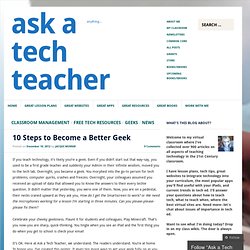 If you teach technology, it's likely you're a geek. Even if you didn't start out that way–say, you used to be a first grade teacher and suddenly your Admin in their infinite wisdom, moved you to the tech lab.
How would you describe finding meaning in the work you do? Would you say that work is most meaningful when you are developing yourself? Would you say that that you find the most meaning when you are expressing your full potential?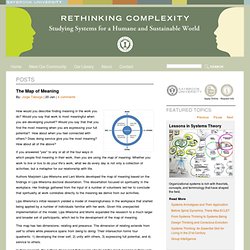 The Map of Meaning | Rethinking Complexity
In honor of the Labor Day holiday, we put together this little infographic as a visual reminder of the bottom line business value that comes from appreciating your workers.
Infographic: The Business Value of Thank You » Employee Engagement, Recognition and Reward Commentary | Globoforce Blog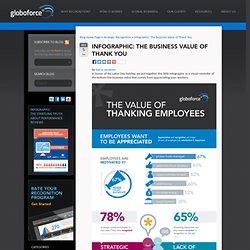 All the slow hedgehogs are dead
For fifty years, it was a national disgrace. Motor cars in the UK often left behind road kill. Hedgehogs would meander across the road and splat.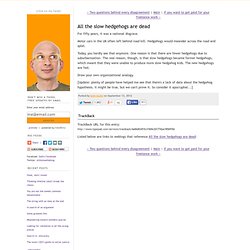 When Christopher Steiner, the 35-year-old cofounder of Aisle50, a Y Combinator startup offering online grocery deals, set out to write the book Automate This: How Algorithms Came to Rule Our World, (out tomorrow), he'd planned to focus solely on Wall Street.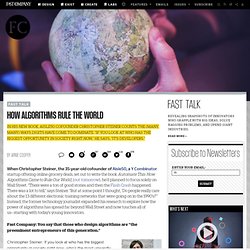 How Algorithms Rule The World
Richard Feynman on the Role of Scientific Culture in Modern Society
by Maria Popova "In order to make progress, one must leave the door to the unknown ajar — ajar only."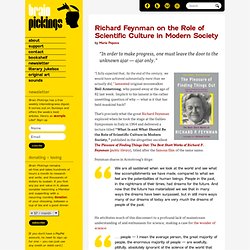 Yep, that's right, toddlers. There is no denying that technology is moving into digital natives earlier and earlier. Two years ago, it was cute to see a parent comfort a fussy 2-year-old by handing her an iPhone with some happy music and colorful images dancing on the screen. We imagined the tot was actually "using" the iPhone, but it was most likely nothing more than a digital pacifier. Something fun to hold, and touch, and feel secure about clutching… and put in your mouth.
Friday Fodder: What Do Apps For Toddlers Have To Do With The Future of Work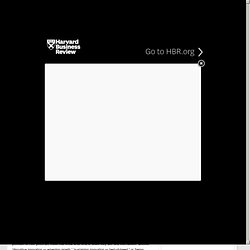 by Whitney Johnson | 1:42 PM September 14, 2010
To Get Paid What You're Worth, Know Your Disruptive Skills - Whitney Johnson
Disrupt Yourself - Whitney Johnson "Are you sure you aren't making a mistake?"
7 Ways to Educate Yourself Outside the Classroom
What made 'Nasa Mohawk Guy' such a successful meme? | Kate Miltner | Comment is free
Forty-eight hours ago, Bobak Ferdowsi had fewer than 200 Twitter followers.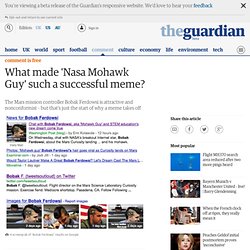 How to Present like Steve Jobs
Steve Jobs' presentations have become the stuff of legend. Inspired by his presentations, customers flocked to Apple stores waited in line for days to be the first to buy the newly released product. And his presentations left the media salivating over his every word.
It's rare that a computer science lab brings us a scenario worthy of a spy novel, but that's what happened earlier this month when Hristo Bojinov, a researcher at Stanford University, divulged his latest project. Here's the setup: Imagine an operative has been entrusted with top-secret computer files. He needs a password to enable him to access the information — but what if he falls into the hands of the enemy, and they force him to reveal the code? Bojinov and his colleagues concocted the perfect solution: a password that the spy could use any time he needed it, but which was not available to his conscious mind. He couldn't give up the code to his captors even if he wanted to.
Implicit Learning: Researchers Uncover How to Learn Without Trying
(Sound effects from a Maria Sharapova tennis match.) Natasha Mitchell: Not the sound you'd expect to hear at your recreational weekend tennis match is it, down at the local courts in your whites with a plate of pikelets. Maria Sharapova sure knows how to use her lungs at tournaments. Which couldn't be further from the setting the famous tennis training hotbeds like Spartak in Moscow which has spawned other top Russian players like Anna Kournikova and Marat Safin. Dan Coyle: We instinctively think of talent as something you're born with, as a gift, some divine spark that you have in your genes but that's not how the talent hotbeds treat it, they treat it as an act of construction.
Practice makes perfect? - All In The Mind - ABC Radio National (Australian Broadcasting Corporation)
As London began to swing, shaking off the shackles of post-war austerity, five likely lads sauntered into the Marquee Club on the night of July 12, 1962 and struck up a racket that would change the world. The Rolling Stones are celebrating half a century of getting their rocks off and also making a tidy fortune to boot along the way.
What the Rolling Stones can teach your business: Seven sinful strategies for world domination
Occasionally atrocious
Every writer -- even the great ones -- suffers rejection. Several years ago, The Missouri Review went digging in the Alfred A. Knopf archives and retrieved a collection of in-house readers' reports documenting the publisher's rejection of several notable authors. In "Publication is Not Recommended: From the Knopf Archives," the Review reprinted many of the reports. Here's an excerpt of the article, featuring the original text of several rejections.
Why YOUR Company Must Become a Tech Company - Apple, Amazon, Facebook, Instagram Lessons
Why Weird is Wonderful (and Bankable)
Nine Dangerous Things You Were Taught In School
Five insanely simple ideas to make your next presentation sizzle
The Past, Present & Future of Healthcare in 20 Inspired Tweets - Pecha Kucha
Social media truly levels the playing field