Creativity
Visual thinking. 8 Creativity Lessons from a Pixar Animator : zenhabits. What Is Creativity? Cultural Icons on What Ideation Is and How It Works. By Maria Popova Bradbury, Eames, Angelou, Gladwell, Einstein, Byrne, Duchamp, Close, Sendak, and more.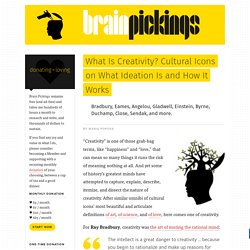 "Creativity" is one of those grab-bag terms, like "happiness" and "love," that can mean so many things it runs the risk of meaning nothing at all. And yet some of history's greatest minds have attempted to capture, explain, describe, itemize, and dissect the nature of creativity. After similar omnibi of cultural icons' most beautiful and articulate definitions of art, of science, and of love, here comes one of creativity. For Ray Bradbury, creativity was the art of muting the rational mind: Maira Kalman on Art and the Power of Not Thinking. By Maria Popova "To have an empty brain is a complete delight."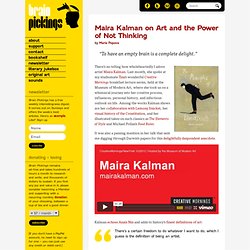 There's no telling how wholeheartedly I adore artist Maira Kalman. Last month, she spoke at my studiomate Tina's wonderful Creative Mornings breakfast lecture series, held at the Museum of Modern Art, where she took us on a whimsical journey into her creative process, influences, personal history, and infectious outlook on life. TEDxBOULDER - Jake Nickell - Never Stop Making. Margaret Boden - Creativity and AGI - Oxford Winter Intelligence. Creativity and Connectivity Key to Productive Workplace. Kevin Kuske, Skipper and Chief Brand Anthropologist, turnstone , contributed this article to BusinessNewsDaily's Expert Voices: Op-Ed & Insights.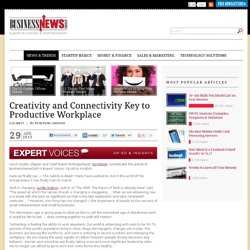 Dare we finally say — 'the cubicle is dead?' Many have wanted to, but in the world of the entrepreneur it has finally met its match. Work is changing. Free Desk Here: Connecting Creatives with Free Desk Space. One of the best things about freelancing is the freedom of mobility it allows.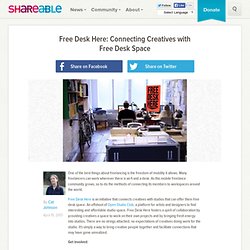 Many freelancers can work wherever there is wi-fi and a desk. As this mobile freelance community grows, so to do the methods of connecting its members to workspaces around the world. Jeffreydavis.sharedby. How To Tell If You're Creative (Hint: You Might Be A Bit Of A Jerk) Forget Myers-Briggs.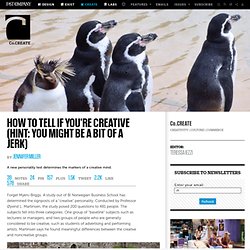 A study out of BI Norwegian Business School has determined the signposts of a "creative" personality. Conducted by Professor Øyvind L. Martinsen, the study posed 200 questions to 481 people. Malcolm Gladwell: Creative Types: Embrace Chaos. 3 Paths Toward A More Creative Life. Everyone can learn to be more creative, but to become very creative, I've come to believe you need to lead a creative life.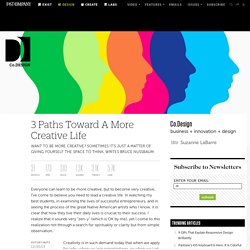 In watching my best students, in examining the lives of successful entrepreneurs, and in seeing the process of the great Native American artists who I know, it is clear that how they live their daily lives is crucial to their success. I realize that it sounds very "zen-y" (which is OK by me), yet I come to this realization not through a search for spirituality or clarity but from simple observation. Creativity is in such demand today that when we apply for jobs, when we join organizations, or when we just meet other people, we are asked to present our creative selves.
But we can't do that unless we understand the nature of our own creativity, locate the sources of our originality, and have a language that explains our work. A More Resilient Species. "A playful brain is a more adaptive brain," writes ethologist Sergio Pellis in The Playful Brain: Venturing to the Limits of Neuroscience.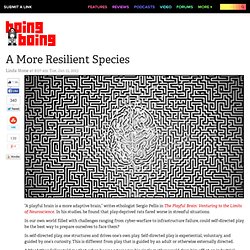 In his studies, he found that play-deprived rats fared worse in stressful situations. In our own world filled with challenges ranging from cyber-warfare to infrastructure failure, could self-directed play be the best way to prepare ourselves to face them? Learning and Creativity in 2100. In this one short hour you will be led through a co-creative journey to transcend the boundaries of today's thinking.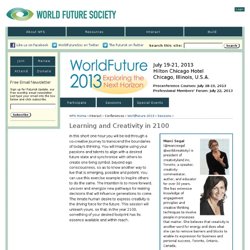 You will imagine using your passions and talents to align with a desired future state and synchronize with others to create one living symbol, beyond ego consciousness, so as to know another way to live that is emerging, possible and potent. You can use this exercise example to inspire others to do the same. The intention is to move forward, uncover and energize new pathways for making decisions that will influence generations to come. The innate human desire to express creativity is the driving force for the future. This session will unleash yours, so that, in the year 2100, something of your desired footprint has its essence available and within reach.
NZ Creativity | NZ Creativity. The Science of Genius. Identifying genius is a dicey venture.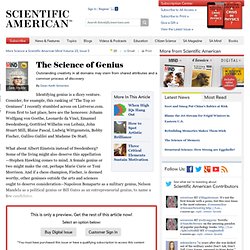 Consider, for example, this ranking of "The Top 10 Geniuses" I recently stumbled across on Listverse.com. From first to last place, here are the honorees: Johann Wolfgang von Goethe, Leonardo da Vinci, Emanuel Swedenborg, Gottfried Wilhelm von Leibniz, John Stuart Mill, Blaise Pascal, Ludwig Wittgenstein, Bobby Fischer, Galileo Galilei and Madame De Staël. What about Albert Einstein instead of Swedenborg? Creativity in Business Telesummit. Einstein On Creative Thinking: Music and the Intuitive Art of Scientific Imagination. "The greatest scientists are artists as well," said Albert Einstein (Calaprice, 2000, 245).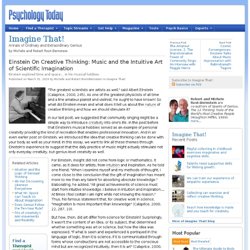 As one of the greatest physicists of all time and a fine amateur pianist and violinist, he ought to have known! So what did Einstein mean and what does it tell us about the nature of creative thinking and how we should stimulate it? In our last post, we suggested that community singing might be a simple way to introduce creativity into one's life. Neuroaesthetics: Discovery and Disappointment with Psychoanalysis. Then Kandel discovered an entirely different way of accessing the world of his childhood. He was fascinated by the main psychological theory and model of the day: psychoanalysis, which, like himself, originally came from Vienna.
Kandel eagerly devoured everything that Freud had written about sexual instincts, the unconscious and suppression. With the intent of becoming an analyst himself, he studied medicine, subjected himself to analysis and explored the emotional scars that remained from the time he had spent in Vienna. Kandel was dissatisfied, though, with this new approach to gaining knowledge.
Nobel Laureate Examines Neuroaesthetics and Broken Relationship with Vienna. Editor's note: SPIEGEL ONLINE has also published an interview with Eric Kandel about his new book, which can be read here. When Auguste Rodin visited Vienna in June 1902, art critic Berta Zuckerkandl invited him to spend an afternoon in her famous salon. As the hostess later recalled, the great French sculptor and Austrian artist Gustav Klimt had seated themselves beside two remarkably beautiful young women -- Rodin gazing enchantingly at them. Richard Florida sets out his case for why #creativity is the new #economy #RSAFlorida. The Neuroscience of Creativity and Insight | Think Tank. The Internet has a terrible habit of misquoting Einstein on energy and creativity until he sounds like he's the author of , not the theory of relativity. Here's something he actually did say . Describing the effect of music on his inner life, he told a friend: "When I examine myself and my methods of thought, I come close to the conclusion that the gift of imagination has meant more to me than any talent for absorbing absolute knowledge."
Creativity links- Think Jar Collective. Home | NCCA. 6 Ways To "Riff" Daily. Artists, musicians, comics, speakers, trainers, athletes, performers all do it-they "RIFF". That "rapid energetic often improvised verbal or non verbal outpouring especially one that is part of a performance". Most of us remember "Riff's" of great rock, jazz and yes classical musicians, bands and performers, we listen to and are fans of.
What we love about them is the spontaneity, take, variation and interpretation of their passion. 9 Extreme Creativity Questions from Peter's Laws. Waiting for my wife in a New Orleans shopping mall years ago, I was killing time looking at a poster store display. A poster of "Peter's Laws" caught my eye. Subtitled unflatteringly as "The Creed of the Sociopathic Obsessive Compulsive," the 19 "laws" were pretty accurate descriptions of decision making, negotiating, and implementation strategies used by the extreme creative talents I have worked for during my career.
While I'd always had great success pairing up with and interpreting these creative geniuses for co-workers, it occurred to me the laws could help others who struggled working with them. I bought the Peter's Laws poster and subsequently passed the list along (sans subtitle) to new people who just couldn't seem to get the hang of working with an extreme creative talent.
Extreme Creative Ideas – 50 Lessons to Improve Creativity Dramatically. Social creativity: re-qualifying the creative economy. You are the creative type. 4 Ideas for Cultivating Creativity.
Poetry
Creativity to innovate in the body of organizations. The philosophy of creativity. Health - Hans Villarica - Study of the Day: Why Crowded Coffee Shops Fire Up Your Creativity. About Creativist Society. Why Weird Experiences Boost Creativity. How Geniuses Think. 10 Awesome Videos On Idea Execution & The Creative Process.
Improvisation May Be the Key to Successfully Managing Change, Says MIT. The Complexity of Creativity. Make Something 365 & Get Unstuck. Talent, Passion, and the Creativity Maze - Teresa Amabile and Steve Kramer - HBS Faculty. Storytelling. The Age of the Artist–Time for a Revolution. The Creative Benefits Of Exploring The Uncomfortable. Einstein, music lessons and opening the mind.
Dance. How Entrepreneurs Can Unlock Creativity. Resources for Developing Creativity and Innovation. Jonah Lehrer on How Creativity Works. The Artist's Road. The Cost Of Creativity | Wired Science. Maker Faire: Kansas City - Home. Making the Most of Creativity. Jonah Lehrer on How to Be Creative. Content Creation tools. 9 Ways to Support Your Child's Creativity. Unlocking The Right Brain. Welcome to c3. c3visionlab.org. Reflexivepractice. Europe's artists can make sense of the chaos and create hope | Uffe Elbæk and Androulla Vassiliou.
How the Mind Creates Ideas. Creativity in Work. The Right Kind of Visualisation. Intuition and creativity – A "pas de deux" Creative Thinking - Michael Michalko's Home page. Creativity Tweets of the Week – 02/17/12 « The Artist's Road. Are We Being Creative Yet? Cultural Engineer Profile -- Mark Stevenson. Systems thinking, Systems being and Love. Da Vinci's Ghost: How The Vitruvian Man Came To Be. Porcelain Unicorn. The Complexity of the Creative Personality.
---