News / Magazines
The American Prospect. Slate Magazine. Salon.com. The Atlantic. Harper's Magazine. The New Yorker. BBC NEWS | News Front Page. Al Jazeera English - AJE. Los Angeles Times - California, L.A., Entertainment and World ne.
The New York Times - Breaking News, World News & Multimedia. Washingtonpost. Salt Lake Tribune. Salt Lake City Weekly, Utah, News, Events, Restaurants, Music, C. Posted // April 10,2014 Dear GYA: After that massive Heartbleed bug was discovered, I spent all of yesterday changing all of my passwords—Google, Twitter, Facebook, Reddit, bank sites, porn sites, everything.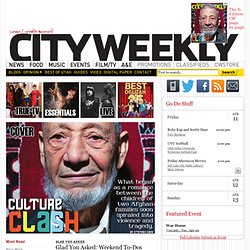 But I can't remember any of them so now I'm locked out of the whole Internet. I don't know what to do with my time. Please help me. The Boston Globe Online. The Christian Science Monitor.
---