jQuery, AJAX
jQuery : la sélection écrémée #2 Milky vous à concocté une sélection des meilleurs ressources jQuery du moment. 01 – Image | Effet avant/après Vous avez besoin de présenter vos travaux de retouches photos ? Ce plug-in est fait pour vous, il vous permettra de facilement réaliser des effets avant retouche / après retouche bluffants !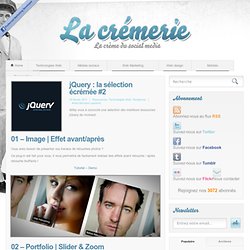 jQuery : la sélection écrémée #2
Les sites avec un webdesign plein écran, envahissent le web. Pour la simple et bonne raison que leur mise en page est souvent simple, efficace et permet de mettre avant des visuels qui en jettent. Pour vous aider a faire de même, je vous propose 8 ressources Jquery. Bien avant l'explosion et l'utilisation massive de Jquery, le Flash était la principale technique utilisée pour réaliser des sites « fullscreen« . Les designers qui se sont tourné vers la librairie Jquery ont permis de faire avancer la technologie pour offrir des sites toujours plus rapides, toujours plus animés et prenant la totalité de l'écran du navigateur. Vous cherchez les ressources et les tutoriels sur le sujet ?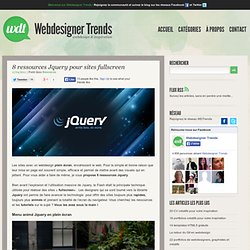 8 ressources Jquery pour sites fullscreen
jQuery jQuery TaggingTools | webcloud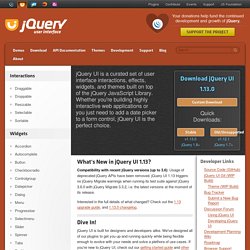 jQuery UI is a curated set of user interface interactions, effects, widgets, and themes built on top of the jQuery JavaScript Library. Whether you're building highly interactive web applications or you just need to add a date picker to a form control, jQuery UI is the perfect choice. What's New in jQuery UI 1.10?
jQuery : Les bonnes pratiques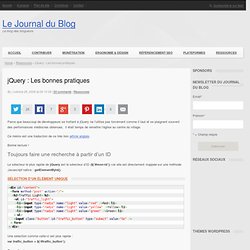 Parce que beaucoup de développeurs se frottant à jQuery ne l'utilise pas forcément comme il faut et se plaignent souvent des performances médiocres obtenues, il était temps de remettre l'église au centre du village. Ce mémo est une traduction de ce très bon article anglais. Bonne lecture ! Toujours faire une recherche à partir d'un ID Le sélecteur le plus rapide de jQuery est le sélecteur d'ID ($('#mon-id')) car elle est directement mappée sur une méthode Javascript native : getElementById().
It allows you to search, install, manage, and compile front-end javascript packages and their dependencies for the web. We like to think of it as NPM 's little sister. It's not a jQuery replacement. It's not even a static asset. It's a tool for making the consumption of front-end javascript packages dead simple and incredibly powerful.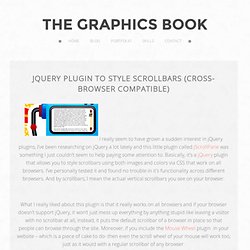 I really seem to have grown a sudden interest in jQuery plugins, I've been researching on jQuery a lot lately and this little plugin called jScrollPane was something I just couldn't seem to help paying some attention to. Basically, it's a jQuery plugin that allows you to style scrollbars using both images and colors via CSS that work on all browsers. I've personally tested it and found no trouble in it's functionality across different browsers. And by scrollbars, I mean the actual vertical scrollbars you see on your browser.
jQuery plugin to style scrollbars (cross-browser compatible) | rShahin Blog Designs - Web Designer Rofikul Islam Shahin - Bangladesh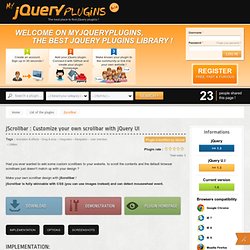 Had you ever wanted to add some custom scrollbars to your website, to scroll the contents and the default browser scrollbars just doesn't match up with your design ? Make your own scrollbar design with jScrollbar ! jScrollbar is fully skinnable with CSS (you can use images instead) and can detect mousewheel event. Implementation: Options:
jScrollbar : make your own scrollbar for scrolling contents with jQuery UI - MyjQueryPlugins
What is jQuery? jQuery is a fast, small, and feature-rich JavaScript library. It makes things like HTML document traversal and manipulation, event handling, animation, and Ajax much simpler with an easy-to-use API that works across a multitude of browsers. With a combination of versatility and extensibility, jQuery has changed the way that millions of people write JavaScript.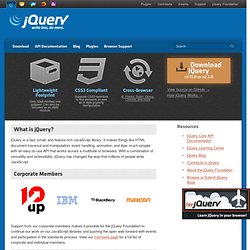 Simple Scrollbar
jQuery SuperBox! est obsolète et ne sera plus mis à jour. Je vous recommande d'utiliser une alternative telle que Magnific Popup pour tout nouveau projet.
jQuery SuperBox!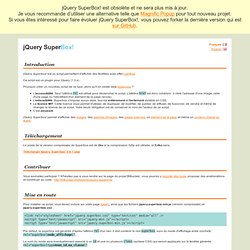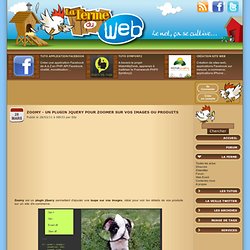 Zoomy - Un plugin jQuery pour zoomer sur vos images ou produits
Zoomy est un plugin jQuery permettant d'ajouter une loupe sur vos images, idéal pour voir les détails de vos produits sur un site d'e-commerce. Très simple à mettre en place et à utiliser, Zoomy permettra à vos visiteurs de voir plus en détail les images de votre site que vous aurez sélectionné. Côté options, il sera possible: De changer la taille de la loupeDe changer la forme de la loupe (Carrée ou ronde)D'activer ou non l'effet d'éclat de la loupeChanger le texte incitant à cliquer sur l'image pour ouvrir la loupe
Blog d'un passionné du web et du reste, directeur de l'agence Idtonic et fondateur du service Jobapic.fr 30 excellentes ressources pour développer avec jQuery Le 3 mars 2009 On trouve encore trop peu de bouquin sur jQuery dans les bibliothèques françaises, heureusement le web est rempli de bonnes ressources (certaines sont en anglais cependant).
30 excellentes ressources pour développer avec jQuery
Un livre de Wikilivres. L10: Parser du XML avec domXml ▲ Mettre à jour périodiquement un cadre ▼Programmation PHP/Ajax/Sommaire Intérêt de l'utilisation d'Ajax
Programmation PHP/Ajax/Sommaire
Jump to: [Features] [Examples] [Download] [Configuration] [Comments] simplyScroll is a scroll-tastic jQuery plugin that can animate (scroll) content either automatically or manually, horizontally or vertically, backwards or forwards. New Features in v2 Auto-scroll in either direction RTL support, normalises browser RTL scroll implementations Touch support Now automatically supports unequal sized elements in loop mode Pause/play button option
jQuery simplyScroll - Logicbox
jQuery.ScrollShow
In the interest of following jQuery's motto of "writing less and doing more," let's write a simple slideshow using jQuery, JavaScript and a bit of CSS. Download the complete slideshow hereRead the FAQs For starters, our main goal should be keeping the markup as clean as possible: Now let's use CSS to position the images on top of each other and bring the active image to the top level with z-index: Due to absolute positioning, we need to define the height of the slideshow DIV.
35+ jQuery slideshow and gallery tutorials, plugins and premium slideshow plugins
Subscribe by RSS or Email 35+ jQuery slideshow and gallery tutorials, plugins and premium slideshow plugins Posted In: Jquery, By Samir, 9 Comments advertisement More and more websites are adapting jQuery featured area for slideshows or gallery for a website. Most of it is used to show featured content, portfolio design or even for a news scroller. jQuery is a good technique to present content in real convenient and intuitive way unlike Flash.
Smooth Div Scroll
Jquery : Benefits, Examples and Free Ebook
#1555597
jquery | Jay Salvat, le blog | Page 2
wdCalendar - Un calendrier jQuery avancé pour vos applications web
Simple Page Peel Effect with jQuery & CSS | jQuery Tutorials
Converting jQuery Code to a Plugin
25 Free jQuery Photo Gallery / Albums with Tutorials | VisonwidGet
jQuery Animations: A 7-Step Program
jQuery virtual tour