Design tools
35 Fresh and Excellent Photoshop Tutorials from 2010 - Noupe Design Blog. May 19 2010 With the release of CS5, Photoshop has become even more power-packed with features more simplified, and with better characteristics.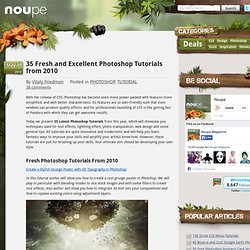 Its features are so user-friendly such that even newbies can produce quality effects, and for professionals launching of CS5 is like getting box of Pandora with which they can get awesome results. Smashing Magazine. The Ultimate Guide To Cloning In Photoshop - Smashing Magazine. Advertisement Photoshop's wide array of cloning tools is the cause of many of the absolute best and worst works created with the application.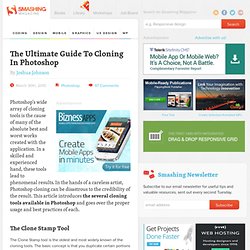 In a skilled and experienced hand, these tools lead to phenomenal results. In the hands of a careless artist, Photoshop cloning can be disastrous to the credibility of the result. This article introduces the several cloning tools available in Photoshop and goes over the proper usage and best practices of each. The Clone Stamp Tool. LIFE Manifesto. Photoshop Shortcuts ? The Fun Way. In this post I'm going to focus on several Photoshop shortcuts that I tend to use more often than others.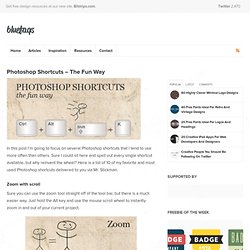 Sure I could sit here and spell out every single shortcut available, but why reinvent the wheel? Here is a list of 10 of my favorite and most used Photoshop shortcuts delivered to you via Mr. Stickman. Photoshop Fu. 28 HTML5 Features, Tips, and Techniques you Must Know. Twice a month, we revisit some of our readers' favorite posts from throughout the history of Nettuts+.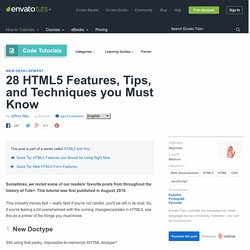 This tutorial was first published in August, 2010. This industry moves fast -- really fast! If you're not careful, you'll be left in its dust. So, if you're feeling a bit overwhelmed with the coming changes/updates in HTML5, use this as a primer of the things you must know. 1. The 30 CSS Selectors you Must Memorize. Twice a month, we revisit some of our readers' favorite posts from throughout the history of Nettuts+.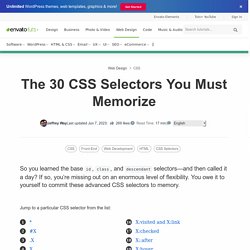 This tutorial was first published in November, 2010. So you learned the base id, class, and descendant selectors - and then called it a day? If so, you're missing out on an enormous level of flexibility. TypeNavigator. Web Form Factory (v0.1.3 beta) - Open Source Web Form Generator. The Tao Of Programming. Translated by Geoffrey James Transcribed by Duke Hillard Transmitted by Anupam Trivedi, Sajitha Tampi, and Meghshyam Jagannath Re-html-ized and edited by Kragen Sittler Last modified 1996-04-10 or earlier.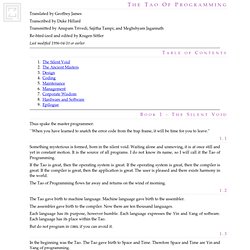 Fonts | Free Fonts, Buy Fonts, Windows Fonts. Free CSS templates - Download Free CSS Templates. Tutorials [ photoshop, flash, pov-ray & polar graphing tutorials ] CSS3.0 Maker | CSS3.0 Generator | CSS 3.0 Generator. How to Remove a person from a photo by using cs 5 Content Aware.
May 29 2010 With the launch of the new Adobe Suite of programs comes the long awaited Adobe Photoshop CS5.
Packed with new features to speed up your workflow it truly is the most advanced edition of Photoshop to date. How To Give Your Photos a Dark Processed Lomo Effect. Follow this step by step post processing guide to give your photos a dark lomo style effect with high contrast, blue tones and vignette burns.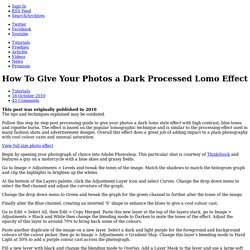 The effect is based on the popular lomographic technique and is similar to the processing effect used in many fashion shots and advertisement designs. Overall this effect does a great job of adding impact to a plain photography with cool colour casts and unusual saturation. View full size photo effect. Create a Realistic Panoramic Matte Painting in Photoshop. Matte paintings are images commonly used in the film industry to create the illusion of an environment that would otherwise be too expensive or impossible to build.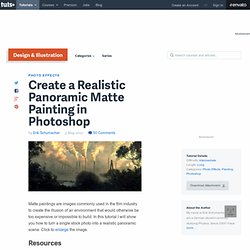 In this tutorial I will show you how to turn a single stock photo into a realistic panoramic scene. Click to enlarge the image. Resources. Yet Another Colorization Tutorial. Resources For Web Design.
---