Learning & Academia
Email Self-reliance is a vital key to living a healthy, productive life. To be self-reliant one must master a basic set of skills, more or less making them a jack of all trades.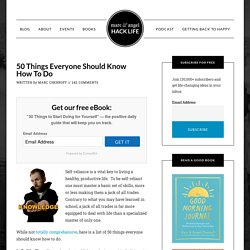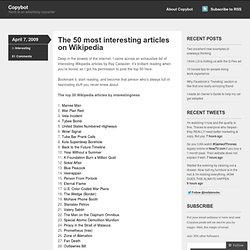 Copybot Rants by an advertising copywriter About Copybot Subscribe to RSS April 7, 2009 The 50 most interesting articles on Wikipedia Deep in the bowels of the internet, I came across an exhaustive list of interesting Wikipedia articles by Ray Cadaster.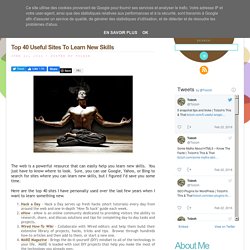 The web is a powerful resource that can easily help you learn new skills. You just have to know where to look.
GRE Study Guides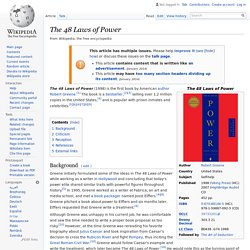 Background[edit] Greene initially formulated some of the ideas in The 48 Laws of Power while working as a writer in Hollywood and observing that today's power elite shared similar traits with powerful figures throughout history.[4] In 1995, Greene worked as a writer at Fabrica, an art and media school, and met a book packager named Joost Elffers.[6][9] Greene pitched a book about power to Elffers and six months later, Elffers requested that Greene write a treatment.[6] Although Greene was unhappy in his current job, he was comfortable and saw the time needed to write a proper book proposal as too risky.[11] However, at the time Greene was rereading his favorite biography about Julius Caesar and took inspiration from Caesar's decision to cross the Rubicon River and fight Pompey, thus inciting the Great Roman Civil War.[11] Greene would follow Caesar's example and write the treatment, which later became The 48 Laws of Power.[11] He would note this as the turning point of his life.[11]
archaeolink.com - Reviewed Resources for Students and Teachers