Learning & Academia
Special Event Philosophy in the Garden A morning of speculation, conversation and creation in the beautiful Fenton House gardens. Special Event Natalie Merchant and Alain de Botton in Conversation Join Natalie Merchant and Alain de Botton in this unique evening of in depth conversation and music. Tours & Weekends PE: How to be Fit and Clever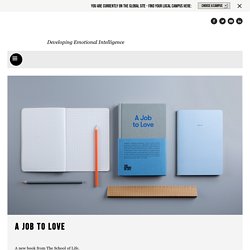 Email Self-reliance is a vital key to living a healthy, productive life. To be self-reliant one must master a basic set of skills, more or less making them a jack of all trades.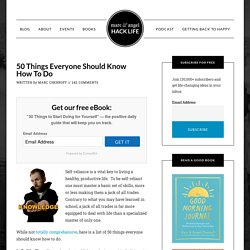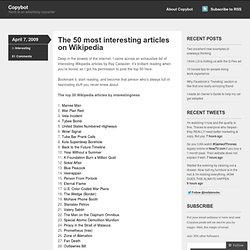 Deep in the bowels of the internet, I came across an exhaustive list of interesting Wikipedia articles by Ray Cadaster. It's brilliant reading when you're bored, so I got his permission to post the top 50 here. Bookmark it, start reading, and become that person who's always full of fascinating stuff you never knew about. The top 50 Wikipedia articles by interestingness 1.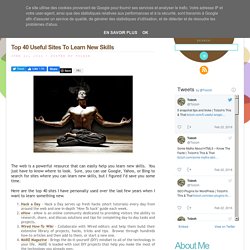 The web is a powerful resource that can easily help you learn new skills. You just have to know where to look. Sure, you can use Google, Yahoo, or Bing to search for sites where you can learn new skills , but I figured I'd save you some time. Here are the top 40 sites I have personally used over the last few years when I want to learn something new. Hack a Day - Hack a Day serves up fresh hacks (short tutorials) every day from around the web and one in-depth 'How-To hack' guide each week.eHow - eHow is an online community dedicated to providing visitors the ability to research, share, and discuss solutions and tips for completing day-to-day tasks and projects.Wired How-To Wiki - Collaborate with Wired editors and help them build their extensive library of projects, hacks, tricks and tips.
GRE Study Guides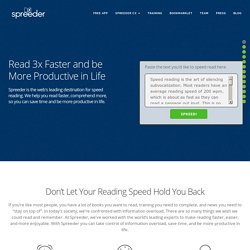 Spreeder is a free service provided by 7-Speed-ReadingTM. If you like this site, please have a look at our powerful 7 Speed Reading Software. Spreeder.com is a free online speed reading software designed to improve your reading speed and comprehension. Spreeding 1 word @ 300 wpm Paste the text you'd like to speed read here: Speed reading is the art of silencing subvocalization.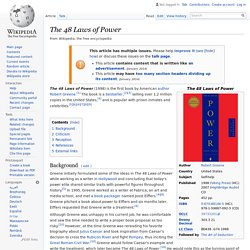 Background[edit] Greene initially formulated some of the ideas in The 48 Laws of Power while working as a writer in Hollywood and observing that today's power elite shared similar traits with powerful figures throughout history.[4] In 1995, Greene worked as a writer at Fabrica, an art and media school, and met a book packager named Joost Elffers.[6][9] Greene pitched a book about power to Elffers and six months later, Elffers requested that Greene write a treatment.[6] Although Greene was unhappy in his current job, he was comfortable and saw the time needed to write a proper book proposal as too risky.[11] However, at the time Greene was rereading his favorite biography about Julius Caesar and took inspiration from Caesar's decision to cross the Rubicon River and fight Pompey, thus inciting the Great Roman Civil War.[11] Greene would follow Caesar's example and write the treatment, which later became The 48 Laws of Power.[11] He would note this as the turning point of his life.[11]
Archaeology Pages Index - General archaeological information plus archaeology by region, era, and specialty plus much more. Anthropology Pages Index - General anthropology information; cultural, linguistic, early man, cyberanthropology; plus indigenous peoples; by tribe and region; peoples of Africa, Asia, South America, religious anthropology and more. Ancient Civilizations Pages Index - History and culture of ancient civilizations; daily lives, rulers, architecture, and effects on modern times. You will also find specialty pages of related topics and Medieval Civilizations.
archaeolink.com - Reviewed Resources for Students and Teachers
Type to search for People, Research Interests and Universities Searching... Join a growing community of 9,085,756 researchers