Fashion
Christian Louboutin gana la exclusividad de la suela roja | Moda | yodona.com. Está el rojo burdeos, el rojo bermellón, el rojo carmesí, el rojo pasión y, después, el rojo chino.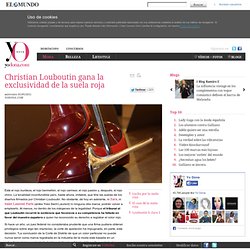 La tonalidad inconfundible pero, hasta ahora, imitable, que tiñe las suelas de los diseños firmados por Christian Louboutin. No obstante, de hoy en adelante, ni Zara, ni Saint Laurent Paris (antes Yves Saint Laurent) ni ninguna otra marca, podrán volver a emplearlo. Al menos, no dentro de los márgenes de la legalidad. Porque el tribunal al que Louboutin recurrió la sentencia que favorecía a su competencia ha fallado en favor del maestro zapatero a quien ha reconocido su derecho a registrar el color rojo. Si hace un año, un juez federal no consideraba prudente que una firma pudiera obtener privilegios sobre algo tan impreciso, la corte de apelación ha impugnado, en parte, esta decisión. LOOKBOOK.nu: collective fashion consciousness. Alltop, all the top stories. Over 2,400 new ideas and inspirational trends in Advertising and Branding. - %page%
Springwise: new business ideas for entrepreneurial minds. Trendencias. Com: Consumer trends and insights from around the world. Future Concept Lab. TREND HUNTER - #1 in Trends - Fashion Trends, Technology, Style, Design, Pop Culture and Marketing. FashionablyMarketing.Me.
---