Net Neutrality
Supporting an Open Internet » The Kickstarter Blog. Kickstarter was built on the foundation of an open Internet.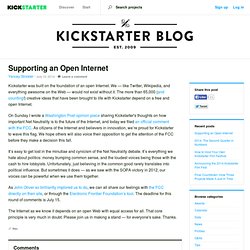 We — like Twitter, Wikipedia, and everything awesome on the Web — would not exist without it. The more than 65,000 (and counting!) Creative ideas that have been brought to life with Kickstarter depend on a free and open Internet. On Sunday I wrote a Washington Post opinion piece sharing Kickstarter's thoughts on how important Net Neutrality is to the future of the Internet, and today we filed an official comment with the FCC. What is network neutrality? - Everything you need to know about network neutrality. In February, Netflix agreed to pay Comcast to ensure that its videos would play smoothly for Comcast customers.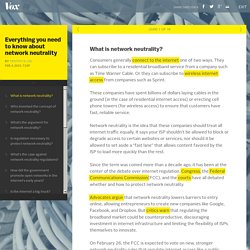 The company signed a similar deal with Verizon in April. Netflix signed these deals because its customers had been experiencing declining speeds for several months beforehand. Netflix realized it would be at a competitive disadvantage if it didn't pay for speedier service. After its payment to Comcast, Netflix's customers experienced a 67 percent improvement in their average connection speed. Without net neutrality. Entrepreneur: I plan to launch a better streaming music service.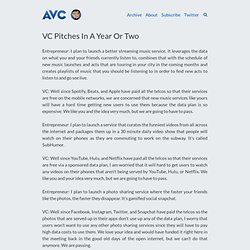 It leverages the data on what you and your friends currently listen to, combines that with the schedule of new music launches and acts that are touring in your city in the coming months and creates playlists of music that you should be listening to in order to find new acts to listen to and go see live. VC: Well since Spotify, Beats, and Apple have paid all the telcos so that their services are free on the mobile networks, we are concerned that new music services like yours will have a hard time getting new users to use them because the data plan is so expensive.
We like you and the idea very much, but we are going to have to pass. Entrepreneur: I plan to launch a service that curates the funniest videos from all across the internet and packages them up in a 30 minute daily video show that people will watch on their phones as they are commuting to work on the subway.
How it should be. But... They lobby for Net Neutrality. Others' curations on NN & Misc.
---