Net Neutrality
They lobby for Net Neutrality
Without net neutrality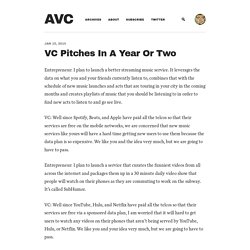 Entrepreneur: I plan to launch a better streaming music service.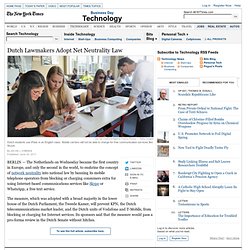 Dutch Lawmakers Adopt Net Neutrality Law
The measure, which was adopted with a broad majority in the lower house of the Dutch Parliament, the Tweede Kamer, will prevent KPN, the Dutch telecommunications market leader, and the Dutch units of Vodafone and T-Mobile, from blocking or charging for Internet services. Its sponsors said that the measure would pass a pro-forma review in the Dutch Senate without hitches. Analysts said that the legal restrictions imposed in the Netherlands could shape Europe's broader, evolving debate over network neutrality, pushing more countries on the Continent to limit operators from acting as self-appointed toll collectors of the mobile Internet. "I could also see some countries following the Dutch example," said Jacques de Greling, an analyst at Natixis, a French bank.
Others' curations on NN & Misc