Google Glass
Glass - Home. How It Feels [through Glass] Project Glass: One day... Project Glass. Google Begins Testing Its Augmented-Reality Glasses. Before 'OK Glass', Google considered 'pew pew pew', Glassicus, and Go Go Glass. If you've ever wondered why Google ended up going with "OK Glass" as the official phrase for its Glass product, this one's for you.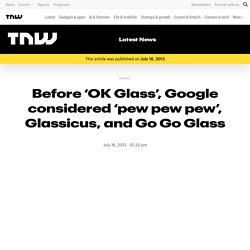 Glass Marketing Manager Amanda Rosenberg has finally revealed its origins. Rosenberg has apparently received permission from Google to share an email she sent to Glass Product Manager Mat Balez on April 14, 2012. Here's the original email: Google Gets Transparent With Glass, Its Augmented Reality Project. Larry Page and Sergey Brin have long had the dream of a hands-free, mobile Google, where search was a seamless process as you moved around the world.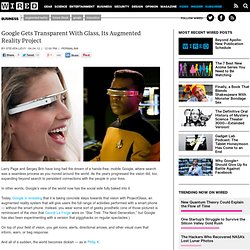 As the years progressed the vision did, too, expanding beyond search to persistent connections with the people in your lives. In other words, Google's view of the world now has the social side fully baked into it. Today, Google is revealing that it is taking concrete steps towards that vision with ProjectGlass, an augmented reality system that will give users the full range of activities performed with a smart phone — without the smart phone.
Facebook, Twitter, Tumblr, CNN And Evernote Apps Coming To Google Glass Today. Google announced a number of new partner apps today on stage at Google I/O during the "Developing for Glass" session.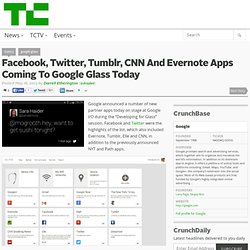 Facebook and Twitter were the highlights of the list, which also included Evernote, Tumblr, Elle and CNN, in addition to the previously announced NYT and Path apps. The CNN app sends video to Glass via updates, and streams news to a browsable feed. It can alert users when there's breaking news in a category that they want to follow, and those alerts can be customized to show up at specific times of day. They show up as text but can also be read aloud using the Mirror API. Screenshot_2013-05-16-11-13-11. Apple and Facebook Should Be Terrified Of Google-Tinted Glasses. Google's augmented reality eyewear is coming to disrupt your face and your business model.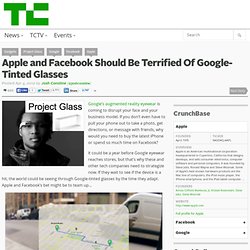 If you don't even have to pull your phone out to take a photo, get directions, or message with friends, why would you need to buy the latest iPhone or spend so much time on Facebook? It could be a year before Google eyewear reaches stores, but that's why these and other tech companies need to strategize now. If they wait to see if the device is a hit, the world could be seeing through Google-tinted glasses by the time they adapt. ROBERT SCOBLE: I Just Wore Google's Glasses For 2 Weeks. Google Is Forbidding Users From Reselling, Loaning Glass Eyewear | Gadget Lab. No sharing.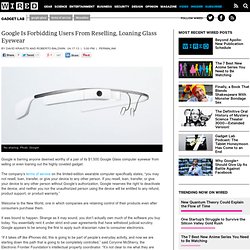 Photo: Google Google is barring anyone deemed worthy of a pair of its $1,500 Google Glass computer eyewear from selling or even loaning out the highly coveted gadget. Google bans porn from Glass.
---