Fun
Video by ammysri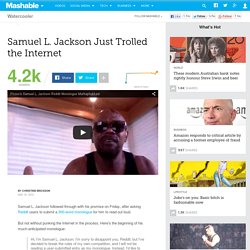 Samuel L. Jackson followed through with his promise on Friday, after asking Reddit users to submit a 300-word monologue for him to read out loud. But not without punking the Internet in the process. Here's the beginning of his much-anticipated monologue:
Samuel L. Jackson Just Trolled the Internet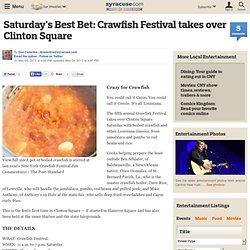 Saturday's Best Bet: Crawfish Festival takes over Clinton Square
View full sizeA pot of boiled crawfish is stirred at last year's New York Crawfish Festival.Jim Commentucci / The Post-Standard Crazy for Crawfish You could call it Cajun. You could call it Creole. It's all Louisiana. The fifth annual Crawfish Festival takes over Clinton Square Saturday with boiled crawfish and other Louisiana classics, from jamablaya and gumbo to red beans and rice.
"Crepuscule
Cats as fonts - Bombi(llo)
Pottermore throws open Hogwarts doors to all
JK Rowling's Harry Potter site, Pottermore, has fully opened its doors, adding social and interactive content around the boy-magician to the existing ebook offerings from last month. Announced last year, Pottermore is Rowling's attempt to extend the lifespan of the Harry Potter series beyond the original series of books, splitting readers into one of the four Hogwarts houses and then granting them access to specially-produced extra writing and other media. "We're expecting to be really busy to start with and plan to activate new registrations in a steady stream" the Pottermore team warned at the weekend. "This means that you may not get access to Pottermore immediately after you sign up but we will get you exploring the site as quickly possible ... After you've signed up, you'll get sorted into one of the four Hogwarts houses, have a wand choose you, and discover exclusive new writing from J.K. Rowling."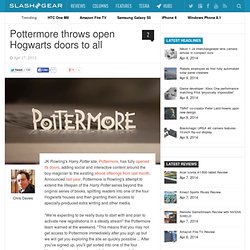 Very proud of My new captain America @tokidoki x @marvel hoodie! Soon in stock. This is my proto!
Skyrim Valentine's Day Cards
Grey Remakes Coke's Mean Joe Greene Ad For Downy Unstopables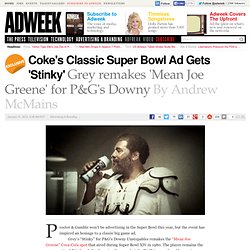 Procter & Gamble won't be advertising in the Super Bowl this year, but the event has inspired an homage to a classic big game ad. Grey's "Stinky" for P&G's Downy Unstopables remakes the "Mean Joe Greene" Coca-Cola spot that aired during Super Bowl XIV in 1980. The player remains the same—retired Pittsburgh Steelers star Greene—but the "kid" is now played by comic actress Amy Sedaris.
Scratch-And-Sniff Technology Makes Its Way To Denim Jeans
7 Little Words
Girl Scout Cookie Flavored Lip Balms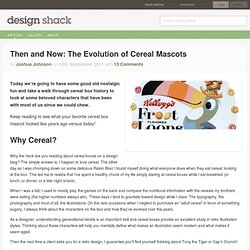 Then and Now: The Evolution of Cereal Mascots
Today we're going to have some good old nostalgic fun and take a walk through cereal box history to look at some beloved characters that have been with most of us since we could chew. Keep reading to see what your favorite cereal box mascot looked like years ago versus today! Why Cereal? Why the heck are you reading about cereal boxes on a design blog? The simple answer is, I happen to love cereal. The other day as I was chomping down on some delicious Raisin Bran I found myself doing what everyone does when they eat cereal: looking at the box.
NFL Next 10 | NFL symposium
On October 18, 2011, the S.I. Newhouse School of Public Communications at Syracuse University presented an afternoon symposium examining the future of the National Football League. Newhouse alumnus Mike Tirico '88, play-by-play commentator and studio and radio host with ESPN, hosted the event. The symposium featured two panel discussions with alumni and other professionals from across the industry. In addition, Newhouse alumni Bob Costas '74, NBC sportscaster, and Matthew Berry '92, ESPN senior fantasy analyst, offered video remarks, while Minnesota Vikings quarterback Donovan McNabb '98 called in for a phone Q&A with Tirico. Moving the Chains: Keeping the NFL Business Model Strong The first panel discussion covered the economics of the NFL and the relationship between the league and their advertising and marketing partners.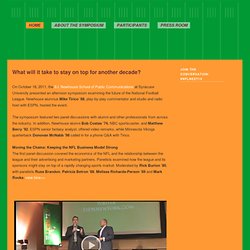 Give evil the cold shoulder with Batman ice cubes
Burger King: An Unlikely Source of Beauty Inspiration | Birchbox
The founding father of Labor Day is tangled in a web of union figureheads and, well, spelling. As the legend goes, young carpenter Peter McGuire stood before the New York Central Labor Union in May 1882 proclaiming his plan to honor all workers with a parade through the city. But another union worker, the similarly named machinist Matthew Maguire, is also credited with proposing a day off for laborers. A New Jersey newspaper published an opinion article touting Maguire as the Father of Labor Day, but only after the day became a national holiday in 1894.
No One Really Knows Who Invented It - Top 10 Things You Didn't Know About Labor Day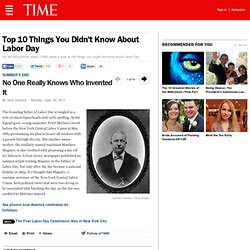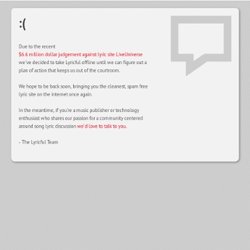 Due to the recent $6.6 million dollar judgement against lyric site LiveUniverse we've decided to take Lyricful offline until we can figure out a plan of action that keeps us out of the courtroom. We hope to be back soon, bringing you the cleanest, spam free lyric site on the internet once again. In the meantime, if you're a music publisher or technology enthusiast who shares our passion for a community centered around song lyric discussion we'd love to talk to you . - The Lyricful Team
Song lyrics and song meanings - Lyricful
Infographipedia, the world of infographic
I love horror movies. My first encounter with a horror movie was when I was only a kid of about 7 or 8 years spending the night with my grandfather. Every time I would stay with him, we would go to the local Hastings and pick out a couple of movies to watch.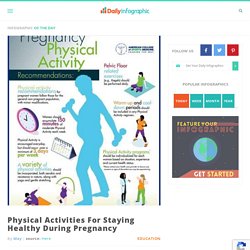 Star Wars
Bleeoo
IT社会の今、自社を効率よく、尚且つ大々的に宣伝する為には、やはりホームページの存在は必要不可欠。ホームページが無いお店や企業というのは、ユーザーの利用を集める為にはなかなかの困難を極めるのでは無いでしょうか??周りに魅力を広める為には、人づての口コミしか方法はありませんからね。IT社会では、もはやホームページが無くては利益を得ることがなかなか出来ない・・・そんな時代にもなってしまったのです。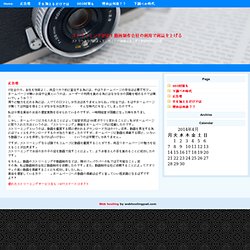 Taco Bell Throws a Tweet-Off for New 'Doritos Locos' Taco
Lisa Lacy | February 24, 2012 | 0 Comments inShare17 Offers @TacoBellTruck visit to user with the most retweets. A just-ended contest from Taco Bell asked Twitter users to compose a tweet with the hashtags #DoritosLocosTacos and #Contest. The Doritos Locos Tacos Hometown Tweet-Off ran from February 16 to 20. It promoted the Doritos Locos taco, which comes in a shell made from Nacho Cheese Doritos Chips and will debut on March 8.
Infographic Of The Day: How Our Students Stack Up Against The World | Co. Design
Tompkins County Friends of the Library :: Home
What do you get after working at Nintendo for 20 years? - Shareables
Ladies and gentlemen, Ron Artest becomes Metta World Peace!