Fun
Video by ammysri. Samuel L. Jackson Just Trolled the Internet. Samuel L.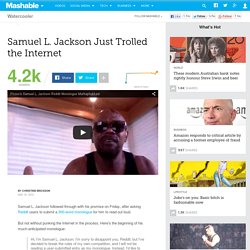 Jackson followed through with his promise on Friday, after asking Reddit users to submit a 300-word monologue for him to read out loud. But not without punking the Internet in the process. Here's the beginning of his much-anticipated monologue: Saturday's Best Bet: Crawfish Festival takes over Clinton Square. View full sizeA pot of boiled crawfish is stirred at last year's New York Crawfish Festival.Jim Commentucci / The Post-Standard Crazy for Crawfish You could call it Cajun.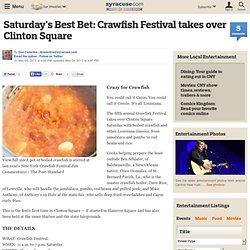 You could call it Creole. It's all Louisiana. The fifth annual Crawfish Festival takes over Clinton Square Saturday with boiled crawfish and other Louisiana classics, from jamablaya and gumbo to red beans and rice. "Crepuscule. Cats as fonts - Bombi(llo) Pottermore throws open Hogwarts doors to all. JK Rowling's Harry Potter site, Pottermore, has fully opened its doors, adding social and interactive content around the boy-magician to the existing ebook offerings from last month.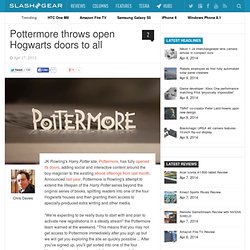 Announced last year, Pottermore is Rowling's attempt to extend the lifespan of the Harry Potter series beyond the original series of books, splitting readers into one of the four Hogwarts houses and then granting them access to specially-produced extra writing and other media. "We're expecting to be really busy to start with and plan to activate new registrations in a steady stream" the Pottermore team warned at the weekend.
"This means that you may not get access to Pottermore immediately after you sign up but we will get you exploring the site as quickly possible ... After you've signed up, you'll get sorted into one of the four Hogwarts houses, have a wand choose you, and discover exclusive new writing from J.K. Rowling. " Very proud of My new captain America @tokidoki x @marvel hoodie! Soon in stock. This is my proto! OK Go - Needing/Getting - Official Video. Skyrim Valentine's Day Cards. Grey Remakes Coke's Mean Joe Greene Ad For Downy Unstopables. Procter & Gamble won't be advertising in the Super Bowl this year, but the event has inspired an homage to a classic big game ad.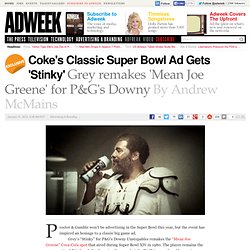 Grey's "Stinky" for P&G's Downy Unstopables remakes the "Mean Joe Greene" Coca-Cola spot that aired during Super Bowl XIV in 1980. The player remains the same—retired Pittsburgh Steelers star Greene—but the "kid" is now played by comic actress Amy Sedaris. Scratch-And-Sniff Technology Makes Its Way To Denim Jeans. Vindictus. 7 Little Words. Girl Scout Cookie Flavored Lip Balms. The Evolution of Videogame Controllers, News from GamePro. Then and Now: The Evolution of Cereal Mascots. Today we're going to have some good old nostalgic fun and take a walk through cereal box history to look at some beloved characters that have been with most of us since we could chew.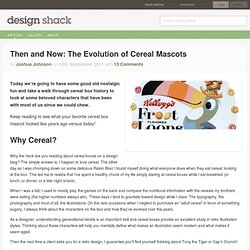 Keep reading to see what your favorite cereal box mascot looked like years ago versus today! Why Cereal? Why the heck are you reading about cereal boxes on a design blog? The simple answer is, I happen to love cereal. The other day as I was chomping down on some delicious Raisin Bran I found myself doing what everyone does when they eat cereal: looking at the box. NFL Next 10 | NFL symposium. Give evil the cold shoulder with Batman ice cubes. The evolution of the web. Burger King: An Unlikely Source of Beauty Inspiration. No One Really Knows Who Invented It - Top 10 Things You Didn't Know About Labor Day.
The founding father of Labor Day is tangled in a web of union figureheads and, well, spelling.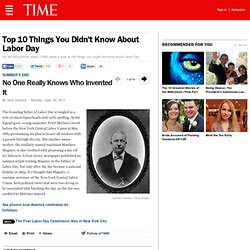 As the legend goes, young carpenter Peter McGuire stood before the New York Central Labor Union in May 1882 proclaiming his plan to honor all workers with a parade through the city. But another union worker, the similarly named machinist Matthew Maguire, is also credited with proposing a day off for laborers. A New Jersey newspaper published an opinion article touting Maguire as the Father of Labor Day, but only after the day became a national holiday in 1894. Song lyrics and song meanings - Lyricful. Infographipedia, the world of infographic. Daily Infographic | A New Infographic Every Day | Data Visualization and Design. Star Wars. Bleeoo. Taco Bell Throws a Tweet-Off for New 'Doritos Locos' Taco. Lisa Lacy | February 24, 2012 | 0 Comments inShare17 Offers @TacoBellTruck visit to user with the most retweets.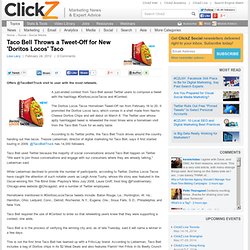 A just-ended contest from Taco Bell asked Twitter users to compose a tweet with the hashtags #DoritosLocosTacos and #Contest. The Doritos Locos Tacos Hometown Tweet-Off ran from February 16 to 20. It promoted the Doritos Locos taco, which comes in a shell made from Nacho Cheese Doritos Chips and will debut on March 8. Infographic Of The Day: How Our Students Stack Up Against The World | Co. Design. If you only judged by the alarmist newspaper headlines, you'd think American education was on the brink of a nuclear holocaust.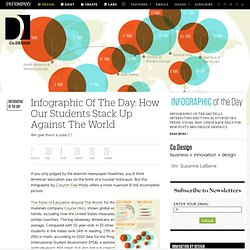 But this infographic by Column Five Media offers a more nuanced (if still incomplete) picture. The Pulse of Education Around The World, for the education materials company Course Hero, shows global educational trends, including how the United States measures up against similar countries. The big takeaway: Americans are, well, average. Tompkins County Friends of the Library :: Home. What do you get after working at Nintendo for 20 years? - Shareables. 19 September '11, 10:18pm Follow Ever since we spent afternoons flipping through Nintendo Power and weekends watching and re-watching The Wizard, we've imagined that working at Nintendo must be awesome.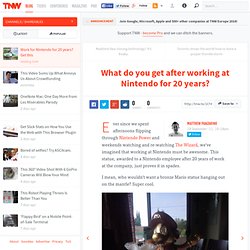 This statue, awarded to a Nintendo employee after 20 years of work at the company, just proves it in spades. I mean, who wouldn't want a bronze Mario statue hanging out on the mantle? Super cool. Ladies and gentlemen, Ron Artest becomes Metta World Peace! Amid labor discord that threatens to delay, if not wipe out, the NBA season, there is suddenly World Peace.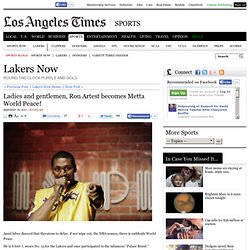 He is 6 feet 7, wears No. 15 for the Lakers and once participated in the infamous "Palace Brawl. " Anyone now making his acquaintance will be meeting Metta World Peace. Those on a first-name basis can call him Metta, while those a little farther removed can buy jerseys with his last name of World Peace stretched across the back. The most ballyhooed name change of the year became official Friday morning when a Los Angeles Superior Court judge commissioner approved Ron Artest's request to be called something else. According to World Peace's publicist, Courtney Barnes, the Lakers forward had been contemplating the switch for years but "it took years of research and soul-searching to find a first name that was both personally meaningful and inspirational. "
---