Music
Everyones Mixtape. Instant Dance Party. Listen to Music Curated by Music Experts. MARCONI UNION - WEIGHTLESS by Just Music label. Deep sleep | Panacea. - StumbleUpon. - StumbleUpon. Air1 Radio, Positive, Alternative Music.
Top 5 songs for a lonely, broken heart - 8/19/2009. There are nights where the summer heat is insufferable, and the future or present wavers, utterly miserable.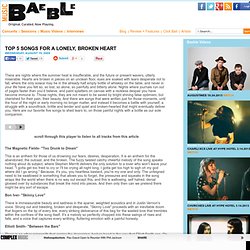 Hearts are broken in pieces on an unclean floor, eyes are soaked with tears desperate not to fall, where the only solace may be in the already half empty bottle of whiskey on the table, and never in your life have you felt so, so lost, so alone, so painfully and bitterly alone. Nights where journals run out of pages faster than you'd believe, and paint splatters on canvas with a reckless despair you have become immune to. Those nights, they are not meant to be saved by bright shining false optimism, but cherished for their pain, their beauty. And there are songs that were written just for those moments, until the hour of the night or early morning no longer matter, and instead it becomes a battle with yourself, a struggle with a soundtrack, brittle and tender and quiet and broken-hearted that might eventually deliver you.
Emotional Bag Check. This Clip Is Proof That Birds Are Secretly Composers. A normal person sees these birds perched on electrical wires and worries about getting crapped on.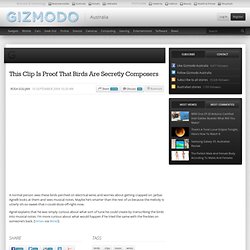 Jarbas Agnelli looks at them and sees musical notes. Maybe he's smarter than the rest of us because the melody is utterly oh-so-sweet-that-I-could-doze-off-right-now. Agnel explains that he was simply curious about what sort of tune he could create by transcribing the birds into musical notes. I'm more curious about what would happen if he tried the same with the freckles on someone's back. [Vimeo via Wired] Passion Pit - Sleepyhead (Abstrack Dubstep Remix) by Abstrack Dubstep on... T3AMs sounds.
Hey-jude-flow-chart-20091029-133742.jpg from laughingsquid.com - StumbleUpon. LYRICS TO LIVE BY. Indiebuzz Online Radio Player. Jukesy - music player powered by youtube and last.fm.
Support for Internet Exporer 6 has been discontinued. Who Am I - Casting Crowns. uWall.tv | Listen to a Wall of Music.
---