Tutorials
Tutorial Categories
View topic - Sintel's Eyes
For the colour maps to save some time I used some high detail photos from http://www.3d.sk/ To add to these maps I painted lots of spot maps and colour maps that I could quickly apply to each texture. above is the texture for his right lower arm veins were painted in deepaint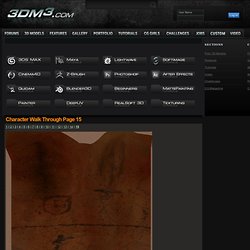 3D models, Tutorials, Gallery, Art works, Animation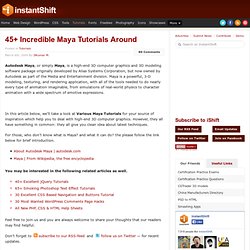 Autodesk Maya, or simply Maya, is a high-end 3D computer graphics and 3D modeling software package originally developed by Alias Systems Corporation, but now owned by Autodesk as part of the Media and Entertainment division.
Making of the Standing Beauty
Making of the Standing Beautyby Asan Umerov, Ukraine Zbrush and Refinements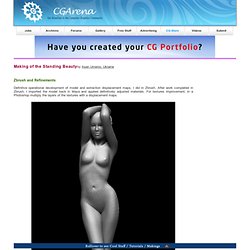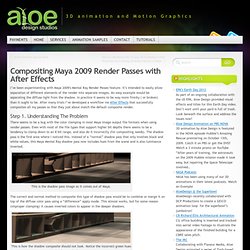 Compositing Maya 2009 Render Passes with After Effects | Aloe Design Studios, llc
I've been experimenting with Maya 2009′s Mental Ray Render Passes feature. It's intended to easily allow separation of different elements of the render into separate images.
Maya Tutorials, Makings, Videos
To produce realistic 'soft shadows' in Maya, you have two solutions. # Ray-traced shadows (with radius > 0); it works pretty well, but the higher rays samples (at low value, you get a noisy shadow), the longer it'll take to compute an image. # Depth-map shadows, which is the quickest way, but has some limitations in realistic rendering: by default a depthmap shadow is sharp or blurred (according to the Dmap filter size value in the shadow section of a light)
Faking ray-traced shadows with depth-map shadows i - Page 2 - Free Shaders Rendering / Lighting Tutorials for Maya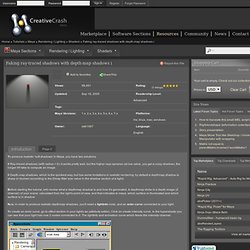 deepshad
Jobye Karmaker's Online Portfolio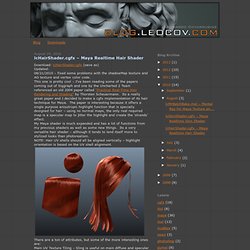 Download: lcHairShader.cgfx (save as) Updated: 08/21/2010 – fixed some problems with the shadowMap texture and AO texture and vertex color code. This one is pretty cool – I've been reading some of the papers coming out of Siggraph and one by the Uncharted 2 Team referenced an old 2004 paper called "Practical Real-Time Hair Rendering and Shading" by Thorsten Scheuermann. Its a really great paper and I decided to make a cgfx implementation of its hair technique for Maya.
blog.leocov.com: lcHairShader.cgfx – Maya Realtime Hair Shader
Valid for: Maya Unlimited 2008 2009.
Grass simulation with Fur and Hair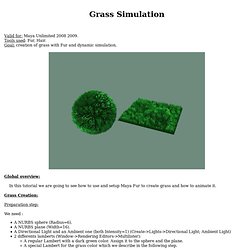 Low Poly Game Character Hair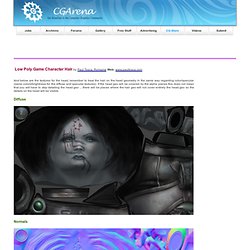 And below are the textures for the head; remember to treat the hair on the head geometry in the same way regarding color/specular (same colors/brightness for the diffuse and specular textures).
Cloth & Fur Tutorials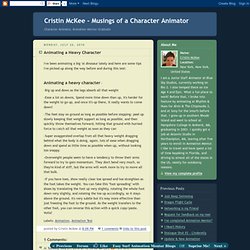 I've been animating a big 'ol dinosaur lately and here are some tips I've picked up along the way before and during this test: Animating a heavy character - -Big up and down as the legs absorb all that weight
Animating a Heavy Character
I'm posting a very simple tutorial on how to model and apply shaders to get realistic eyes, the "windows of your character's soul". A lot of times, bad eyes can "kill" your character literally, even if it has the most perfect modeling of the world. The importance of the eyes is exactly this: give life to your character. Therefore, don't underestimate this very important step of CG character construction... if not, you've only created "puppets". There is a quite big camber in the cornea, in the iris area. That irregularity, that all of us have, can become a great problem for a CG character.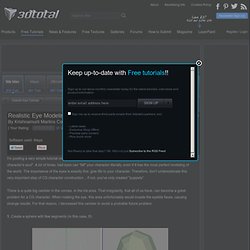 Tutorials
Modeling Interior Environments Tutorial in Maya Part 3 of 3
April 11, 2009 Category: 3D Modeling
Tutorials
Linking to UV Sets with the UV Relationship Editor The purpose of this demo is to provide an educational framework for two common uses of the UV-Centric, UV linking, Relationship Editor. First of all, a little context: Why would we want to go through this trouble of establishing UV sets?
Maya 2011 Graph Editor (Pendulum Swing) on Vimeo
I was washing my paintbrushes this afternoon, and I realized that I didn't remember having finished a couple of brushes that were sitting clean to one side. This used to happen when I drove across Los Angeles: suddenly I'd be closing in on Santa Monica, and I would have no memory of going through Beverly Hills. I guess I've gotten that good at cleaning paintbrushes.
Subsurface Scattering
Animate cracking terrain
Basic Walk Cycle, part 2
<- go to Part 1: Creating Extremes This is the second installment on applying information found in The Animator's Survival Kit by Richard Williams to creating a 3D (CG) character walk cycle. The first installment covered creating the first poses or extremes using a pose to pose method.
ENVIRONMENT AND VECHICLE MODELLING AND TEXTURING //
Maya Unlimited Cloth Fur Tutorial
Paint FX Tutorials for Maya
Making of PhotoRealistic Actress In 3DMaking-of by CG artist, MAX Wahyudi CGIndia Feature
Making of PhotoRealistic Actress In 3D
Tutorial: Renderman displacement rendering with Zbursh3 - MD3 Tips& Tricks
Maya Displacement Maps
Maya 2011 Tutorials | Creating Textures and Shaders
Honey leaking effect on the delicious pancake.
5 Creative Ways to Hack Your Facebook Profile Photo
Photo Editing Photoshop Tutorials - Tutorial King
How to Enhance Photos With a Pen Tablet
Create a Colorful Cake Illustration in Photoshop
Create Light Painted Typography From Scratch in Photoshop
PSGallery :: Metal Text
Rusty Silver and Gold Text Effect - Photoshop tutorial
Free Maya Video Tutorials - Wrinkle Feature in Maya 2010 Muscle
3D Tutorials, 3D modeling tutorials and CG Tutorials. - Page 6
Blending Life 2010 « BenSimonds.com