Tech
Science > Religion
Twitter résout une affaire d'enlèvement en deux heures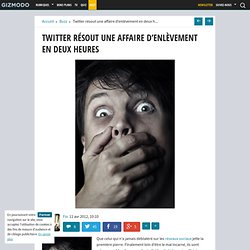 Que celui qui n'a jamais déblatéré sur les réseaux sociaux jette la première pierre. Finalement loin d'être le mal incarné, ils sont même capables de sauver des individus de kidnapping . Voici comment Twitter a sauvé un jeune homme sud-africain. Cette histoire commence par une anecdote bien trop récurrente. Un jeune homme s'est fait enlever dans la ville de Johannesburg à 9h du matin, l'homme a littéralement été jeté dans le coffre d'une voiture qui s'est empressée de fuir à toute allure.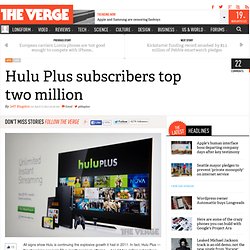 All signs show Hulu is continuing the explosive growth it had in 2011. In fact, Hulu Plus — the streaming service's $8-a-month premium offering — has hit two million subscribers, reports The New York Times. That number is up by a third since the end of 2011 , and has roughly quadrupled in the past year, showing people are increasingly willing to pay for better video quality, access to more content, and the convenience of watching their Hulu programming on non-PC devices.
Hulu Plus subscribers top 2 million
Les héros Marvel inspirent nombre de grands succès du box-office. Après une année riche en justiciers masqués, voici un court métrage centré sur le grand oublié des Avengers : Deadpool. Un superhéros un peu plus trash et rock'n'roll que les habituelles gueules d'amour en cape et collants. Tandis que se profile pour 2014 un épisode de X-Men Origins centré sur le personnage de Deadpool , les fans se sont déjà mis à l'œuvre. Le duo de réalisateurs Matyas Vertesi et Jean-Adrien Espiasse nous propose ce court métrage audacieux, avec tous nos ingrédients préférés chez ce personnage emblématique des années 1990 : scènes de baston, blagues vaseuses, gros flingues et garces aux poitrines généreuses ! Le Saint-Graal du plaisir coupable pour tout geek qui se respecte.
"Deadpool" - Un héros qui a la cot-cot - Allocine When we say this is "the original desktop," it's not because it's the first one, or because it's totally unique, but because Flickr user Bassam Rajput has an inspiring wallpaper that encourages us to be original. The widgets and gadgets he has on his desktop, made with Samurize, Rainmeter, and more, don't hurt either. The whole package looks great. If you want the same look for your Windows 7 desktop, here are the tools you'll need: The wallpaper from Wallbase . The Samurize system monitoring and customization engine for Windows.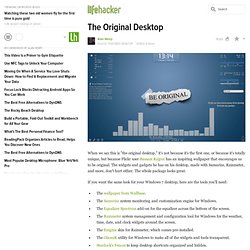 The Original Desktop
applications android - usages quotidiens
Les dix mauvaises habitudes inhérentes à la technologie
Passeriez-vous une journée sans utiliser un appareil technologique ? La réponse est généralement non … Résultat, à force d'intégrer tous ces appareils à notre quotidien , nous prenons de mauvaises habitudes . Revenons quelques instants sur les dix écueils à éviter.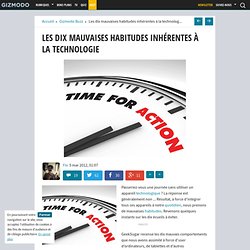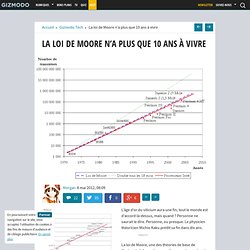 La loi de Moore n'a plus que 10 ans à vivre
L'âge d'or du silicium aura une fin, tout le monde est d'accord là-dessus, mais quand ? Personne ne saurait le dire. Personne, ou presque. Le physicien théoricien Michio Kaku prédit sa fin dans dix ans.
Google Street View Hyperlapse | Labs
Create a Hyperlapse. Hyper-lapse photography – a technique combining time-lapse and sweeping camera movements typically focused on a point-of-interest – has been a growing trend on video sites. It's not hard to find stunning examples on Vimeo . Creating them requires precision and many hours stitching together photos taken from carefully mapped locations. We aimed at making the process simpler by using Google Street View as an aid, but quickly discovered that it could be used as the source material. It worked so well, we decided to design a very usable UI around our engine and release Google Street View Hyperlapse .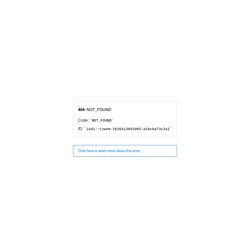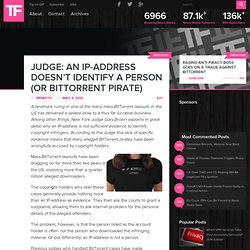 A landmark ruling in one of the many mass-BitTorrent lawsuits in the US has delivered a severe blow to a thus far lucrative business. Among other things, New York Judge Gary Brown explains in great detail why an IP-address is not sufficient evidence to identify copyright infringers. According to the Judge this lack of specific evidence means that many alleged BitTorrent pirates have been wrongfully accused by copyright holders. Mass-BitTorrent lawsuits have been dragging on for more than two years in the US, involving more than a quarter million alleged downloaders. The copyright holders who start these cases generally provide nothing more than an IP-address as evidence. They then ask the courts to grant a subpoena, allowing them to ask Internet providers for the personal details of the alleged offenders.
Judge: An IP-Address Doesn't Identify a Person (or BitTorrent Pirate)
Walter Lewin Promo
Back to the Basics: Learn to Use Keyboard Shortcuts Like a Ninja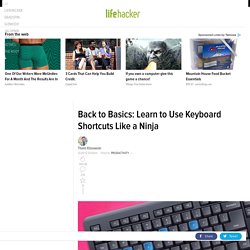 Keyboard shortcuts are the easiest way to do things faster, but with the wide variety of software we all use it's hard to remember all the different shortcuts. In turn, even though we all know shortcuts are useful, few of us bother using them. Here's how to learn to make use of shortcuts, ranging from the beginner to expert. Why Keyboard Shortcuts Make You Faster at Everything You've probably heard about keyboard shortcuts, and you've heard keyboard nuts talking about how they're so much faster than using a mouse.
Brydge iPad Keyboard
Look again. This isn't a MacBook. It's an iPad and the new Brydge . Brydge is a device for your iPad that turns your handy tablet into a laptop. The Brydge has a full-size, aluminum keyboard, with or without speakers, that features a heavy-duty clamp to hold your iPad in place. The device has a hinge that allows you to open and view your iPad at any angle and then close down when you're done.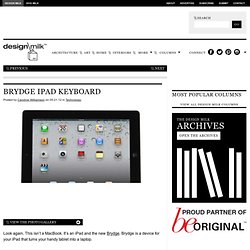 The term 'geek', once used to label a circus freak, has morphed in meaning over the years. What was once an unusual profession transferred into a word indicating social awkwardness. As time has gone on, the word has yet again morphed to indicate a new type of individual: someone who is obsessive over one (or more) particular subjects, whether it be science, photography, electronics, computers, media, or any other field. A geek is one who isn't satisfied knowing only the surface facts, but instead has a visceral desire to learn everything possible about a particular subject.
If you're looking to hide files on your PC hard drive , you may have read about ways to encrypt folders or change the attributes on a file so that they cannot be accessed by prying eyes. However, a lot of times hiding files or folders in that way requires that you install some sort of software on your computer, which could then be spotted by someone else. I've actually written quite a few articles on how you can hide files and folders in Windows XP and Vista before, but here I'm going to show you a new way to hide files that is very counter-intuitive and therefore pretty safe! Using a simple trick in Windows, you can actually hide a file inside of the JPG picture file ! You can actually hide any type of file inside of an image file, including txt, exe, mp3, avi, or whatever else.
If you're just getting into Instagram, the social shoot-and-filter app that was hit Android last week and sold to Facebook yesterday , then you might want appreciate a primer on each filter's quirks strengths, rather than flip through all of them with every shot. The Atlantic offers just such a profile. Mark Zuckerberg all but promised to keep Instagram available without a mandatory Facebook integration, but Megan Garber at The Atlantic is probably right: you'll be seeing Instagram in Facebook soon enough. So her short-hand guide to the Instagram filters and when they work best is worth not only reading, but sending on to your newest lo-fi-filtering friends and relatives.
Know Which Shots Work Best with Each Instagram Filter
We've discussed how using passphrases as passwords can boost your security , but if you've chosen a phrase used in every-day speech, you're not doing yourself—or your data—any favors. According to a new Cambridge study, a common phrase, like, say, "outofthepark," is only marginally more secure than a dictionary word, and anyone looking to crack your password already knows to try common phrases along with common words. If you prefer passphrases, here's how to make them more secure. Why Common Passphrases Aren't As Secure As You Think
Using Common Phrases Makes Your Passphrase Password Useless: Here's How to Pick a Better Phrase
https://www.cl.cam.ac.uk/~jcb82/doc/BS12-USEC-passphrase_linguistics.pdf
What's this? This is a toy live coding environment: programs run immediately as they are typed. Pick something from the "Demos" menu or try the tutorials.
Livecodelab