Innovation
McKinsey Global Institute has just released a report "Open data: Unlocking innovation and performance with liquid information". At Fourbuckets we have long believed in a transparent world, where information is free-flowing an accessible by all. Many large organisations and consultative service oriented businesses are still yet to fully realise the upcoming change of free flowing information paradigms. We see many old guard leaders and organisations desperately hanging on to yesteryears control of information. But as McKinsey and Company have well researched, data and information is going to become more available and "liquified". In the extract below from the McKinsey report (which highlights only 7 key industry types), the benefits and implications for business will be but not limited to:
Turning open data into liquid information - Fourbuckets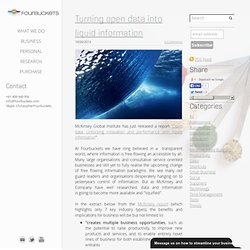 Mobile Boom Time - Forbes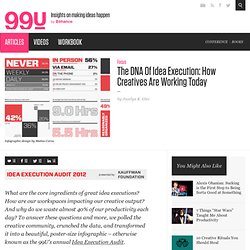 What are the core ingredients of great idea executions? How are our workspaces impacting our creative output? And why do we waste almost 40% of our productivity each day? To answer these questions and more, we polled the creative community, crunched the data, and transformed it into a beautiful, poster-size infographic – otherwise known as the 99U's annual Idea Execution Audit .
The DNA Of Idea Execution: How Creatives Are Working Today
0 Share
(Almost) Everything You Ever Wanted to Know About Creativity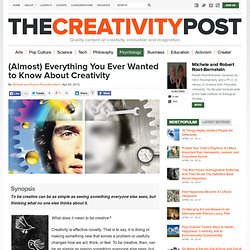 Common wisdom states that startups are hothouses for creativity and innovation, while large corporations are too jammed up with bureaucracy and hierarchy to push the envelope and arrive at new solutions. It's why more and more companies are trying to "think like a startup," some even forming smaller divisions that can operate more nimbly and loosely within the larger structure. But is it that simple? Is simply being small and new a recipe for creative thinking, and if so, what happens when a startup gets bigger, and older (presumably everyone's goal)?
How Any Company Can Think Like A Startup
Infographic Explains Mind Mapping For Beginners
What does it takes to go viral?
Quirky
in Share 0
How to Build An Innovation Leader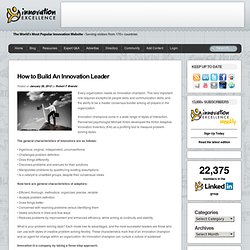 Innovation Tweets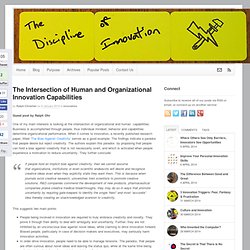 The Intersection of Human and Organizational Innovation Capabilities
Guest post by Ralph Ohr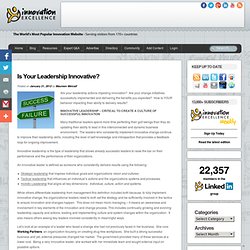 Is Your Leadership Innovative?
in Share 55 Are your leadership actions impeding innovation?
The Steve Jobs Way: Seven lessons in business leadership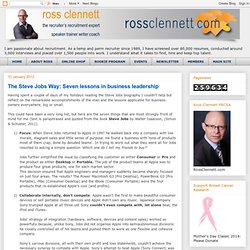 Having spent a couple of days of my holidays reading the Steve Jobs biography I couldn't help but reflect on the remarkable accomplishments of the man and the lessons applicable for business owners everywhere, big or small. This could have been a very long list, but here are the seven things that are most strongly front of mind for me (text is paraphrased and quoted from the book Steve Jobs by Walter Isaacson, (Simon & Schuster, 2011). 1) Focus: When Steve Jobs returned to Apple in 1997 he walked back into a company with low morale, stagnant sales and little sense of purpose. He found a business with 'tons of products most of them crap, done by deluded teams'.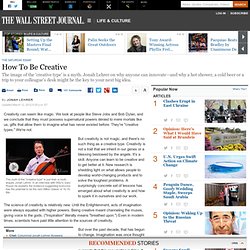 By JONAH LEHRER Creativity can seem like magic.