Cupcake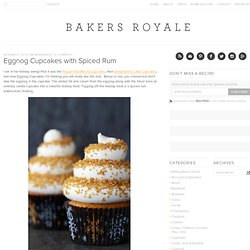 Eggnog Cupcakes withSpiced Rum
I am in full holiday swing! First it was the Peppermint Mocha Cupcakes , then Gingerbread Latte Cupcakes , and now Eggnog Cupcakes.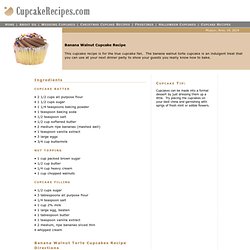 Ingredients cupcake batter • 2 1/2 cups all purpose flour • 1 1/2 cups sugar • 1 1/4 teaspoons baking powder • 1 teaspoon baking soda • 1/2 teaspoon salt • 1/2 cup softened butter • 2 medium ripe bananas (mashed well) • 1 teaspoon vanilla extract • 3 large eggs • 3/4 cup buttermilk nut topping
Banana Walnut Cupcake Recipe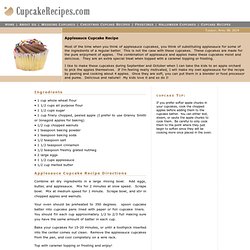 Applesauce Cupcake Recipe
Ingredients • 1 cup whole wheat flour • 1 1/2 cups all purpose flour • 1 1/2 cups sugar • 1 cup finely chopped, peeled apple (I prefer to use Granny Smith or Jonagold apples for baking) • 1/2 cup chopped walnuts • 1 teaspoon baking powder • 1 teaspoon baking soda • 1/2 teaspoon salt • 1 1/2 teaspoon cinnamon • 1/2 teaspoon freshly grated nutmeg • 2 large eggs • 1 1/2 cups applesauce • 1/2 cup melted butter
Orange Cupcake Recipe
• 1 3/4 cup cake flour (see tip) • 1 cup sugar • 1/2 teaspoons salt • 2 1/2 teaspoons baking powder • 2 large eggs, separated and whites beaten until stiff • 1 teaspoon vanilla extract • 1/2 cup orange juice • 1 stick of butter, softened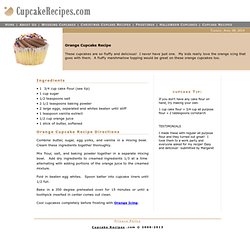 Raspberry White Chocolate Buttercream Cupcakes Recipe
• 2 cups all purpose flour • 1 1/2 cups sugar • 1/2 teaspoon salt • 3/4 cup cold water • 1/2 cup oil • 1 1/2 teaspoon vanilla • 7 large eggs, separated • 2 teaspoons grated key lime rind • 1/2 teaspoon cream of tartar
Key Lime Cupcake Recipe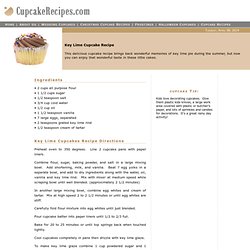 Raspberry Iced Tea Cupcakes Recipe
Lemon Cupcake with Blackberry Buttercream Recipe
Chocolate-Peanut Butter Cupcakes Recipe
Apple Cupcakes with Cinnamon-Marshmallow Frosting Recipe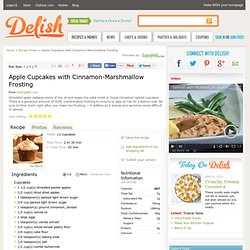 1 1/2 cup(s) shredded peeled apples 1/2 cup(s) diced dried apples 3 tablespoon(s) packed light brown sugar 3/4 cup packed light brown sugar 1 teaspoon(s) ground cinnamon, divided 1/3 cup(s) canola oil 2 large eggs 1 teaspoon(s) vanilla extract 3/4 cup(s) whole-wheat pastry flour 3/4 cup(s) cake flour 3/4 teaspoon(s) baking soda 1/4 teaspoon(s) salt 1/2 cup(s) nonfat buttermilk 1 cup(s) light brown sugar 1/4 cup(s) water 4 teaspoon(s) (equivalent to 2 egg whites) dried egg whites (see Tips & Techniques) , reconstituted according to package directions 1/4 teaspoon(s) cream of tartar Pinch of salt 1 teaspoon(s) vanilla extract 1/2 teaspoon(s) ground cinnamon , plus more for garnish To prepare cupcakes: Preheat oven to 350°F. Line 12 (1/2-cup) muffin cups with cupcake liners or coat with cooking spray.
Starbucks Frappacinos. Cupcake Style. « Kimz Kitchen
UDATE: The cupcake tips I used for the frosting on this are on sale on Amazon right now – get the cupcake decorator's set for only $6.06 – down from $8.99! (This price can change anytime though – so look before you buy!) After the many requests for this recipe and how-to, I thought I'd take some pictures and post this recipe. My brother in law is getting married tomorrow, and since he and his lovely bride-to-be met at Starbucks, a Starbucks themed rehearsal dinner – with these cupcakes for dessert – was quite in order. Keep in mind that at the end, you'll see two different kinds of cupcakes – I did Caramel Frappucino ones and Double Chocolate Chip Frappacino ones.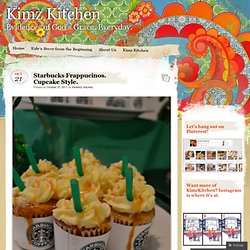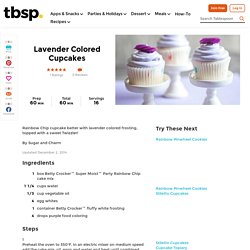 Lavender Party Treats
Posted April 9th, 2012 by sugarandcharm Picking a theme or color is actually my first step when planning a party! After that, the other ideas begin to flow. It's really easy.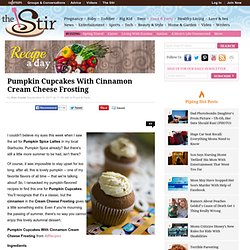 I couldn't believe my eyes this week when I saw the ad for Pumpkin Spice Lattes in my local Starbucks. Pumpkin Spice already? But there's still a little more summer to be had, isn't there? Of course, it was impossible to stay upset for too long; after all, this is lovely pumpkin -- one of my favorite flavors of all time -- that we're talking about! So, I ransacked my pumpkin-flavored recipes to find this one for Pumpkin Cupcakes .
Pina Colada Cake Recipe
Root Beer Float Cake Recipe
Sugar Cookie Cupcakes Accidentally Delicious #Recipe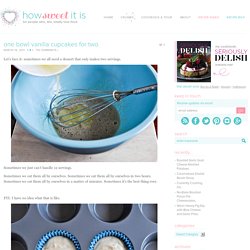 Let's face it: sometimes we all need a dessert that only makes two servings. Sometimes we just can't handle 12 servings. Sometimes we eat them all by ourselves. Sometimes we eat them all by ourselves in two hours. Sometimes we eat them all by ourselves in a matter of minutes. Sometimes it's the best thing ever.
As I mentioned on Friday, I have been doing some experimentation with the beer and chocolate combination. The Guinness-chocolate ice cream that I made totally kicked butt, so I couldn't wait to see how I liked beer and chocolate in my cake. The answer? I like it, a whole heck of a lot. This was my first time doing Guinness-chocolate cakes, and I was totally optimistic that I would love it, and I was definitely right. These cupcakes are fashioned after the popular "Irish Car Bomb" cocktail that consists of a shot of Baileys Irish Cream and Irish whiskey dropped into a pint of Guinness.
Call me easily amused, but these little torch-topped cupcakes delight me. Besides being a cute novelty item for a party, I think they would add a little drama to the end of a romantic meal. I've been looking for something different to serve for Valentine's dessert, and this is definitely different. The strawberries are hollowed out and filled with a bit of liquor, then ignited with a match. For the cake portion, I chose a One Bowl Chocolate Cupcake recipe because 1. it's quick 2. it is easy, and 3. it fits my prerequisite for a light ending on date night.
I watched my Grandmother's face when she realized that I hadn't handed her a hard boiled egg but rather a cake baked inside a real egg shell. Her eyes were filled with wonder and I could envision what she must have looked like as a tyke the very first time she saw a red balloon float across the sky or the the trunk of a giant elephant spewing a stream of water. "Crack it on the table," I told her. Eggs were cracked, cupcakes were eaten, and I was perceived as a cupcake Houdini.