Cupcake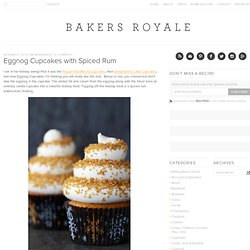 Eggnog Cupcakes withSpiced Rum
I am in full holiday swing! First it was the Peppermint Mocha Cupcakes, then Gingerbread Latte Cupcakes, and now Eggnog Cupcakes.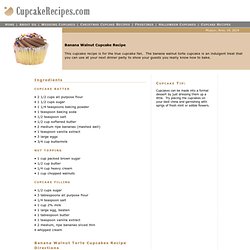 Ingredients cupcake batter • 2 1/2 cups all purpose flour • 1 1/2 cups sugar • 1 1/4 teaspoons baking powder • 1 teaspoon baking soda • 1/2 teaspoon salt • 1/2 cup softened butter• 2 medium ripe bananas (mashed well) • 1 teaspoon vanilla extract • 3 large eggs • 3/4 cup buttermilk nut topping
Banana Walnut Cupcake Recipe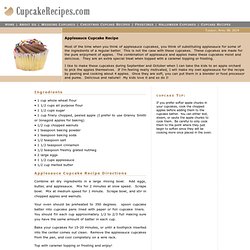 Applesauce Cupcake Recipe
Ingredients • 1 cup whole wheat flour • 1 1/2 cups all purpose flour • 1 1/2 cups sugar • 1 cup finely chopped, peeled apple (I prefer to use Granny Smith or Jonagold apples for baking) • 1/2 cup chopped walnuts • 1 teaspoon baking powder• 1 teaspoon baking soda • 1/2 teaspoon salt • 1 1/2 teaspoon cinnamon • 1/2 teaspoon freshly grated nutmeg • 2 large eggs • 1 1/2 cups applesauce • 1/2 cup melted butter
Orange Cupcake Recipe
• 1 3/4 cup cake flour (see tip) • 1 cup sugar • 1/2 teaspoons salt • 2 1/2 teaspoons baking powder • 2 large eggs, separated and whites beaten until stiff • 1 teaspoon vanilla extract• 1/2 cup orange juice • 1 stick of butter, softened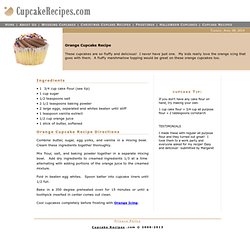 Raspberry White Chocolate Buttercream Cupcakes Recipe
• 2 cups all purpose flour • 1 1/2 cups sugar • 1/2 teaspoon salt • 3/4 cup cold water • 1/2 cup oil • 1 1/2 teaspoon vanilla• 7 large eggs, separated • 2 teaspoons grated key lime rind • 1/2 teaspoon cream of tartar
Key Lime Cupcake Recipe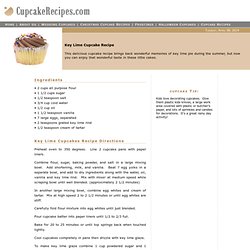 Raspberry Iced Tea Cupcakes Recipe
Lemon Cupcake with Blackberry Buttercream Recipe
Chocolate-Peanut Butter Cupcakes Recipe
Apple Cupcakes with Cinnamon-Marshmallow Frosting Recipe
Starbucks Frappacinos. Cupcake Style. « Kimz Kitchen
UDATE: The cupcake tips I used for the frosting on this are on sale on Amazon right now – get the cupcake decorator's set for only $6.06 – down from $8.99! (This price can change anytime though – so look before you buy!) After the many requests for this recipe and how-to, I thought I'd take some pictures and post this recipe. My brother in law is getting married tomorrow, and since he and his lovely bride-to-be met at Starbucks, a Starbucks themed rehearsal dinner – with these cupcakes for dessert – was quite in order. Keep in mind that at the end, you'll see two different kinds of cupcakes – I did Caramel Frappucino ones and Double Chocolate Chip Frappacino ones.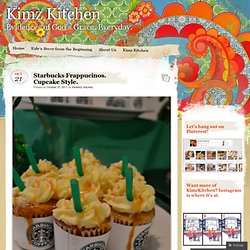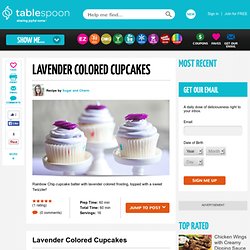 Lavender Party Treats
Picking a theme or color is actually my first step when planning a party!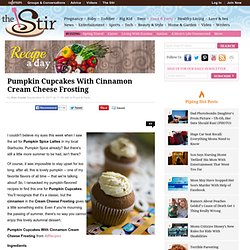 Pumpkin Cupcakes With Cinnamon Cream Cheese Frosting | The Stir - StumbleUpon
I couldn't believe my eyes this week when I saw the ad for Pumpkin Spice Lattes in my local Starbucks. Pumpkin Spice already? But there's still a little more summer to be had, isn't there? Of course, it was impossible to stay upset for too long; after all, this is lovely pumpkin -- one of my favorite flavors of all time -- that we're talking about! So, I ransacked my pumpkin-flavored recipes to find this one for Pumpkin Cupcakes.
Pina Colada Cake Recipe
Root Beer Float Cake Recipe
Five-Minute Chocolate Mug Cake - iVillage
Sugar Cookie Cupcakes Accidentally Delicious #Recipe
One Bowl Vanilla Cupcakes For Two | How Sweet It Is
As I mentioned on Friday, I have been doing some experimentation with the beer and chocolate combination. The Guinness-chocolate ice cream that I made totally kicked butt, so I couldn't wait to see how I liked beer and chocolate in my cake. The answer? I like it, a whole heck of a lot. This was my first time doing Guinness-chocolate cakes, and I was totally optimistic that I would love it, and I was definitely right. These cupcakes are fashioned after the popular "Irish Car Bomb" cocktail that consists of a shot of Baileys Irish Cream and Irish whiskey dropped into a pint of Guinness.
Irish Car Bomb Cupcakes Recipe | Brown Eyed Baker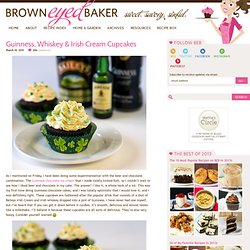 Sprinkle Bakes: Chocolate Cupcakes with Flaming Strawberries
I watched my Grandmother's face when she realized that I hadn't handed her a hard boiled egg but rather a cake baked inside a real egg shell. Her eyes were filled with wonder and I could envision what she must have looked like as a tyke the very first time she saw a red balloon float across the sky or the the trunk of a giant elephant spewing a stream of water. "Crack it on the table," I told her. Eggs were cracked, cupcakes were eaten, and I was perceived as a cupcake Houdini.
Easter Cupcakes Baked in Real Egg Shells ~ Cupcake Project