Cheesecake
Get flash to fully experience Pearltrees
Whipped, mixed, baked or frozen, at one point or another, most of us have lingered in our love affair with cheesecake. Here, we have 15 suggestions that might pull you back into a dangerous remission, glistening in all their creamy glory.
The other day I bought some beautiful fresh raspberries. I was planning on eating them just as they were, but then I came up with an idea. Maybe it was because my mind is constantly thinking about cakes and other sweet treats, but suddenly plain old raspberries sounded a bit boring.
Wednesday, April 7, 2010 Lincoln's Red Velvet (Cheesecake) Cake Psssst…. there's a surprise inside this pale exterior!
About Yummly Yummly is building the digital kitchen platform and mapping the food genome...making life better/easier/more fun for everyone who cooks.
Red Velvet Cheesecake Brownies These Red Velvet Cheesecake Brownies are rich, decadent and so perfect for Valentine's Day! Brownie and cheesecake batter are swirled together to make a festive and impressive dessert . Indianapolis, along with many other states in the Midwest, is coping with a huge ice storm that is supposed to cover us in over an inch of ice. Unfortunately the worst of the storm is supposed to come tonight. Today the school district that I work for was actually closed!
New York Cheesecake : Grease, or spray with Pam, a 9 inch (23 cm) springform pan.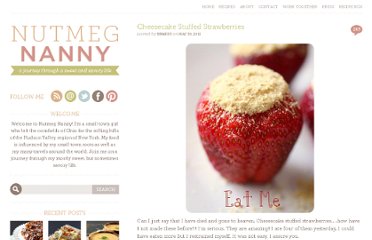 Cheesecake Stuffed Strawberries Can I just say that I have died and gone to heaven.