iOS | Platforms/Etc
Hoteltonight/HTAutocompleteTextField. Develop native iOS apps with Html & Javascript. 25 Free iOS Design Resources. Some great designers around the web have released great icons, interface PSDs, and other resources that help make designing iOS apps easier.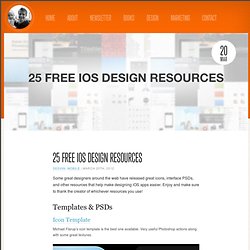 Enjoy and make sure to thank the creator of whichever resources you use! Templates & PSDs Icon Template Michael Flarup's icon template is the best one available. Ui Parade – User Interface Design Inspiration. Dev Rocket - Photoshop panel plugin for iOS developers.
Jailbreak | iOS
iOS | Mobile - IT Security. Libraries/Toolkits/Etc | iOS. URL Schemes | iOS. Testing/Debugging | iOS. Ray Wenderlich | Tutorials for iPhone / iOS Developers and Gamers. Five links iOS developers should bookmark. Find out why Steve Dryall considers these online resources essentials for iOS developers, and then post your go-to links in the discussion.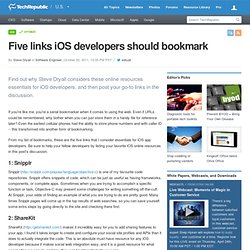 If you're like me, you're a serial bookmarker when it comes to using the web. Even if URLs could be remembered, why bother when you can just store them in a handy file for reference later? Even the earliest cellular phones had the ability to store phone numbers and with caller ID -- this transformed into another form of bookmarking. A Guide To iOS SDK For Web Designers. Advertisement As a designer looking to broaden your skill set, you've decided that learning how to make native apps for Apple's iOS platform is an attractive and potentially lucrative prospect.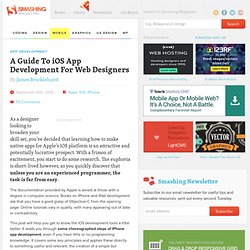 With a frisson of excitement, you start to do some research. The euphoria is short-lived however, as you quickly discover that unless you are an experienced programmer, the task is far from easy. The documentation provided by Apple is aimed at those with a degree in computer science. Books on iPhone and iPad development ask that you have a good grasp of Objective-C from the opening page.
Eric Silverberg - Google+ - Here is a list of all of the iOS 3rd party APIs and… +Vous Recherche Images.
Start Developing iOS Apps Today: Introduction. Start Developing iOS Apps Today provides the perfect starting point for iOS development.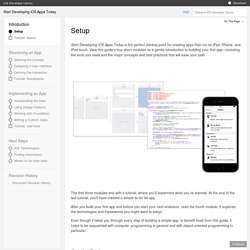 On your Mac, you can create iOS apps that run on iPad, iPhone, and iPod touch. View this guide's four short modules as a gentle introduction to building your first app—including the tools you need and the major concepts and best practices that will ease your path. The first three modules each end with a tutorial, where you'll implement what you've learned. iOS Beginner blog series by Kent Nguyen, developer of Denso App. Posted: January 14th, 2012 | Author: Kent Nguyen | Filed under: iOS | Tags: coding style, css, function, html, php | 17 Comments » A dedication to the high-level programmers After almost a year learning Objective C and iOS programming, now I can say that I understand most of the materials available in StackOverflow and there is rarely any question that I don't know *how* to look for the answer.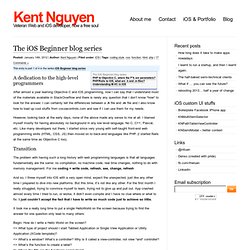 App Store Rankings - Mobile SEO and Keyword Optimization for iPhone and iPad iPhone & iPad iTunes App Store Keyword Tracking. App Web: Discover Similar New Apps for iPhone & iPad - Powered by App Store Rankings. Visualizing the iOS App Store - Apps Summary - App Store Rankings.
Controls: Filter: Drag along an axis Remove Filter: Click the axis background Drag Filter to help visualize the relation —————— : Average line About:
NSHipster | Blog. iOS Accessibility – A Useful Guide For Testing | Rosie Land. It's scary to think, but around 7 years ago (I think!)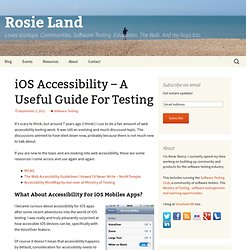 I use to do a fair amount of web accessibility testing work. It was still an evolving and much discussed topic. 100 Tools to Develop the Next Killer iOS or Android App. <i><i><i><i><i><i><i><i><i>This post is #11 in DailyTekk's famous Top 100 series which explores the best startups, gadgets, apps, websites and services in a given category.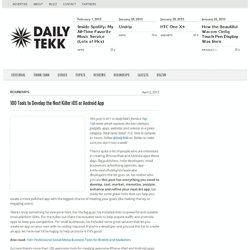 Total items listed: 113. Time to compile: 6+ hours. Follow @DailyTekk on Twitter to make sure you don't miss a week! </i></i></i></i></i></i></i></i></i> </i>*} Custom UI Controls for iOS and Mac OS X - Cocoa Controls. Chariot Solutions: Securing Data in iOS. There are numerous ways to secure data that you are storing on an iOS device.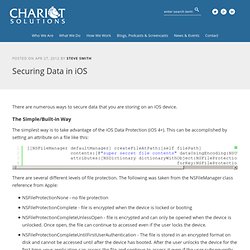 The Simple/Built-in Way The simplest way is to take advantage of the iOS Data Protection (iOS 4+). This can be accomplished by setting an attribute on a file like this: There are several different levels of file protection. Skala Preview from Bjango. Skala Preview is a great new tool for designers from Bjango that lets you easily preview images on your iPhone or iPad. There are a couple of apps that are similar, but where Skala shines is how easy it makes this process. Skala can display images on your iOS devices in a number of ways, but it's killer feature is its real-time preview when using Photoshop CS5. This feature allows you to send the contents of the front most Photoshop document to Skala. As you make changes to the design they automatically appear on your device.
---