iOS | Platforms/Etc
hoteltonight/HTAutocompleteTextField
Develop native iOS apps with Html & Javascript.
Some great designers around the web have released great icons, interface PSDs, and other resources that help make designing iOS apps easier.
25 Free iOS Design Resources | Nathan Barry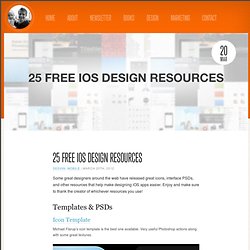 Dev Rocket - Photoshop panel plugin for iOS developers
iOS | Mobile - IT Security
Libraries/Toolkits/Etc | iOS
Find out why Steve Dryall considers these online resources essentials for iOS developers, and then post your go-to links in the discussion.
Five links iOS developers should bookmark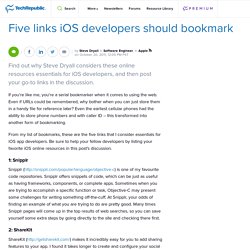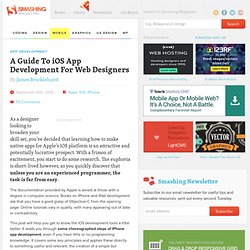 Advertisement As a designer looking to broaden your skill set, you've decided that learning how to make native apps for Apple's iOS platform is an attractive and potentially lucrative prospect.
Eric Silverberg - Google+ - Here is a list of all of the iOS 3rd party APIs and…
+Vous Recherche Images
Posted: January 14th, 2012 | Author: Kent Nguyen | Filed under: iOS | Tags: coding style, css, function, html, php | 17 Comments » A dedication to the high-level programmers After almost a year learning Objective C and iOS programming, now I can say that I understand most of the materials available in StackOverflow and there is rarely any question that I don't know *how* to look for the answer.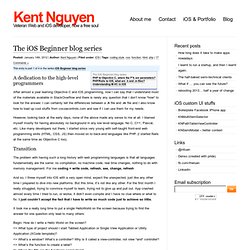 iOS Beginner blog series by Kent Nguyen, developer of Denso App
App Store Rankings - Mobile SEO and Keyword Optimization for iPhone and iPad iPhone & iPad iTunes App Store Keyword Tracking
App Web: Discover Similar New Apps for iPhone & iPad - Powered by App Store Rankings
Controls:
Visualizing the iOS App Store - Apps Summary - App Store Rankings
NSHipster | Blog
iOS Accessibility – A Useful Guide For Testing | Rosie Land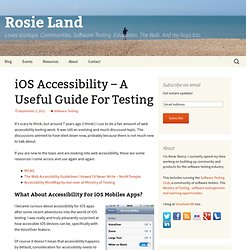 It's scary to think, but around 7 years ago (I think!) I use to do a fair amount of web accessibility testing work. It was still an evolving and much discussed topic.
<i><i><i><i><i><i><i><i><i>This post is #11 in DailyTekk's famous Top 100 series which explores the best startups, gadgets, apps, websites and services in a given category. Total items listed: 113.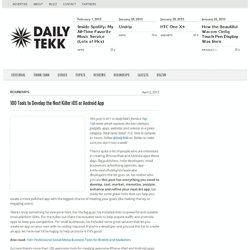 Chariot Solutions: Securing Data in iOS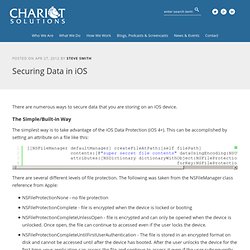 There are numerous ways to secure data that you are storing on an iOS device.
Skala Preview from Bjango