Entrepreneurship 1
Interview with Guy Kawasaki
Ideapreneur.net-Hot Business Ideas for Ent
Fire your Boss! The Successful Home Freela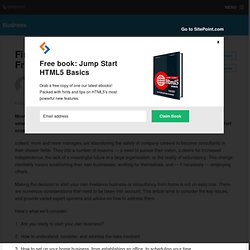 Most people, at one time or another, have a job that rewards their time and effort with wages or salaries. An increasing number of people, however, are becoming dissatisfied with that time-and-effort economy and seek the greater rewards that a results economy can provide. Indeed, more and more managers are abandoning the safety of company careers to become consultants in their chosen fields. They cite a number of reasons — a need to pursue their vision, a desire for increased independence, the lack of a meaningful future in a large organisation, or the reality of redundancy. This change inevitably means establishing their own businesses, working for themselves, and — if necessary — employing others.
#1: Be Narrow Focus on the smallest possible problem you could solve that would potentially be useful. Most companies start out trying to do too many things, which makes life difficult and turns you into a me-too. Focusing on a small niche has so many advantages: With much less work, you can be the best at what you do. Small things, like a microscopic world, almost always turn out to be bigger than you think when you zoom in. You can much more easily position and market yourself when more focused.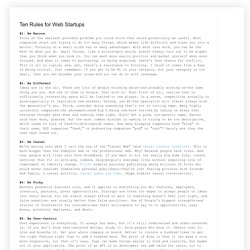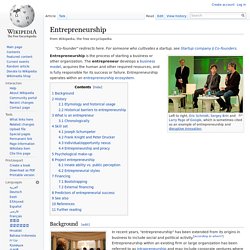 ' Entrepreneurship' is the act and art of being an entrepreneur or one who undertakes innovations or introducing new things, finance and business acumen in an effort to transform innovations into economic goods. This may result in new organizations or may be part of revitalizing mature organizations in response to a perceived opportunity. The most obvious form of entrepreneurship is that of starting new businesses (referred as startup company ); however, in recent years, the term has been extended to include social and political forms of entrepreneurial activity. When entrepreneurship is describing activities within a firm or large organization it is referred to as intra-preneurship and may include corporate venturing, when large entities spin-off organizations. [ 1 ]
Entrepreneurship - Wikipedia, the free enc
Entrepreneurs and Evolutio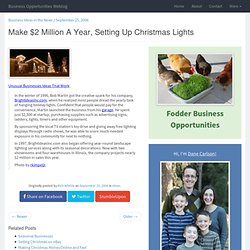 Business Opportunities Weblog | Make $2
In the winter of 1996, Bob Martin got the creative spark for his company, BrightIdeasInc.com , when he realized most people dread the yearly task of hanging holiday lights. Confident that people would pay for the convenience, Martin launched the business from his garage . He spent just $2,500 at startup, purchasing supplies such as advertising signs, ladders, lights, timers and other equipment. By sponsoring the local TV station's toy drive and giving away free lighting displays through radio shows, he was able to score much-needed exposure in his community for next to nothing.
Life Begins at "Youre Fired"
(Paul Graham)
Almost everyone stuck in a cubicle dreams of starting his own business. Here are 5 ways to use your current gig to launch a new venture. (Business 2.0 Magazine) - If you're reading this, there's a good chance that you've always wanted to launch your own startup. According to our research, roughly half of all Business 2.0 readers dream of founding their own companies.
5 ways to start a company (without quittin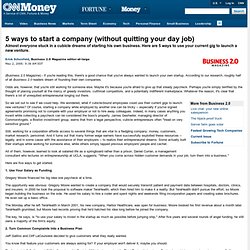 Web Start-Ups Lure Executives At
Venture Beat Contributors & Google and
( Editor's note: Turns out Google may not be serving the 'long tail' as efficiently as we thought. Victor Hanna tells us why. ) While Google has been quick to hop on the 'long tail' bandwagon, many online product marketers can't tap into Google's offering. It has to do with the way Google manages their Adwords advertising program. It ignores low demand search terms — more of which I will get to further below. Google's 'long tail' strategy, as generally understood, refers to Google's serving the thousands, if not millions of small advertisers, who together place more ads than big advertisers combined.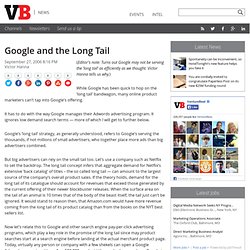 Paul Graham is Todays Priu
Unusual Businesses Ideas That Work
The New York Times & Log In
Building the proper strategy can be difficult. Each new innovation requires a different strategy to help it come to fruition, but the basic components of the strategy are never going to change. The ten-step program for building a proper strategy remains the same time and again.
The Business Innovation Insider: A ten-ste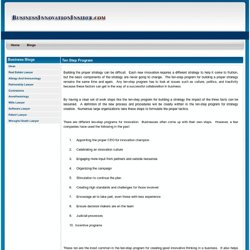 Talent Wars - Forbes.com
Setting Up Shop
Frank Hecker hecker@hecker.org Originally published May 1998, revised 20 June 2000 Revision 0.8 DRAFT For the latest version of this paper see < http://www.hecker.org/writings/setting-up-shop.html >. This is a work in progress; I welcome comments and criticisms and will respond to them as I have time, either individually or in future versions. Note that this draft version of the paper is incomplete; I'll release the remaining sections in future versions of the paper as I complete them. Disclaimer: This document represents my personal opinions only.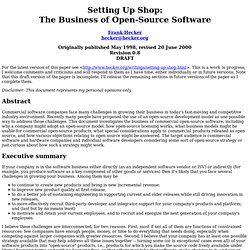 Silicon Valley technol
Steorn has now posted a slick, five-minute video that features interviews with company CEO Sean McCarthy as well as the company's marketing director. For more background, see our earlier discussion . Like I said, the video's slick, and not too heavy on scientific detail. But it's worth checking out if you're interested in the topic, it does begin to explain the company's motivations for choosing to issue a challenge in the Economist: McCarthy : The first roadblock is science.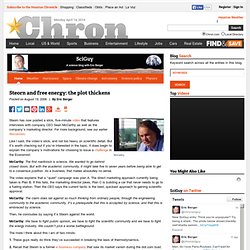 SciGuy: Steorn and free energy: the plot t
Master Small Business Course
March 2005 (This essay is derived from a talk at the Harvard Computer Society.) You need three things to create a successful startup: to start with good people, to make something customers actually want, and to spend as little money as possible. Most startups that fail do it because they fail at one of these. A startup that does all three will probably succeed. And that's kind of exciting, when you think about it, because all three are doable.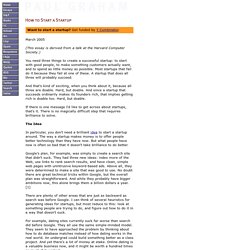 May 2005 (This essay is derived from a talk at the Berkeley CSUA.) The three big powers on the Internet now are Yahoo, Google, and Microsoft.
Hiring is Obsolete
header
Fast Company | Management, Leadership and
Entrepreneurship Article
Entrepreneurs Value wealth over job security Can go months or years without payment Long hours, especially during start-up Potential for very large payoff
Berkun blog & Blog Archive & The start-
An upside of being a consultant is exposure to many work environments: While clients benefit from everything I know, I leave a little wiser after each gig, with more observations and experiences under my cap.
&8220;Unmanned hotels&8221; to lose fro
26 Oct 2006 A new project to develop "unmanned hotels" in Japan may soon eliminate the burdensome task of checking in at the front desk. A consortium of five companies, including the trading company Itochu and consumer credit provider Orico , are working to develop a network of hotels that rely on an online reservation and payment system, RFID-enabled Orico credit cards that serve as keys, and RFID-enabled door entry locks.
http://business-model-design.blogspot.com/2005/11/what-is-busine
AMBAR: Main Page
Business Process Engineering
Young Whipper Snapper vs. Corporate Veterans
Breaking Human Resource News: PREVISOR ACQUIRES BRAINBENCH Acqui
Flickr Case Study: Still about tech for exit? - Startup Review B
Business & Small Business
The 18 Mistakes That Kill Startups
For Start-Ups, Web Success on the Cheap
For Start-Ups, Web Success on the Cheap
Why Startups Condense in America
How to Start a Startup
How I Did It: Omniture's Josh James