Java bookmarks
Joeffice - The open source Java Office
Takipi - Server Debugging Made Easy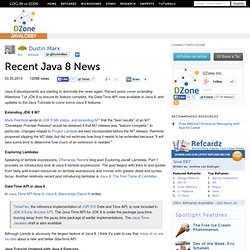 We Recommend These Resources Java 8 developments are starting to dominate the news again. Recent posts cover extending Milestone 7 of JDK 8 to ensure its feature complete, the Date/Time API now available in Java 8, and updates to the Java Tutorials to cover some Java 8 features. Extending JDK 8 M7 Mark Reinhold wrote in JDK 8 M6 status, and extending M7 that the "best results" of an M7 "Developer Preview Release" would be obtained if that M7 release was "feature complete." In particular, changes related to Project Lambda are best incorporated before the M7 release.
Recent Java 8 News
All text and content found at URLs starting with http://www.AngelikaLanger.com/GenericsFAQ/ (collectively, "the Java Generics FAQ") are the sole property of Angelika Langer. Copyright @ 2004-2013 by Angelika Langer . All rights reserved.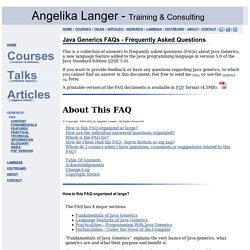 We Recommend These Resources
Using Java as Native Linux Apps – Calling C, Daemonization, Packaging, CLI (Brian McCallister)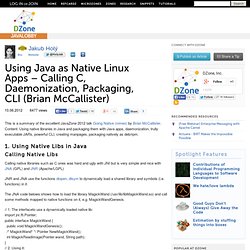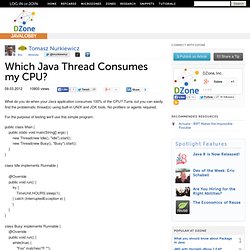 What do you do when your Java application consumes 100% of the CPU? Turns out you can easily find the problematic thread(s) using built-in UNIX and JDK tools. No profilers or agents required.
Which Java Thread Consumes my CPU?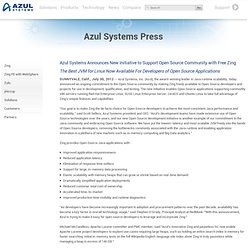 Azul Systems Announces New Initiative to Support Open Source Community with Free Zing JVM
SUNNYVALE, Calif., July 30, 2012 -- Azul Systems, Inc.
High performance network programming on the jvm oscon 2012
Javolution
MG4J: Managing Gigabytes for Java™
8 open source projects tagged java-collection
Generic class names to avoid
Java (Oracle Java update 2) has many classes with the same generic name. To avoid further confusion, I suggest avoiding these names if you can.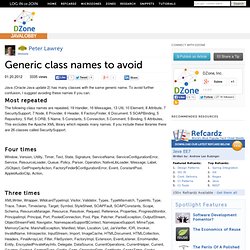 By Julien Ponge How do the new fork/join tasks provided by Java SE 7 make it easier to write parallel programs? Published July 2011
Fork and Join: Java Can Excel at Painless Parallel Programming Too!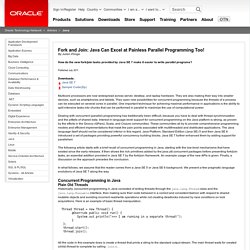 Faux' Blog » Java stacktraces straw man
It's a sad fact of life that many developers spend a good deal of time staring at stack traces. My personal favorite situation is when you get to:Exception in thread "main" java.lang.NullPointerException at com.goeswhere.dmnp.linenos.B.foo(B.java:13) ..and, line 13 is: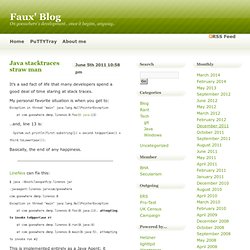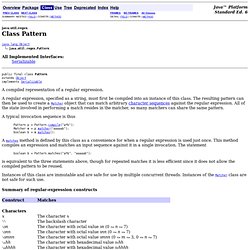 Pattern (Java Platform SE 6)
java.lang.Object
High-perfor­mance pattern matching algo­rithms in Java
StringSearch – high-performance pattern matching algorithms in Java
JRoller - Javalobby Community Weblog Service
Blog "Baptiste Wicht"