RSA ANIMATE DRIVE
Ces trentenaires qui n'ont plus envie de se lever pour bosser | Rue89 Eco. Ils ont des diplômes, un job, un bon salaire... mais s'ennuient à mourir, découvrant sur le tard les affres de la quête de soi.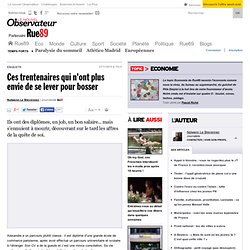 Alexandre a un parcours plutôt classe : il est diplômé d'une grande école de commerce parisienne, après avoir effectué un parcours universitaire et scolaire à l'étranger. Son CV a de la gueule et c'est une mince consolation. What Motivates You? I've found myself thinking a lot about the research being conducted by the Startup Genome Project these days.
The data is an absolute goldmine and provides quantitative benchmarks for issues I've thought about for years. One of the findings from their first report was: "Most successful founders are driven by impact rather than experience or money. " This certainly maps to my experience as a founder and also working with other entrepreneurs. However, in most cases it's a little more complex than that, as I find a number of goals typically intertwine to get people to jump in and start a business. RSA Animate - 21st century enlightenment. WHERE GOOD IDEAS COME FROM by Steven Johnson. RSA Animate - Crises of Capitalism. RSA Animate - Drive: The surprising truth about what motivates us.
RSA Animate - Changing Education Paradigms. RSA Animate - Smile or Die. Dan Pink sur la surprenante science de la motivation. Dan Pink sur la surprenante science de la motivation.
---