Grid
Calcul parallèle
Distributed Computing - Active Projects - Cryptography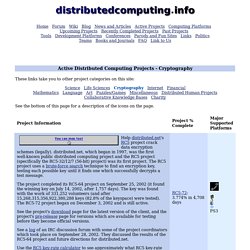 Help distributed.net 's RC5 project crack data encryption schemes (legally). distributed.net, which began in 1997, was the first well-known public distributed computing project and the RC5 project (specifically the RC5-32/12/7 (56-bit) project) was its first project. The RC5 project uses a brute-force search technique to find an encryption key, testing each possible key until it finds one which successfully decrypts a test message. The project completed its RC5-64 project on September 25, 2002 (it found the winning key on July 14, 2002, after 1,757 days). The key was found with the work of 331,252 volunteers (and after 15,268,315,356,922,380,288 keys (82.8% of the keyspace) were tested). The RC5-72 project began on December 3, 2002 and is still active. See the project's download page for the latest version of the client, and the project's pre-release page for versions which are available for testing before they become official versions.
News BOINC-rendered movie released The animated short Big Buck Bunny has been released in hi-res (4Kx2K), high frame rate (60 FPS) and stereo. The rendering was done using BOINC by the Big and Ugly Rendering Project. 19 Dec 2013, 2:58:34 UTC · Comment Portuguese article on BOINC A new Portuguese-language article discusses BOINC and several of the projects that use it. 2 Dec 2013, 0:57:33 UTC · Comment New BOINC installer includes VirtualBox Starting with version 7.2.28, the recommended BOINC installer for Windows also installs VirtualBox, open-source virtualization software. This allows volunteered computer to run VM applications, benefitting both scientists and volunteers. 19 Nov 2013, 6:09:53 UTC · Comment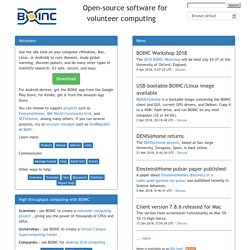 Détails Détails Catégorie parente: Foire Aux Questions Créé le samedi 26 août 2006 23:54 Mis à jour le mercredi 30 janvier 2013 22:48 Publié le samedi 26 août 2006 01:00
Les sites des projets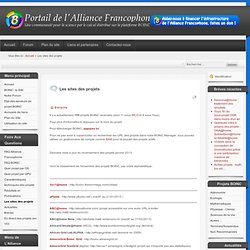 Free Rainbow Tables » Distributed Rainbow Table Generation » LM, NTLM, MD5, SHA1, HALFLMCHALL, MSCACHE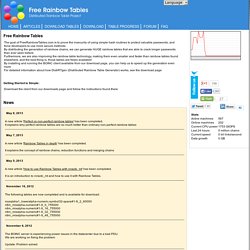 Free Rainbow Tables The goal of FreeRainbowTables.com is to prove the insecurity of using simple hash routines to protect valuable passwords, and force developers to use more secure methods.By distributing the generation of rainbow chains, we can generate HUGE rainbow tables that are able to crack longer passwords than ever seen before.Furthermore, we are also improving the rainbow table technology, making them even smaller and faster than rainbow tables found elsewhere, and the best thing is, those tables are freely available!By installing and running the BOINC client available from our download page, you can help us to speed up the generation even moreFor detailed information about how DistrRTgen (Distributed Rainbow Table Generator) works, see the download page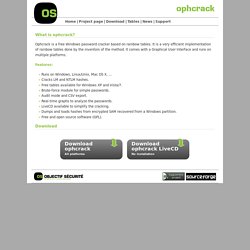 What is ophcrack? Ophcrack is a free Windows password cracker based on rainbow tables. It is a very efficient implementation of rainbow tables done by the inventors of the method.
RainbowCrack Project Home Documentation Rainbow Tables Buy Rainbow Tables Contact Us Introduction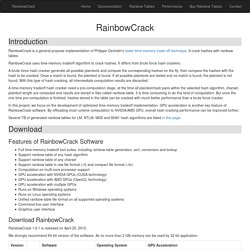 Ophcrack
Ophcrack is a Windows password cracker based on a time-memory trade-off using rainbow tables. This is a new variant of Hellman's original trade-off, with better performance. Making a Faster Crytanalytical Time-Memory Trade-Off, Philippe Oechslin, Advances in Cryptology - CRYPTO 2003, 23rd Annual International Cryptology Conference, Santa Barbara, California, USA, August 17-21, 2003, Proceedings. Lecture Notes in Computer Science 2729 Springer 2003, ISBN 3-540-40674-3 This paper describes the use of Rainbow tables and compares their performance with the best variants that have been used before. Rainbow tables explained, Ph.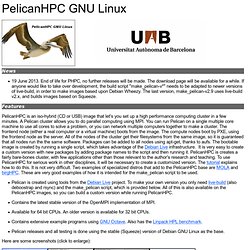 PelicanHPC: A GNU/Linux distribution to create a HPC cluster for MPI based parallel computing
PelicanHPC GNU Linux News 19 June 2013. End of life for PHPC, no further releases will be made. The download page will be available for a while.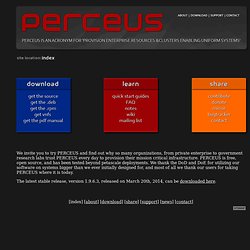 Home
We invite you to try PERCEUS and find out why so many organizations, from private enterprise to government research labs trust PERCEUS every day to provision their mission critical infrastructure. PERCEUS is free, open source, and has been tested beyond petascale deployments. We thank the DoD and DoE for utilizing our software on systems bigger than we ever initially designed for, and most of all we thank our users for taking PERCEUS where it is today. The latest stable release, version 1.9.4, released on Jan 2nd, 2014, can be downloaded here.
Grupo de Control Avanzado (ACG)
Penguin Computing - Supercomputing simplified.
XtreemOS is a grid operating system based on Linux. The main particularity of XtreemOS is that it provides for Grids what a traditional operating system offers for a single computer: hardware transparency and secure resource sharing between different users. It thus simplifies the work of users by giving them the illusion of using a traditional computer while removing the burden of complex resource management issues of a typical Grid environment.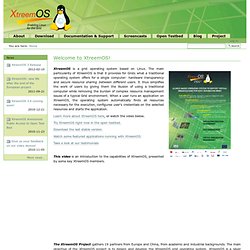 Welcome to XtreemOS! — XtreemOS : A Linux-based Operating System to support Virtual Organizations for next generation Grids