Chingonerias
The Useless Web. Collection of hampus lindwall, falling falling .com by rafaël rozendaal, 2011. sound by gloumouth1. Fullmoonhike. David Keochkerian: Surreal landscapes through infrared photography (PHOTOS). Slate Plus is a new membership program that offers our loyal readers great perks, including special access to your favorite Slate writers and editors, ad free podcasts with bonus audio segments, early access to some of our very best content, exclusive behind-the-scenes features, 30 percent off live events and 20 percent off Slate merchandise, and more.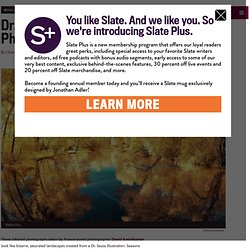 Become a founding annual member today and you'll receive a Slate mug exclusively designed by Jonathan Adler! JadeMountain28.jpg (JPEG Imagen, 1800x900 píxeles) - Escalado (69%) Fascinating Lamps by Calabarte. Article by Lily I'm a French full time student and a part-time blogger.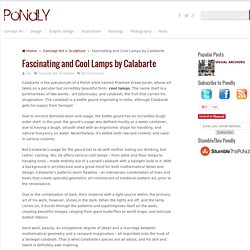 I like Pondly because it allows me to share what I find on the Internet, for everyone to see. In Bb 2.0 - a collaborative music/spoken word project - 12 videos. Rashad Alakbarov Paints with Shadows and Light. This is kind of flying all over the internet right now, but I couldn't resist sharing.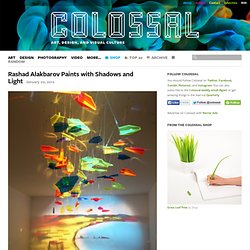 Artist Rashad Alakbarov from Azerbaijan uses suspended translucent objects and other found materials to create light and shadow paintings on walls. The jaw-dropping light painting above, made with an array of colored airplanes is currently on view at the Fly to Baku exhibition at De Pury Gallery in London through January 29th. (via art wednesday, fasels suppe) De Cagna | Cagna Illuminations | Light Festival Ghent. De Cagna Location: Belfortstraat Luminarie De Cagna is an Italian family business founded in 1930.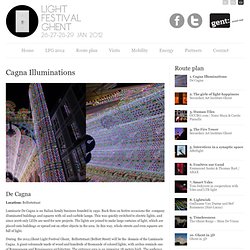 Back then on festive occasions the company illuminated buildings and squares with oil and carbide lamps. This was quickly switched to electric lights, and since 2006 only LEDs are used for new projects. Water Printer. 1898646_460s.jpg (JPEG Imagen, 460x9230 píxeles) - Escalado (5. EMPIRE17.swf (application/x-shockwave-flash Objeto) Art video of the month - LIGHT SCULPTURES. Trentemoller - Miss You. Parmenides 1, de Dev Harlan: el juguete geodésico de la divinidad. Dev Harlan es un joven artista neoyorkino que lleva ya unos años jugando con medios físicos y virtuales, combinando luz, escultura y proyección.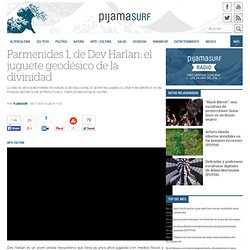 Su más reciente obra "Parmenides 1″ es probablemente la más lograda en su carrera; ya había construido pirámides multicromáticas con pantallas geométricas, vulvas aéreas de neón y discoballs holográficas pintando de geometría sagrada salas de museo. Pero "Parmenides 1″, parte de su exposición Astral Flight Hangar, conjura un metaobjeto —como aquel monolito de Kubrick, o el Rubik cube de un demiurgo que juega a la comogénesis y proyecta la estructura del universo: luz, geometría y movimiento— que mueve al espectador al hiperespacio de la estética donde los sólidos platónicos se disuelven en cristales líquidos oniridiscentes.
Extreme Mountain Camping. Random Picture Dump (55 Pics) Popular Photos. Awesome milk trick!. Tumblr_l1rft5Czyn1qbtmjxo1_1280.jpg (JPEG Imagen, 500x696 píxeles) - Escalado (78%) 21 Images You Won't Believe Aren't Photoshopped (Part 8) This is the latest edition of our most popular feature, in which we demonstrate that the truth is stranger than Photoshop.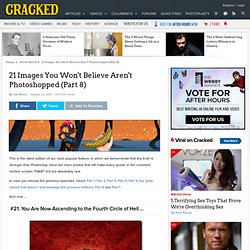 Here are more photos that will make every poster in the comment section scream "FAKE! " but are absolutely real. In case you missed the previous episodes, here's Part 1, Part 2, Part 3, Part 4, Part 5, the gritty reboot that doesn't acknowledge the previous editions, Part 6 and Part 7. And now ... #21.
---