Open Courses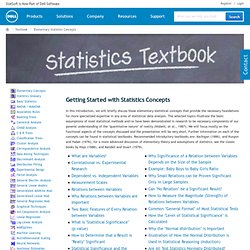 In this introduction, we will briefly discuss those elementary statistical concepts that provide the necessary foundations for more specialized expertise in any area of statistical data analysis. The selected topics illustrate the basic assumptions of most statistical methods and/or have been demonstrated in research to be necessary components of our general understanding of the "quantitative nature" of reality (Nisbett, et al., 1987). We will focus mostly on the functional aspects of the concepts discussed and the presentation will be very short.
Elementary Statistics Concepts
The universities listed below tenure some of the world's foremost professors and researchers in their domain. We are proud to feature their lectures on Academic Earth so that you may explore topics and learn from experts on a wide range of subjects -- from computer science to anthropology and everything inbetween. Many of these courses have been provided through OpenCourseWare initiatives in order to make quality education available to everyone. So, whether you are looking to learn something new or seeking additional help with a class, just select a school below to start learning from some of the world's top scholars and institutions. Show: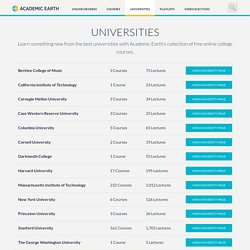 Universities | Academic Earth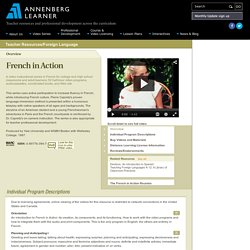 Due to licensing agreements, online viewing of the videos for this resource is restricted to network connections in the United States and Canada. Orientation An introduction to French in Action: its creation, its components, and its functioning. How to work with the video programs and how to integrate them with the audio and print components. This is the only program in English; the others are entirely in French. Planning and Anticipating I Greeting and leave-taking; talking about health; expressing surprise; planning and anticipating; expressing decisiveness and indecisiveness. Subject pronouns; masculine and feminine adjectives and nouns; definite and indefinite articles; immediate future; agreement in gender and number; aller; être; present indicative of -er verbs.
David J. Malan , Instructor malan@harvard.edu http://cs.harvard.edu/malan Harvard College Introduction to the intellectual enterprises of computer science and the art of programming. This course teaches students how to think algorithmically and solve problems efficiently. Topics include abstraction, algorithms, encapsulation, data structures, databases, memory management, security, software development, virtualization, and websites.