Geopolitic and Intelligence
Cybersecurity News. To Inform is to Influence. Pierre Rousselin. Maintenant que les négociations sont bien lancées sur le dossier nucléaire iranien, le jeu diplomatique avec Téhéran s'ouvre.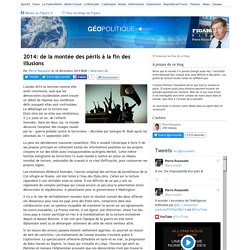 Si un accord est loin d'être acquis, la perspective d'un compromis a suffi à ouvrir les vannes. Les Occidentaux et leurs concurrents se bousculent pour bénéficier de l'accès escompté à un marché de près de 80 millions d'habitants dans un pays qui sera pour longtemps l'une des premières puissances pétrolières, avec des besoins d'investissements considérables. Spy Talk - Jeff Stein's intelligence for thinking people. GlobalSecurity.org - Reliable Security Information. Stratfor | Geopolitical intelligence, economic, political, and military strategic forecasting. DEBKAfile, Political Analysis, Espionage, Terrorism, Security.
---