Crafts
Most favorited all-time - page 5. Recycled crafts. 13930332. My halloween costume this year featured handmade angel wings . . .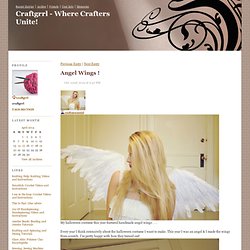 Every year I think extensively about the halloween costume I want to make. This year I was an angel & I made the wings from scratch. I'm pretty happy with how they turned out! Most favorited | craftgawker - page 16. $5 Mobile Phone Projector. The folks at Photojojo just posted a neat low-tech tutorial on how to make a projector for your mobile phone using a shoebox, a paperclip, and a magnifying glass.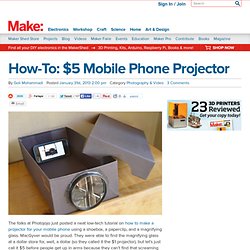 MacGyver would be proud. They were able to find the magnifying glass at a dollar store for, well, a dollar (so they called it the $1 projector), but let's just call it $5 before people get up in arms because they can't find that screaming deal. Basically, you start by cutting a hole out of one side of the shoebox to match your magnifying glass and taping the glass on the box. Then you make an iPhone holder from a paperclip, flip the screen display on your phone (to account for how images passed through a lens get flipped), position your phone inside the box (playing with placement until you get the clearest image), put the box top back on, turn the room lights down low and the brightness on your phone up high, and revel in your resourcefulness.
Doesn't get more accessible than that! The Giving Bunny Project « StitchPunk. For new readers: Are you visiting here because you found a bunny?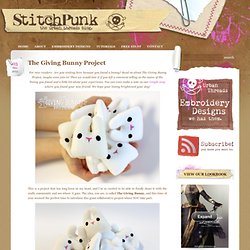 Read on about The Giving Bunny Project, maybe even join in! Then we would love it if you left a comment telling us the name of the bunny you found and a little bit about your experience. You can even make a note on our Google map where you found your new friend. We hope your bunny brightened your day! This is a project that has long been in my head, and I'm so excited to be able to finally share it with the crafty community and see where it goes.
Awesome Things To Make From Wire. Japanese felting. Fawn ∙ How To by Creative Publishing international on Cut Out. 37 Adorable And Unexpected Easter Egg DIYs. Handmade Charlotte | DIY Crafts and Design for Kids. Crochet patterns. 39 DIY Gifts You'd Actually Want To Receive. Think liz. | Free Sewing Patterns. The Crafters File Box: DIY: PBK Lazy Susan. Just bead it! DIY Beaded electrical cord ideas & tutorials. Posted by ScrapHacker.com on fredag, augusti 10, 2012 · 2 Comments Totally allergic to electrical cords?
A lot of us tick that box! Tunnel Vision. I know you are invited to at least one wedding this summer.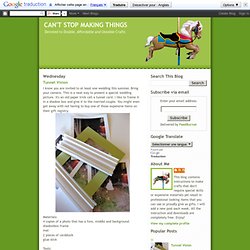 Bring your camera. This is a neat way to present a special wedding picture. It's an old paper trick call a tunnel card. I like to frame it in a shadow box and give it to the married couple. DIY String Art. Hi guys!
Dina here from Honey & Fitz back with another tutorial. This time I'm showing you how to make some string art for your little one's room! Rather than deal with hammers and cutting wood, I decided to do this project using cork tiles. Not only are they easy to find and inexpensive, they're also very light weight so you don't have to worry about them falling off the wall and hurting anyone. Here are the supplies you'll need: Tutorials. If you haven't yet taken a peek at the new Dark Fairytale series, you're in for a treat!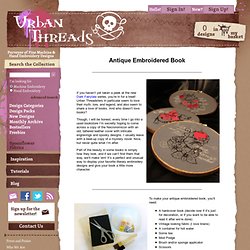 Urban Threadsters in particular seem to love their myth, lore, and legend, and also seem to share a love of books. And who doesn't love books? Though, I will be honest, every time I go into a used bookstore I'm secretly hoping to come across a copy of the Necronomicon with an old, tattered leather cover with intricate engravings and spooky designs. I usually leave with a beat-up copy of a mystery novel. Nice, but never quite what I'm after. Backlit Canvas Art. Do you have one project that you've been longing to do, but just haven't found the time yet?
This is it for me. I call it my Backlit Canvas Art and the inspiration piece has been pinned in my "Crafts to try" Pinterest board for ages. My "pin"speration is an artist's piece made from metal that has hand cut flowers all over it. Its backlit by Christmas lights, and I pretty much love it! Fleece Dog Bed Tutorial - Dog Under My Desk. Loki got a new bed today and the weather held out for photos, so you all get a new tutorial!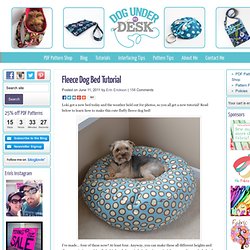 Read below to learn how to make this cute fluffy fleece dog bed! I've made… four of these now? At least four. Anyway, you can make these all different heights and diameters (π is your friend). Loki already loves it, he's sleeping on it right now under my desk. Make your own jellyfish in a bottle. « BhoomPlay. ~ Note for Thai fans ~ เป็นโพสเก่าที่มีแฟนบล๊อกจากต่างประเทศขอมาให้เขียนเป็นภาษาอังกฤษนะคะส่วนแฟนบล็อกที่ยังไม่เคยอ่านเรื่องนี้เลย ฉบับภาษาไทยดูที่นี่ค่ะ The other day, while I was thinking to get something to put in the water bottle for Bhoom to shake for fun.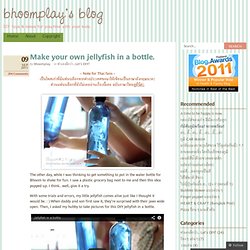 I saw a plastic grocery bag next to me and then this idea popped up. I think.. well, give it a try. With some trials and errors, my little jellyfish comes alive just like I thought it would be. : ) When daddy and son first saw it, they're surprised with their jaws wide open. Then, I asked my hubby to take pictures for this DIY Jellyfish in a bottle. Day 63 – DIY Corona Glasses. I cannot even tell you how excited I was when I found this pin explaining how simple it is to cut glass bottles. For our first anniversary, my husband signed us up for a glassblowing class. It was awesome and we had a great time. As we were leaving, one of the artists was turning Corona bottles into drinking glasses for a friend's wedding gift.
I was wondering why these glasses weren't one of the projects we could choose from that day. I left there thinking that Corona glasses could only be made by the glassblowers and their fancy equipment. Messy Outdoor Projects - Melted Crayon Art. Cake postcard tutorial. Make a mailable slice of cake I have so many friends and family members that always say "I wish you could mail me a birthday cake! " ... well, now I can send them a slice. Time - page 4. 20 Awesome Do It Yourself Projects. Thursday, June 14, 2012 4:30 am, Posted by Chris Groves | Internet 20 Awesome Do It Yourself Projects Topics: At Home Project Ideas , Creative DIY Home Projects , Do It Yourself Projects for 2012 , Fun How To Projects , What to Do with Extra Stuff Are you bored and have a bunch of extra little items hanging around here and there? Well we were in the same boat so we decided to round up 20 different awesome at home projects you can do. Anything from soda pop cap lids to spoons and more.
101 Crafty Gifts.
Tutorials. DIY Picture Tiles - You Will Never Buy a Photo Frame Again. Projects. Emotions_and_facial_expression_by_cedarseed-ds1wwv.jpg (3650×3033) 25 Handmade Gifts Under $5. Disposable Cameras. Cool miniature stove. Speed Painting Online Painting Lessons Preview painting water www.timgagnon.com. I feel melty. | Light&Spoon. Doily canvas bag. Most favorited last 7 days - page 4. Ric Rac Rose. Paracord Wrap Bottle. Great Ideas. How to Make Cherry Blossom Lights. Hand Embroidered Cards. Paper crafts. Sew a bag with the free bag pattern | Sew Easy. TetraBox Light by Ed Chew. Plastic Bag Knitting Tutorial : cocoknits. 10 Craft Room Organizational Tips. Paisley Dee Ring Bag ∙ How To by steph blue on Cut Out. Covered Notebook with Matching Pen Tutorial « by small means. Simply Vintagegirl Blog » Blog Archive » Tutorial: How to Make Lovely Fabric Flowers.
---