Interesting/Inspirational Stories/Pages
30 Books I'm Glad I Read Before 30. Post written by: Marc Chernoff Email In various ways, these 30 books convey some of the philosophy of how Angel and I live our lives.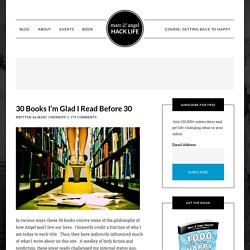 I honestly credit a fraction of who I am today to each title. Thus, they have indirectly influenced much of what I write about on this site. 10 Awesome Online Classes You Can Take For Free. 1. 7 of them are available via YouTube. 2. iTunes is free.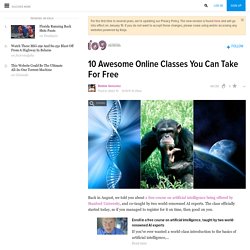 It's clunky, but who cares? Do you somehow lose geek-cred just by installing it specifically for this? I thought geeks geeked out on downloading entire programs just to be able to use it for a single solitary function and then discarding it when done. 1. Table of contents. (With last update date) Cover Foreword (August 13, 2009) Part 1.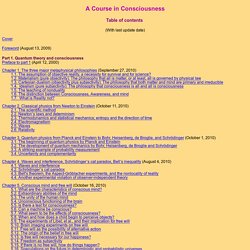 Christopher McDougall: Are we born to run? | Video on TED.com - StumbleUpon. Hans Rosling shows the best stats you've ever seen. THE SECRET LIVES OF NUMBERS - StumbleUpon. The authors conducted an exhaustive empirical study, with the aid of custom software, public search engines and powerful statistical techniques, in order to determine the relative popularity of every integer between 0 and one million.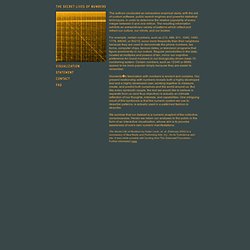 The resulting information exhibits an extraordinary variety of patterns which reflect and refract our culture, our minds, and our bodies. For example, certain numbers, such as 212, 486, 911, 1040, 1492, 1776, 68040, or 90210, occur more frequently than their neighbors because they are used to denominate the phone numbers, tax forms, computer chips, famous dates, or television programs that figure prominently in our culture. Regular periodicities in the data, located at multiples and powers of ten, mirror our cognitive preference for round numbers in our biologically-driven base-10 numbering system.
Birke Baehr: What's wrong with our food system. Anthony Atala on growing new organs. TED | Talk | Tag | Psychology. An Essay by Einstein -- The World As I See It - StumbleUpon. "How strange is the lot of us mortals!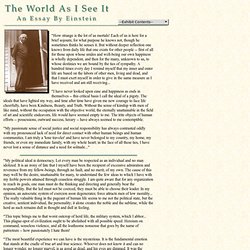 Each of us is here for a brief sojourn; for what purpose he knows not, though he sometimes thinks he senses it. But without deeper reflection one knows from daily life that one exists for other people -- first of all for those upon whose smiles and well-being our own happiness is wholly dependent, and then for the many, unknown to us, to whose destinies we are bound by the ties of sympathy. The Cab Ride I'll Never Forget | Zen Moments - StumbleUpon. "Great moments often catch us unawares…."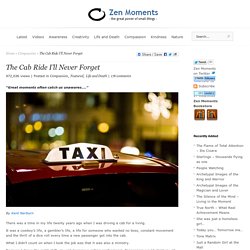 By Kent Nerburn There was a time in my life twenty years ago when I was driving a cab for a living. It was a cowboy's life, a gambler's life, a life for someone who wanted no boss, constant movement and the thrill of a dice roll every time a new passenger got into the cab. What I didn't count on when I took the job was that it was also a ministry. Because I drove the night shift, my cab became a rolling confessional. List of unsolved problems in philosophy. This is a list of some of the major unsolved problems in philosophy.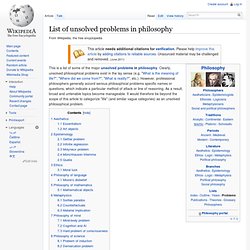 Clearly, unsolved philosophical problems exist in the lay sense (e.g. "What is the meaning of life? ", "Where did we come from? ", "What is reality? ", etc.). Rick Smolan tells the story of a girl. 101 Short Stories that Will Leave You Smiling, Crying and Thinking - StumbleUpon. Post written by: Marc Chernoff Email Since its inception eighteen months ago, our sister site Makes Me Think (MMT) has truly evolved into a remarkable online community.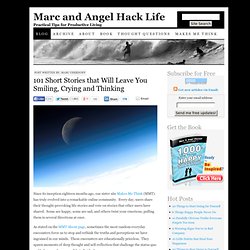 ---