Loisirs
Cows & cows & cows‬‏
Médecine
Resto in France. Joann Sfar Animation. Dans la famille Yamakasi, le grand-père. Handmade Nation. Callas et Onassis [Callas e Onassis] (2005) [Compagnie de Théâtre de l'Opprimé N.A.J.E. (théâtre-forum)] Rojadirecta.com - veetle. Sport. SanZ SanS - Bar Restaurant Club. Musique. Bizz'Art - Accueil. Vidéo.
Jói Kjartans. Jói Kjartans is an Icelandic photographer who goes through rolls of film like Tony Montana went through product.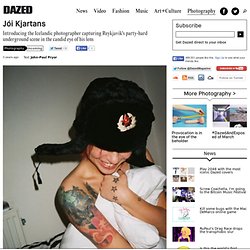 He spends practically every moment he can shooting whatever catches his eye and he has an uncanny ability to capture the essential spirit of his subjects, all of whom he tends to shoot in moments of transition. He recently assisted one of Dazed's most eminent friends and family members, Magnus Unnar in New York, and is more than ready to step out of the shadows and into the light.
---