Social media misc
TheChangebook - Beta. Lutte finale contre Facebook. Marcher sur les plates-bandes de Facebook est un projet audacieux.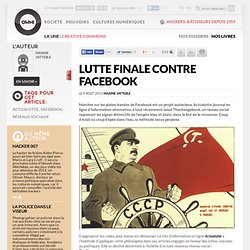 Actualutte, journal en ligne d'information alternative, a tout récemment lancé Thechangebook, un réseau social reprenant les signes distinctifs de l'empire bleu et blanc, dans le but de le renverser. Coup d'éclat ou coup d'épée dans l'eau, la méthode laisse perplexe. S'approprier les codes pour mieux les détourner. In Pursuit of the Sublime. Schemer. What are you working on? Web 2.0. Zerply. Pheed, le nouveau réseau social qui buzz, mise sur les contenus premium payants. Vendredi 19 octobre 2012, 22:39 De notre correspondant à Los Angeles Cela faisait longtemps –depuis Pinterest et Path– qu'un réseau social n'avait pas autant fait parler de lui dans ses premières semaines.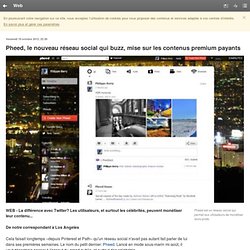 Between. Dronestagram | Share your best aerial pictures viewed from a drone. Flux public - Identi.ca. Dotspin. Sharing that gives back. Hack your way into a Pinterest tab for your Facebook Page. Add Pinterest to your Facebook As a Pinterest user, you probably already know that you can share pins on Facebook from your Pinterest account, or even Twitter, and if you are so inclined, all of your Pinterest activity can be syndicated to your social networks.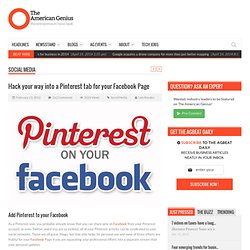 Those are all great things, but that only helps for personal use and none of those efforts are fruitful for your Facebook Page if you are separating your professional efforts into a separate stream than your personal updates. There is currently not native Pinterest tab, but there is a way to hack your way into sharing your Pinterest page with your Facebook Page followers without being a programming wizard – we're going to walk you through this. First, log into your Facebook account, then visit the Static iFrame Tab setup: Mes applications gratuites préférées sur Android et iPhone. Viewdle - Photo and Video Face Tagging.
---