Creative commons
Creative Commons — CC0 1.0 Universal
The Commons Deed is not a legal instrument. It is simply a handy reference for understanding the CC0 Legal Code, a human-readable expression of some of its key terms.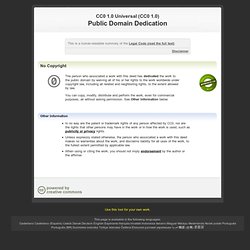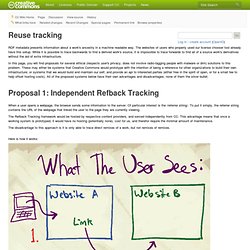 RDF metadata presents information about a work's ancestry in a machine readable way.
Reuse tracking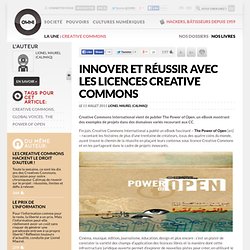 Creative Commons International vient de publier The Power of Open, un eBook montrant des exemples de projets dans des domaines variés recourant aux CC.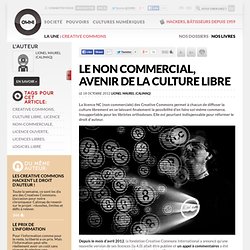 Le non commercial, avenir de la culture libre
La licence NC (non commerciale) des Creative Commons permet à chacun de diffuser la culture librement en se laissant finalement la possibilité d'en faire soi-même commerce. Insupportable pour les libristes orthodoxes.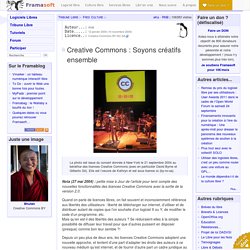 La photo est issue du concert donnée à New-York le 21 septembre 2004 au bénéfice des licences Creative Commons (avec en particulier David Byrne et Gilberto Gil). Elle est l'oeuvre de Kathryn et est sous licence cc (by-nc-sa). Nota (27 mai 2004) : petite mise à Jour de l'article pour tenir compte des nouvelles fonctionnalités des licences Creative Commons avec la sortie de la version 2.0.
Ce résumé n'indique que certaines des dispositions clé de la licence.
Attribution-ShareAlike 2.0 France — CC BY-SA 2.0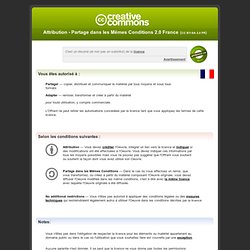 Creative Commons - Paternité - Partage des Conditions Initiales à l'Identique 2.0 France (CC BY-SA 2.0) by agnesdelmotte Mar 15
Ce résumé n'indique que certaines des dispositions clé de la licence.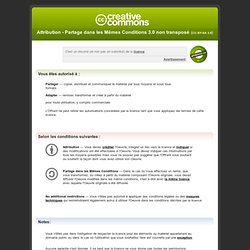 Share, Remix, Reuse — Legally
Creative Commons is a nonprofit organization that develops, supports, and stewards legal and technical infrastructure that maximizes digital creativity, sharing, and innovation. by agnesdelmotte Mar 15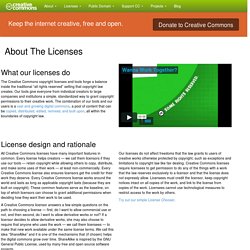 Our public copyright licenses incorporate a unique and innovative "three-layer" design. Each license begins as a traditional legal tool, in the kind of language and text formats that most lawyers know and love.
Creative Commons n'est pas un cabinet d'avocats et ne fournit pas de services de conseil juridique. La distribution de la présente version de ce contrat ne crée aucune relation juridique entre les parties au contrat présenté ci-après et Creative Commons.
Creative Commons Code juridique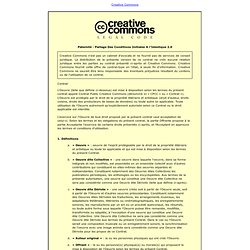 Creative Commons Legal code (fr) by agnesdelmotte Mar 15