Art contemporain
Edward hopper. Gerhard richter. Christopher wool. Land art. Pop art. Hyperrealism. Art contemporain asia. Art contemporain #2. Jackson Pollock and Lee Krasner: Rare Photos, 1949. Is he the greatest living painter in the United States?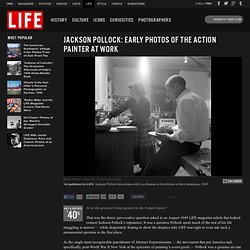 That was the direct, provocative question asked in an August 1949 LIFE magazine article that helped cement Jackson Pollock's reputation. It was a question Pollock spent much of the rest of his life struggling to answer — while desperately hoping to show the skeptics why LIFE was right to even ask such a monumental question in the first place. As the single most recognizable practitioner of Abstract Expressionism — the movement that put America and, specifically, post-World War II New York at the epicenter of painting's avant-garde — Pollock was a genuine art star. But he soon abandoned the radical "drip" technique that had earned him both fame and, among some art critics, vilification and spent the last few years of his life battling the twin demons of depression and alcoholism.
Jean-Michel Basquiat. Mondrian / De Stijl. ROBERT RAUSCHENBERG, COMBINES. Le Centre Pompidou vous propose de nombreuses visites, parcours et ateliers pour découvrir le bâtiment, les collections, les expositions temporaires, la création des 20e et 21e siècles.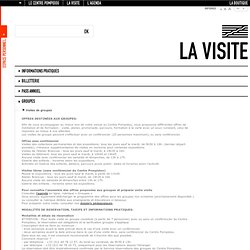 L'ensemble des visites, générales ou thématiques, offrent la possibilité d'établir des liens avec les programmes scolaires, adaptés à chaque niveau. Parcours, ateliers et événements de la Galerie des enfants permettent aux plus jeunes dès 2 ans, de se familiariser à l'art moderne et contemporain par la manipulation ou l'expérimentation. Robert Rauschenberg. DAVID HOCKNEY.
---
aida64 Nov 13 2012

La información digital es infinita, por lo que siento importante crear una comunidad que se interese por difundir lo que sucede con el cuerpo a través del arte. Es ahí donde se transgrede, se manifiesta la equidad, se reclama el derecho a la elección.
---