Animals are not cute; but their behaviour is fun science
▶ Methods Made Manifest - Episode 2
▶ Methods Made Manifest - Episode 1
In the winter of 2006, Pierre Legagneux started measuring when birds would fly away from him, as he sped towards them in his white Peugeot.
Speeding Towards Birds In A Car… For Science!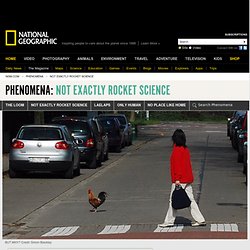 Cunnilingus increases duration of sex in megabat species
The males of a species of megabat have been observed giving oral sex to females in a move that appears to prolong the duration of copulation, a study has shown.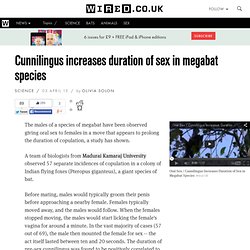 Chimps' Answer to Einstein
Natasha, a chimp at the Ngamba Island Chimpanzee Sanctuary in Uganda, has always seemed different from her peers. She's learned to escape from her enclosure, teases human caretakers, and scores above other chimps in communication tests. Now, Natasha has a new title: genius.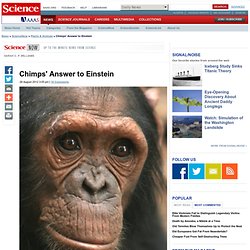 How do elephants trumpet? At last, scientists figure it out.
Elephants' deepest calls can thunder up to 6 miles (10 kilometers) away. Now, researchers have learned for the first time how the massive animals produce these sounds.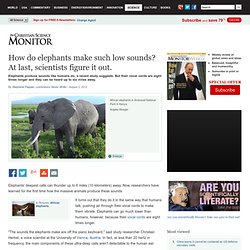 Gorilla Youngsters Seen Dismantling Poachers' Traps—A First
"This is absolutely the first time that we've seen juveniles doing that ...
BBC Nature - Crows know familiar human voices
11 May 2012Last updated at 12:16 By Victoria Gill Science reporter, BBC Nature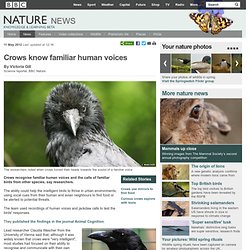 Baboons Appear to Recognize Words From Gibberish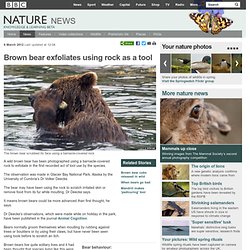 6 March 2012Last updated at 12:04 The brown bear scrubbed its face using a barnacle-covered rock
BBC Nature - Brown bear exfoliates using rock as a tool
Fish mimics octopus that mimics fish | Not Exactly Rocket Science
Before we talk, you need to watch the video above.
Science Can Neither Explain Nor Deny the Awesomeness of This Sledding Crow - Alexis Madrigal - Technology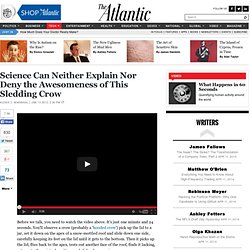 Guest Post! It's About Time: Delving Into Animals' Memories | The Thoughtful Animal
Editor's Note: Today's post, coming appropriately after yesterday's post on human intuitions about memory, comes from Felicity Muth who blogs at Not Bad Science, and tweets as @FelicityMuth. This post, while it can certainly stand alone, is meant to be read after reading Felicity's contribution to The Guest Blog.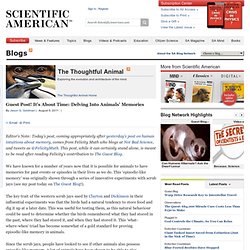 Can dogs pretend? This is the question I asked yesterday, prompted by Sheril's story:
Animal Imagination: The Dog That Pretended to Feed a Frog (and Other Tales) | The Thoughtful Animal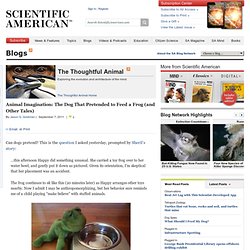 You enter a room with two cages.
Empathic rats spring each other from jail | Not Exactly Rocket Science
Guest Post: the Nature of Octopuses
By Ed Yong | December 14, 2011 | 13 Comments There is an old story about a scorpion and a turtle.
Dingo rearranges furniture for better dining - life - 22 December 2011
Video: Dingo moves table to snag treat
Zoologger: Cannibal shrimp shows its romantic side - life - 17 November 2011
Zoologger is our weekly column highlighting extraordinary animals – and occasionally other organisms – from around the world Species: Lysmata amboinensisHabitat: coral reefs in the Indian and Pacific, striking in the night
Video of the Week #19, November 30th, 2011 From: Land-Walking Octopus Explained by Katherine Harmon at Octopus Chronicles. Original source: Fitzgerald Marine Reserve
Octopus Walks on Land | Video of the Week
Turtle embryos can speed up their development to hatch together with their siblings | Not Exactly Rocket Science
Cold-Blooded Cognition: Social Cognition in a Non-Social Reptile? | The Thoughtful Animal
Real Life Werewolves? Dog Bites and Full Moons | The Thoughtful Animal
Muriqui monkey mothers are key to sons' sexual success
Inside the mind of the octopus
Small, Sneaky Squid Produce Big Sperm | 80beats
Bonobo beats chimpanzee in intelligence test - video | World news
The Science of Sexism: Primate Behavior and the Culture of Sexual Coercion | The Primate Diaries
How to Have Fun Like Monkeys, Whales and Foxes | Wired Science
Zoologger: Patriarchal fish punish powerful females - life - 15 June 2011
Angelfish can estimate quantity
Don't have sex with a time-travelling sea monkey
Weird Mating Calls of the Leopard Slug (Life in the Underground)
Crows and parrots – brainy birds, but in different ways | Not Exactly Rocket Science
Why female zebra finches cheat on their partners - life - 13 June 2011
BBC Nature - In Pictures: Spotting weedy seadragons of Australia
Californian dolphin gang caught killing porpoises - environment - 02 June 2011
All-male clams escape from genetic canyons by stealing eggs | Not Exactly Rocket Science
Why have sex? To fight parasites, of course! | Empirical Zeal
this is basically how i met my girlfriend
BBC - Earth News - Males make pregnant horses abort
Scientists create chill-out music for monkeys | Science
Bellowing bedfellows
Need A Date? Take A Cue From The Birds : The Thoughtful Animal
Gallery - At it like rabbits: Bizarre animal sex in pictures - Image 4
Monkey see, monkey facepalm | Not Exactly Rocket Science
Rage-inducing chemical on squid eggs turns males into violent thugs | Not Exactly Rocket Science
Vultures use tools. Ravens use vultures. Ravens are tools | Not Exactly Rocket Science
Chicken research advances understanding of animal emotion
Zoologger: The only fish that cries like a baby - life - 11 May 2011
Eight-year-old children publish bee study in Royal Society journal | Not Exactly Rocket Science
Elephants give each other a helping trunk | Not Exactly Rocket Science
One fish, two fish... Can fish count?
Sharks visit personal hygienists
Father-Child Bonds in the Animal World, Special and Strange
Ant dropping behaviour by wasps
BBC - Earth News - Males make pregnant horses abort
Octopus tool use | Science
First evidence that gorillas pass on traditions - life - 10 May 2011
Laurie Santos: A monkey economy as irrational as ours
Do animals masturbate? - By Daniel Engber
The Adaptive Function of Masturbation in a Promiscuous African Ground Squirrel