1.7.8 Mathématiques
S.O.S. Mathematics CyberBoard • Index page
Free Math Help - Math Tutorials and Lessons
Davitily Math Academy
Here are some links that I've run across over the years that you might find helpful.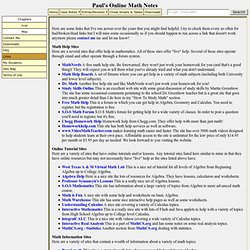 Pauls Online Math Notes
Liste de critères de divisibilité
Un article de Wikipédia, l'encyclopédie libre. Ceci est une liste de critères de divisibilité des nombres écrits en base décimale, exposés sans démonstration. Pour les démonstrations ou les méthodes ayant permis d'établir ces critères, voir l'article Critère de divisibilité .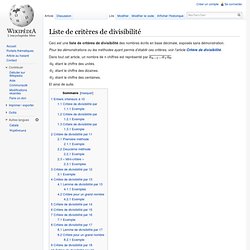 1.7.8.Z Math 'Friend" Pearltrees
1.7.8.1 Softwares Mathématiques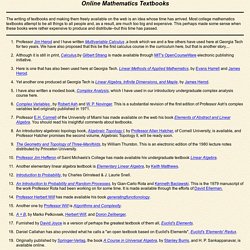 The writing of textbooks and making them freely available on the web is an idea whose time has arrived. Most college mathematics textbooks attempt to be all things to all people and, as a result, are much too big and expensive. This perhaps made some sense when these books were rather expensive to produce and distribute--but this time has passed.
The Euler Archive - the works of Leonhard Euler online
Recherche et téléchargement d'archives de revues mathématiques numérisées > Home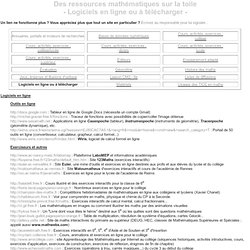 Algorithmique
Sommaire: Tout pi or not tout pi Bontés divines ! (égyptiennes, grecques, romaines, aztèques, mayas, incas et scandinaves) Étymologie mythologique Vous avez du temps devant vous...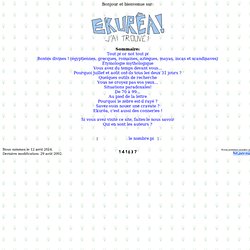 Ekurêa ! j'ai trouvé !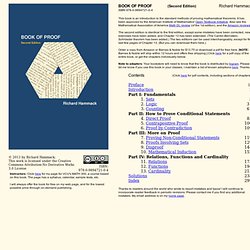 This book is an introduction to the standard methods of proving mathematical theorems.
What's Special About This Number? If you know a distinctive fact about a number not listed here, please e-mail me.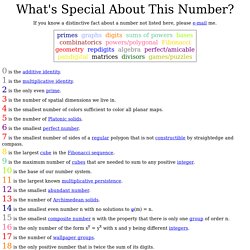 <img src="animations/anim.jpg" width="300" height="300" alt="Iterconnected time-dependent networks" title="Iterconnected time-dependent networks" width="393" height="339" border="0" />
NUMB3RS Episode 616: Cause and Effect--Wolfram Research Math Notes