Sewing
Long Overdue Fusing Plastic Bag Tutorial. I realized this afternoon that I basically explain this technique to an Etsy Labs visitor at least once a day, but had never put the instructions online.
So, here it is. Fusing! Plastic! Bags! Do you have one zillion plastic drugstore and grocery bags under your sink, or perhaps smushed into a drawer? Style Secret: The Only Spot Remover Youll Ever Need: Slaves to Fashion:... Friday, 10/24/2008 at 2:37PM by Tracey Lomrantz Lester Email meContributing style editor.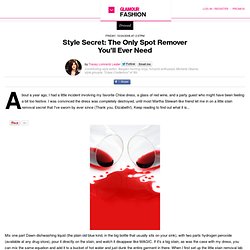 Bargain-hunting ninja, hot-pink enthusiast, Michelle Obama style groupie, "Class Chatterbox" of '99. About a year ago, I had a little incident involving my favorite Chloe dress, a glass of red wine, and a party guest who might have been feeling a bit too festive. I was convinced the dress was completely destroyed, until most Martha Stewart-like friend let me in on a little stain removal secret that I've sworn by ever since (Thank you, Elizabeth!). Keep reading to find out what it is... T-shirt to sexy top. Measure the circumference of your chest.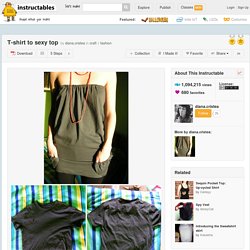 Cut a piece of elastic that matches your measurements. Turn the shirt inside out and cut a small opening on the bottom hem. Use a safety pin to attach one end of the elastic and insert the pin through the small opening. Out of Order: DIY Tutorial - Full Skirt. Stepping Thru Crazy: Mens Button-Up Refashion... into Ladies Tank!
A few years ago, when the hubby and I lived in Florida (this was pre-kids, so make that 5-ish years...)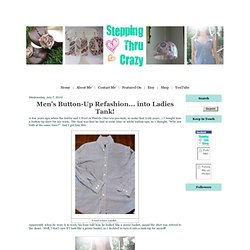 I bought him a button-up shirt for his work. The deal was that he had to wear blue or white button-ups, so I thought, "Why not both at the same time? " And I got him this:Apparently when he wore it to work, his boss told him he looked like a picnic basket, aaand the shirt was retired to the closet.
Well, I don't care if I look like a picnic basket, so I decided to turn it into a tank top for myself! It was actually really easy to do... let me try once again to tell you how I used a sewing machine... eh.... Judah Method - Bleaching Experemnet on the Behance Network. Sewing Tutorial: Piggy Pillow | Free Pattern &Tutorial at CraftPassion.com.
As promised, I have completed the tutorial and the pattern for the "Be My Valentine – Piggy Pillow", which was published 3 weeks ago.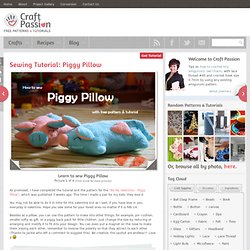 This time I made a pair for my kids, they love it. You may not be able to do it in time for this valentine but as I said, if you have love in you, everyday is valentine. Hope you sew some for your loved ones no matter if it is Feb 14. V and Co how to: jersey knit bracelet. I don't know what it is about this time of year that makes me just want to have my bare feet in the sand, be watching the sun setting into the ocean, and breathing in the warm salty air of the beach...as i get older, more and more i find myself missing that place i used to go to almost every.single.day. as a teen.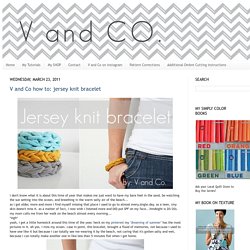 (my skin doesn't miss it. as a matter of fact, i now wish i listened more and DID put SPF on my face...hindsight is 20/20). my mom calls me from her walk on the beach almost every morning... *sigh*yeah, i get a little homesick around this time of the year. heck on my pinterest my "dreaming of summer" has the most pictures in it. ah yes. i miss my ocean. case in point. this bracelet, brought a flood of memories, not because i used to have one like it but because i can totally see me wearing it by the beach, not caring that it's gotten salty and wet, because i can totally make another one in like less than 5 minutes flat when i get home. DIY Sweat-sacoche diy-laptop-sweat – the Trendy Girl. DIY Shift Dress.
Pillow. Bags. Something Special Card + Envelope Tutorial & Sew,Mama,Sew! Blog. We hope Jennifer Casa's Something Special Card + Envelope Tutorial inspires you to create something beautiful for someone you love.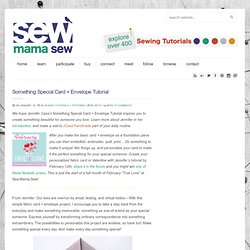 Learn more about Jennifer in her introduction, and make a visit to JCasa*handmade part of your daily routine. After you make the basic card + envelope as a foundation piece you can then embellish, embroider, quilt, print… Do something to make it unique! Mix things up, and personalize your card to make it the perfect something for your special someone. Create your personalized fabric card or Valentine with Jennifer's tutorial by February 12th, share it in the forum and you might win one of these fantastic prizes.
Print Hula Hoop Rug Page | Crafts | FamilyFun. This photo originally appeared in FamilyFun Magazine Total Time 2 to 3 hours Ages school-age What does it take to transform a pile of old T-shirts into spectacular works of woven art?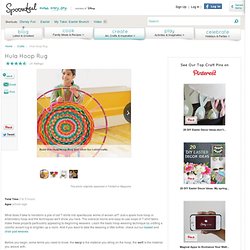 Just a spare hula hoop or embroidery hoop and the techniques we'll show you here. The oversize looms and easy-to-use loops of T-shirt fabric make these projects particularly appealing to beginning weavers. Tsumami Kanzashi Flower Hair Clip. I have recently discovered these beautiful folded flowers, and I absolutely cannot stop making them.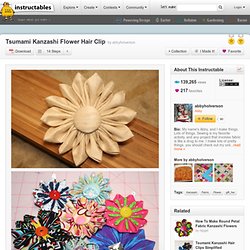 Tsumami Kanzashi are traditional Japanese folded flowers, made from small squares of silk, that are typically worn by women as hair ornaments in traditional hairstyles. They seem really complicated and intricate, and they can certainly be that if you really want; but it completely doesn't need to be! I love to make them out of cotton prints that are fun and bright, in addition to scraps of silk and other light fabrics. These can be used in countless applications. Make your own 6-pocket mini pocketbook and stay organized — insatiable need. I'm sure that many of you, like me, are on an eternal quest for organization.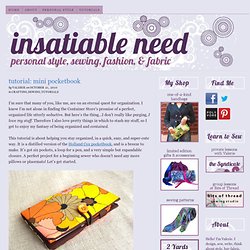 I know I'm not alone in finding the Container Store's promise of a perfect, organized life utterly seductive. But here's the thing…I don't really like purging, I love my stuff. Therefore I also love pretty things in which to stash my stuff, so I get to enjoy my fantasy of being organized and contained. This tutorial is about helping you stay organized, in a quick, easy, and super-cute way. Most favorited all-time.
---