Learning for Education & Fun
HTML a tag. The 99 Percent - It's not about ideas. It's about making ideas happen. Online University For All Balances Big Goals, Expensive Realities : All Tech Considered. Hide captionStudents work at the University of the People student computer center in Haiti.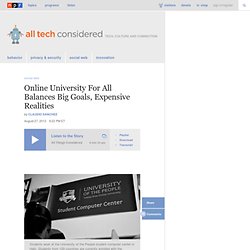 Students from 129 countries are currently enrolled with the institution. Courtesy of University of the People. Brain Games & Brain Training. 12 Ways to Educate Yourself Without College - The Huffington Post. It's popular to criticize college today.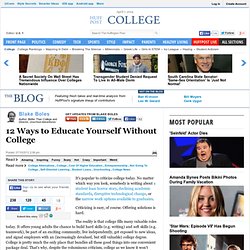 No matter which way you look, somebody is writing about a student loan horror story, declining academic standards, disruptive technological change, or the narrow work options available to graduates. Criticizing is easy, of course. Offering solutions is hard. Coursera. Albert Einstein Institution - Advancing freedom through nonviolent action. Home. Lisa Belkin: Why Not 'Getting' It Is Not Okay. I remember my very first video game.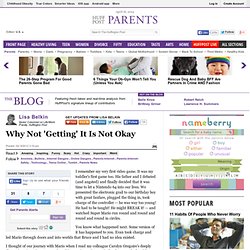 It was my toddler's first game too. His father and I debated (and angsted) and finally decided that it was time to let a Nintendo 64 into our lives. We presented the electronic grail to our birthday boy with great fanfare, plugged the thing in, took charge of the controller -- he was way too young! Neighborhood Emergency Teams (NETs) A serious security vulnerability known as "Heartbleed" was recently discovered in OpenSSL, a popular software library commonly used by many websites on the internet to encrypt communication between a user's computer and a web server.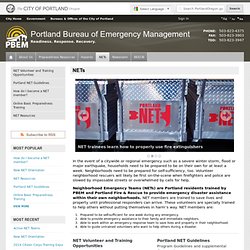 PortlandOregon.gov is NOT affected by this vulnerability as it does not use the OpenSSL software library. Please rest assured we are dedicated to protecting your security on this website. CERT : Subscribe to Free CERT E-mail News/Updates. SULAIR: Libraries and Collections: Libraries and Collections A-Z. 10 Websites To Make You Think | The Online Learning Blog from Study2U. Supposedly browsing the internet requires more brain power than watching television.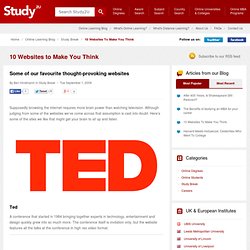 Although judging from some of the websites we've come across that assumption is cast into doubt. Here's some of the sites we like that might get your brain to sit up and listen. Ted A conference that started in 1984 bringing together experts in technology, entertainment and design quickly grew into so much more. The conference itself is invitation only, but the website features all the talks at the conference in high res video format. MIT Will Offer Certificates to Outside Students Who Take Its Online Courses - Technology. By Marc Parry Millions of learners have enjoyed the free lecture videos and other course materials published online through the Massachusetts Institute of Technology's OpenCourseWare project.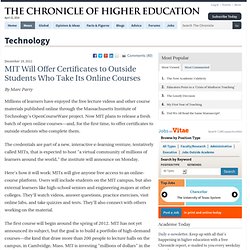 Now MIT plans to release a fresh batch of open online courses—and, for the first time, to offer certificates to outside students who complete them. The credentials are part of a new, interactive e-learning venture, tentatively called MITx, that is expected to host "a virtual community of millions of learners around the world," the institute will announce on Monday. Here's how it will work: MITx will give anyone free access to an online-course platform. Learn to Type | Free Typing Tutor | Typing Lessons. 'Code Year' Promises to Teach You Computer Programming in 2012 - Technology. Is it possible to learn the basics of computer programming in one year?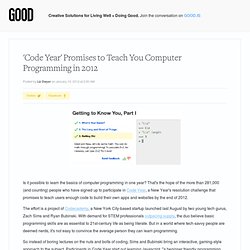 That's the hope of the more than 281,000 (and counting) people who have signed up to participate in Code Year, a New Year's resolution challenge that promises to teach users enough code to build their own apps and websites by the end of 2012. The effort is a project of Codecademy, a New York City-based startup launched last August by two young tech gurus, Zach Sims and Ryan Bubinski.
With demand for STEM professionals outpacing supply, the duo believe basic programming skills are as essential to 21st-century life as being literate. But in a world where tech-savvy people are deemed nerds, it's not easy to convince the average person they can learn programming. So instead of boring lectures on the nuts and bolts of coding, Sims and Bubinski bring an interactive, gaming-style approach to the subject. Solar Training and Renewable Energy Courses. How-To | Learn | Rethink. Software training online-tutorials for Adobe, Microsoft, Apple & more. How Do I Find Tutorials (Database Engine) Microsoft SQL Server includes a complete set of graphical tools and command line utilities that allow users, programmers, and administrators to increase their productivity.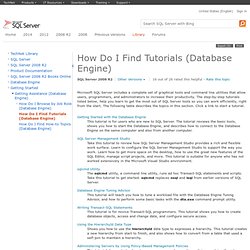 The step-by-step tutorials listed below, help you learn to get the most out of SQL Server tools so you can work efficiently, right from the start. The following table describes the topics in this section. A Gentle Introduction to SQL. Wolfram|Alpha: Computational Knowledge Engine. Darrin Schultz Talks to Education-Portal.com About Growing Food from Waste. Oberlin College sophomore Darrin Schultz is currently taking steps to help end the problem of world hunger, and it all starts with some trash found in his biology lab.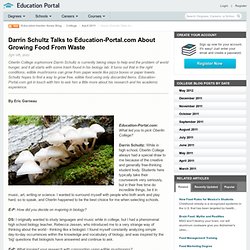 It turns out that in the right conditions, edible mushrooms can grow from paper waste like pizza boxes or paper towels. Schultz hopes to find a way to grow free, edible food using only discarded items. Class Schedule. Project Management Guides , Tutorial , Tools and Interview Questions. IT Tutorials and Interview questions. Technology Training | Microsoft Certification | Microsoft Learning. Library of Free Data Models from DatabaseAnswers.org.
PMI Portland Chapter. This web site is designed to serve members of the PMI Portland Chapter, and to welcome prospective members.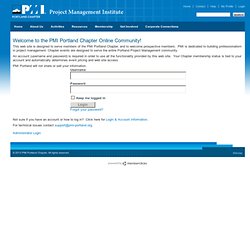 PMI is dedicated to building professionalism in project management. Chapter events are designed to serve the entire Portland Project Management community. An account (username and password) is required in order to use all the functionality provided by this web site. Your Chapter membership status is tied to your account and automatically determines event pricing and web site access. PMI Portland will not share or sell your information.
GrownUp Camps. Multiple intelligences. Khan academy. Online education. Post written by: Marc Chernoff Email All education is self-education. Free university lectures. Whether your goal is to earn a promotion, graduate at the top of your class, or just accelerate your life. Lectures can help get you there. Our archives of lectures cover a huge range of topics and have all been handpicked and carefully designed by experienced instructors throughout the world who are dedicated to helping you take the next step toward meeting your career goals. Webcast.berkeley | UC Berkeley Video and Podcasts for Courses & Events. Free Ebooks. Free Courses and Resources.
Public Domain. 45 Things You Can Learn Online for Free! You know what I love about the Internet? You can find courses, tutorials and lessons for almost anything – and many of them are free. Are you interested in learning to crochet or designing your own website but don't know when you'll have the time? Have you thought about taking up an instrument or learning to dance but can't afford the cost of a class? Would you like to perform a few simple repairs but have no clue where to start?
---