Science
Dynamic Periodic Table. Scirus - for scientific information. Preschool science activities. How to nurture your child's interest in the natural world © 2008 -2012 Gwen Dewar, Ph.D., all rights reserved Can we design better preschool science activities?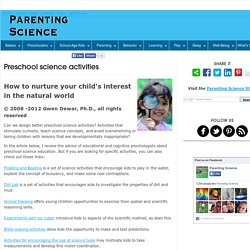 Activities that stimulate curiosity, teach science concepts, and avoid overwhelming or boring children with lessons that are developmentally inappropriate? In the article below, I review the advice of educational and cognitive psychologists about preschool science education. Monster Sciences - Science Made Fun! Science Sites for Kids. Amusement Park Physics Explores how the laws of physics play a role in the design of amusement park rides.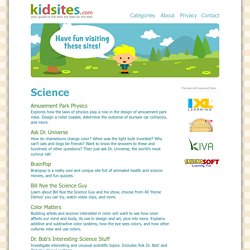 Design a roller coaster, determine the outcome of bumper car collisions, and more. Ask Dr. Universe How do chameleons change color? Fun Science Experiments for Kids - Cool Projects & Easy Ideas for Children. If you're looking for some fun science experiments for kids then you've come to the right place.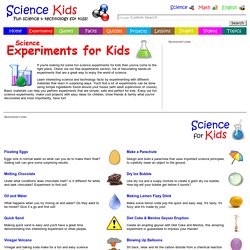 Check out our free experiments section, full of fascinating hands-on experiments that are a great way to enjoy the world of science. Learn interesting science and technology facts by experimenting with different materials that react in surprising ways. You'll find a lot of experiments can be done using simple ingredients found around your house (with adult supervision of course). Science Is Fun Home Experiments. Biology in Motion. The Online Literature Library. Communicating at an unknown rate. The Planetarium.
Scirus - for scientific information.
---