Education & Teaching
Lizard Point Consulting. Free Kids Crafts For Children of all Ages. It is amazing what fun can be had and what can be created from a few basic ingredients.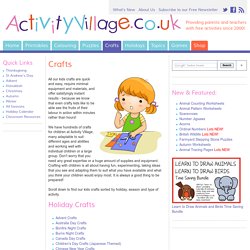 We have... Bunting is a quick and fun way to decorate the house or classroom for any occasion. It also makes... Decorating lanterns and candles is great fun for older children. They make lovely gifts or... Crafts for Kids: KinderArt - Crafty Ideas and Activities for School Children. Here you can find lots of great monthly crafts for kids of all ages.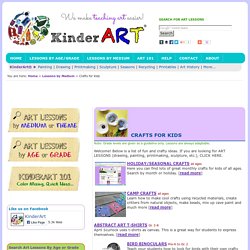 Search by month or holiday. [ read more ] Learn how to make cool crafts using recycled materials, create critters from natural objects, make beads, mix up cave paint and much more [ read more ] Gr. 4-6. Mathabacus.com - Learn how to use the abacus in mathematics to master mental arithmetic. Uk English programme, uk English courses, handwriting programs for children. Abacus training, learn abacus in simple way, online Abacus learning, unlimited abacus worksheets, abacus tutorial, Mental Abacus. It is difficult to imagine counting without numbers, but there was a time when written numbers did not exist.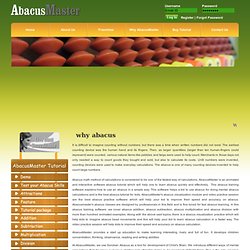 The earliest counting device was the human hand and its fingers. Then, as larger quantities (larger than ten human-fingers could represent) were counted, various natural items like pebbles and twigs were used to help count. First Grade Math. 1st Grade Math First Grade Second Grade Third Grade Fourth Grade Fifth Grade.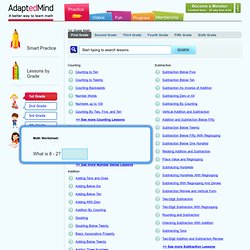 AdaptedMind. Free Resources for Teachers KS1 & Early Years Foundation Stage. Discount School Supply. Khan Academy. Freerice.com. Fizzing Sidewalk Paint. 35 Best Websites for Free Educational Videos. What are the best websites to watch educational videos?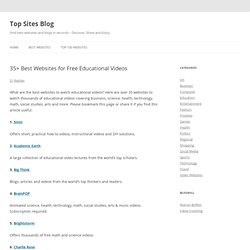 Here are over 35 websites to watch thousands of educational videos covering business, science, health, technology, math, social studies, arts and more. Please bookmark this page or share it if you find this article useful. 1. 5min Offers short, practical how to videos, instructional videos and DIY solutions. The 100 Best Video Sites For Educators. Bringing multimedia into the classroom is a great way to engage students in learning.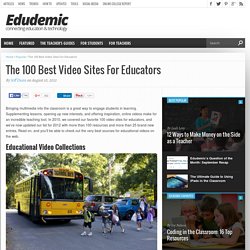 Supplementing lessons, opening up new interests, and offering inspiration, online videos make for an incredible teaching tool. In 2010, we covered our favorite 100 video sites for educators, and we've now updated our list for 2012 with more than 100 resources and more than 25 brand new entries. Read on, and you'll be able to check out the very best sources for educational videos on the web.
Snail Diagram - Label the Parts of a Snail - Science Diagrams - SMARTboard Labeling Activity. India Homeschoolers - Homeschooling, Unschooling and Attachment Parenting Forum. Homeschooling in India | Survivor's Guide to India. Charankanya on February 1st, 2011 Many people I know are not quite happy with the system of schooling in Indian schools.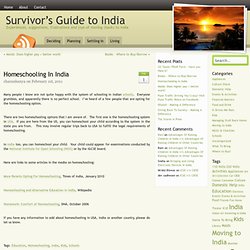 Everyone grumbles, and apparently there is no perfect school. I've heard of a few people that are opting for the homeschooling option. There are two homeschooling options that I am aware of. The first one is the homeschooling system in USA. 5 Ways to Epically Fail at Homeschool Planning. Homeschool World. - StumbleUpon. The Youth Online Club - Kids Craft Corner.
Lesson Plans & More. TheHomeSchoolMom Encouragement, tips, and practical helps for homeschool moms You are here: Home / Homeschool Resources By Subject Homeschool Resources By Subject Other Resources State Resources (US)
Home | Homeschooling Today Magazine | A Journal of Home Discipleship. Homeschoolfree.com | free homeschool resources. Paulas Archives of Homeschool Advice. Some questions keep reappearing on the homeschool bulletin boards, and some very good answers pop up frequently.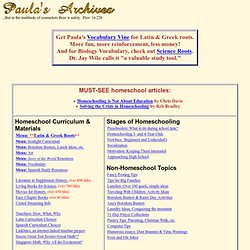 My goal is to catch the good answers and toss them back when the same question reappears. Thanks to all whose experience and wisdom have benefited the rest of us. My new site address is easy to remember. Just type www.PaulasArchives.com, no spaces, no punctuation. Homeschool.com - The #1 Homeschooling Community. NOAA Education Resources Website. Homeschooling Adventures on the Web! ::: Mandals Page no.1 - Free coloring mandalas ::: COOL COLORING PAGES - free educational coloring pages for kids. Ricks Math - Learn Math with Fun Tips and Worksheets. IXL.
- StumbleUpon. Teach Your Child Addition Basics « Teach Kids How. Addition is a concept taught in the first grade.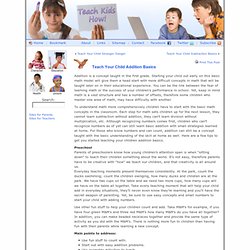 Starting your child out early on this basic math model will give them a head start with more difficult concepts in math that will be taught later on in their educational experience. You can be the link between the fear of learning math or the success of your children's performance in school. Kindergarten Worksheets. Kindergarten Reading Comprehension Test Collection – Everyday Colors: Use the information in the story to answer the 5 comprehension questions. Answer Key Is Included. Reading Comprehension Workbooks – Click Here In each of these stories, you will find a story with a color theme. Have Fun Teaching. Health & Nutrition Printables & Activities (K-12. Easter & Passover Get ready for fun classroom crafts: Easter and Passover are both approaching! Passover begins Friday, April 14 and Easter is Sunday, April 20. Poptropica Teaching GuidesPoptropica is one of the Internet's most popular sites for kids—and now it's available as an app for the iPad!
It's not just a place to play games; each of the islands featured on the site provides a learning opportunity. Coolfood kidz. Build a Meal Game for Kids- Have Fun Creating Balanced Meals Virtual Food Game, Choose Healthy Foods for Meals and Snacks. Associated Lesson Plans Avatar 0 points Travel with Kevin from the kitchen, school cafeteria and grocery store as he races the clock to build the perfect meal. Good luck! 20 Online Tools to Make Learning Fun | Once a Teacher…. By Karen Schweitzer Looking for a great way to engage and stimulate students in even the most tedious subjects?
There are many online tools, games, activities, learning aids, and even web apps designed to make learning fun. Here is a list of 20 sites to try when the new school year begins: Games and Activities. Story Starters. Story maker. Student Interactives. Rebus Puzzles: Smart-Kit. Rebus Puzzles Brainteasers. Science: Inventions, science projects, animals, weather, space, transportation, human body, and the internet. CBeebies - Home. Kid Printables - free printable fun for kids - StumbleUpon. Fact Monster: Online Almanac, Dictionary, Encyclopedia, and Homework Help... How to Teach Stuff. TEACHING TIPS.
Unique Teaching Resources: Lesson Plans, Book Reports, Bulletin Board Displays - StumbleUpon. Primary Resources - FREE for Early Years (EYFS) KS1 & KS2 | twinkl. A to Z Teacher Stuff For Teachers FREE online lesson plans, lesson plan ideas and activities, thematic units, printables, themes, teaching tips, articles, and educational resources.
Science. Making Learning Fun. ENCHANTED LEARNING HOME PAGE. Making Study Plan, Study Schedule. Play Interactive Games, Puzzles, and Quizzes. KidsKnowIt.com - Internet's Most Popular Educational Website For Kids - Thousands of Free Educational Games And Activities. Visuwords™ online graphical dictionary and thesaurus.
Born to Learn ~ You are Born to Learn. Dont Pay for Technology: 25 Freebies for Students. Flashcards: The worlds largest online library of printable flash cards. Hunkins Experiments (over 200 home experiments)
---