DIY/How to/Household
Hey Look: PRETTY PACKAGING IDEAS. I think my favorite part of gift-giving is wrapping the goods.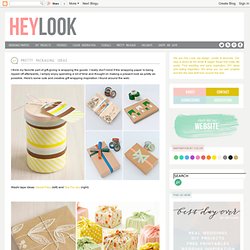 I really don't mind if the wrapping paper is being ripped off afterwards, I simply enjoy spending a lot of time and thought on making a present look as pretty as possible. Here's some cute and creative gift wrapping inspiration I found around the web: Washi tape ideas: Sweet Paul (left) and Tea For Joy (right) Hey Look: PRETTY PACKAGING IDEAS. Paper flower tutorial. I thought some of you would enjoy a quick tutorial on how to make those little paper flowers I used as part of my table setting a couple weeks ago.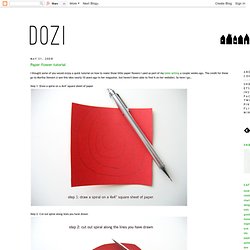 The credit for these go to Martha Stewart (I saw this idea nearly 10 years ago in her magazine, but haven't been able to find it on her website). So here I go.. 30 Foods To DIY Instead Of Buy. 21 Fruit Hacks That Will Make Your Life Easier. I've Personally Used All Of These Except #12. #1.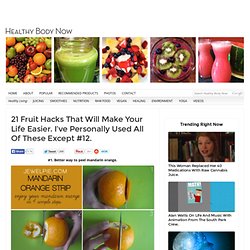 Better way to peel mandarin orange. #2. Use orange peel for candles. Instructions: How to Spring Clean With Nontoxic Home-made Products - Environment - GOOD. Tackling spring-cleaning this month?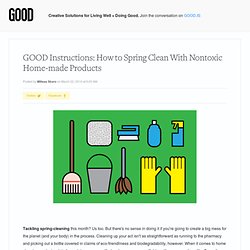 Us too. But there's no sense in doing it if you're going to create a big mess for the planet (and your body) in the process. Find Your Color. My HGTV Log InorJoin Now Person McSmith Person McSmith.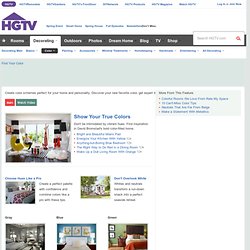 Olive Oil Benefits &150; Olive Oil Uses &150; Olive Oils - The Da... Olive oil is more than a cartoon character, historic symbol of peace and glory or food staple of the much-vaunted Mediterranean diet.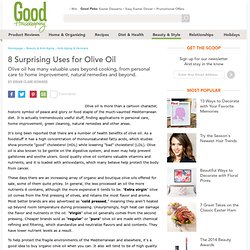 It is actually tremendously useful stuff, finding applications in personal care, home improvement, green cleaning, natural remedies and other areas. It's long been reported that there are a number of health benefits of olive oil. As a foodstuff it has a high concentration of monounsaturated fatty acids, which studies show promote "good" cholesterol (HDL) while lowering "bad" cholesterol (LDL). Olive oil is also known to be gentle on the digestive system, and even may help prevent gallstones and soothe ulcers. House Cleaning Schedule| House Cleaning Tips | Cleanipedia. A good house cleaning schedule makes it a lot easier to cope with daily, weekly & monthly cleaning tasks.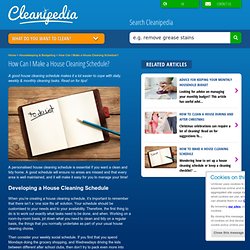 Read on for tips! A personalised house cleaning schedule is essential if you want a clean and tidy home. A good schedule will ensure no areas are missed and that every area is well maintained, and it will make it easy for you to manage your time! Developing a House Cleaning Schedule. Video Collections. 50 Life Hacks to Simplify your World. Jan 16, 2013 Life hacks are little ways to make our lives easier.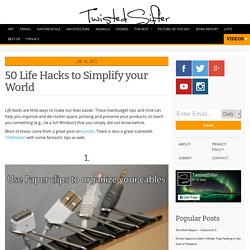 These low-budget tips and trick can help you organize and de-clutter space; prolong and preserve your products; or teach you something (e.g., tie a full Windsor) that you simply did not know before. 45 Uses For Lemons That Will Blow Your Socks Off. Most people are familiar with the traditional uses for lemons to soothe sore throats and add some citrus flavor to our foods.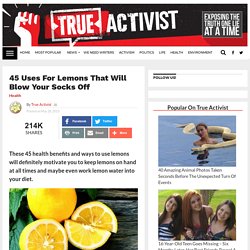 However the diversity of applications for lemons far exceeds general knowledge and once you read the following list, you'll likely want to stock at least a few lemons in your kitchen 24-7. 1. 75 Extraordinary Uses for Baking Soda. Baking soda is a chemical compound that appears as a fine powder.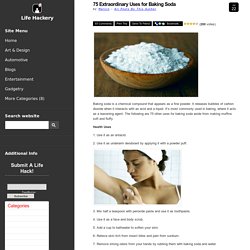 It releases bubbles of carbon dioxide when it interacts with an acid and a liquid. It's most commonly used in baking, where it acts as a leavening agent. Printable Pages For Your Household Notebook. The Fun Cheap or Free Queen: "You're Welcome" Wednesday: Tons of home remedy tips and tricks. I'm sure we've all gotten the email before. You know what I'm talking about, the spam email that you actually happened to read. You know, the one with tons of random home remedy tips in it that you think, "Huh…I should remember this…." Yes, that one. Menu Planning: Save Time In The Kitchen.
What's for dinner? It's the question of the hour! Too many home managers look for answers in the supermarket at 5 p.m. Harried from the day's work and harassed by by hungry children, they rack their brains for an answer to the what's-for-dinner dilemma. Three meals a day. How to mend it .com - Find out how to mend just about anything. Kitchen Cheat Sheet. Funny Fun Pages - Unique and Useful Tips. Unique and Useful Tips! Reheat Pizza Heat up leftover pizza in a non-stick skillet on top of the stove, set heat to med-low and heat till warm. This keeps the crust crispy. No soggy micro pizza. I saw this on the cooking channel and it really works.
Mona, Orlando, FL. 11 Unusual Household Uses For Food Items That Will Save You Money. Photo: charles chan * The next time you find yourself in need of a household product like stain remover, shower cleaner or ant deterrent, check the pantry before heading to the store. You might just find what you need, in the form of a common kitchen ingredient.
From a green perspective, going the DIY route eliminates some of the harsh chemicals in your home, reducing your family's exposure to them. It can also save you money. In a pinch, using cinnamon or cayenne pepper could save you the $5 needed to buy a set of ant traps. Organizing Tips - Home Organization Strategies. About A Mom: Crock Pot Air Freshener. A Thorough Spring Cleaning Checklist. The Best Tips Ever! - Best Inspiration from the Net from Dobhrans Inspire! Really Random Tips | Creative DIY Tips & Project Ideas For Homemakers : TipNut.com. Seven Surprising Uses for Baking Soda - Health - GOOD. 101 New Uses for Everyday Things. 25 Things You Can Clean with Salt, Dryer Sheets, and Other Common Household Items.
The How-to Manual That You Can Edit. How To Make Coconut Milk. How to run a home. How to manage your home effectively? 8 smart organizing tips for the kitchen. Handy Hints and Tips - How to help, help with... Home Decorating Ideas, Kitchen Designs, Paint Colors. How to Clean Every Room in Your Home with Items You Already Have. How to Manage a Home Budget. Home & Decor: Decoration Tips, Room Ideas, Crafts for the Home, Cleaning and Organizing - Kaboose.com. Browse All Printables. Free Online Calendar and Mobile Application For Busy Families | Cozi. Home Management Online: My Favorite Tools. Top 10 Sites for Do It Yourself Projects : Planet Green - StumbleUpon. Worksheets. Make: Reuse. Master Cleaning List : Printable. Guide to Common Home Laundering &Drycleaning Symbols. Chore Buster - Automatically organize your chores for free. How to Choose Colors to Flatter Your Skin Tone. PepperClip - The easy shopping list generator - login. Clever Ideas Worth Knowing (Part 2 of 2) | MacBros Place.
Free Homemade Gift Ideas. Instructions for Easy Homemade Gifts to Make. Useful and Handy Info You Must Know | Water, One, Boil,... 6 Life-Changing Uses for Binder Clips (That You Couldve Easily Thought Of)... FamilyFun Crafts, Activities, Recipes &Other Ideas for Kids &Parents... MS Word Templates at Print.MarthaStewart.com - Select a Product. How to Marbleize Paper and Cards. Map Coasters. Paper Flower Key Holder / Mark Montano.
DIY - MAKE YOUR OWN WAX FOR HAIR REMOVAL - Fashion + Beauty on Shine. DIY Solar Lamp: Make Your Own Eco-Friendly Sun Jars | Designs &Ideas on... V and Co how to: jersey knit bracelet. Videojug - Get Good At Life. The world's best how to videos plus free ex... Welcome to Pioneer Thinking. eHow | How To Do Just About Everything! | How To Videos &Articles.
---