Social Media
Just started Social Media Metrics by @jimsterne. Good stuff t. What's Your Personal Social Media Policy? | TalentCulture. Mike Brown On February 18, 2011 Googling "social media policy" returns nearly 5 million hits – obviously a topic getting lots of attention.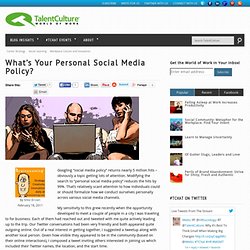 Modifying the search to "personal social media policy" reduces the hits by 99%. That's relatively scant attention to how individuals could or should formalize how we conduct ourselves personally across various social media channels. My sensitivity to this grew recently when the opportunity developed to meet a couple of people in a city I was traveling to for business. Each of them had reached out and tweeted with me quite actively leading up to the trip. 22% of online Americans used social networking or Twitter for politics in 2010 campaign.
22% of online Americans used social networking or Twitter for politics in 2010 campaign Some 21% of online adults used social networking sites such as Facebook or MySpace in the months leading up to the November, 2010 elections to connect to the campaign or the election itself, and 2% of online adults did so using Twitter.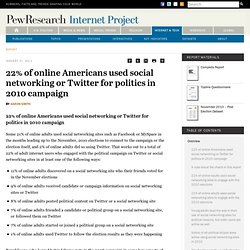 That works out to a total of 22% of adult internet users who engaged with the political campaign on Twitter or social networking sites in at least one of the following ways: Wow-we have only a. Social Media for Social Change — Inside the Organization? How has the activity of organizational change been changed, with the advent of social media?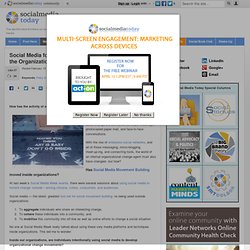 Back when I was an internal OD/Org Change manager in the Soap Plant, we spread ideas about change the old-fashioned ways: meetings, photocopied paper mail, and face-to-face conversations. With the rise of enterprise social networks, and all of those messaging, micro-blogging, meet-up-ing, and connecting tools, the world of an internal organizational change agent must also have changed– but how? Has Social Media Movement Building moved inside organizations? At last week's Social Media Week events, there were several sessions about using social media to foment change 'outside'– among citizens, voters, consumers, and audiences. 23 Social Media Facts to Share with Executives. Thanks for stopping by!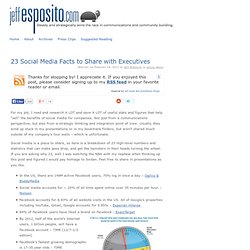 I appreciate it. If you enjoyed this post, please consider signing up to my RSS feed in your favorite reader or email. For my job, I read and research A LOT and save A LOT of useful stats and figures that help "sell" the benefits of social media for companies. Not just from a communications perspective, but also from a strategic thinking and integration point of view. Usually they wind up stuck in my presentations or in my bookmark folders, but aren't shared much outside of my company's four walls – which is unfortunate. SPOS #239 - The Now Revolution With Jay Baer And Amber Naslund. Welcome to episode #239 of Six Pixels Of Separation - The Twist Image Podcast.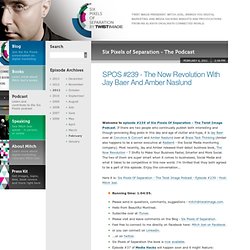 If there are two people who continually publish both interesting and though-provoking Blog posts in this day and age of clutter and hype, it is Jay Baer over at Convince & Convert and Amber Naslund over at Brass Tack Thinking (Amber also happens to be a senior executive at Radian6 - the Social Media monitoring company). Most recently, Jay and Amber released their debut business book, The Now Revolution - 7 Shifts to Make Your Business Faster, Smarter and More Social. The two of them are super smart when it comes to businesses, Social Media and what it takes to be competitive in this new world. I'm thrilled that they both agreed to be a part of this episode. Enjoy the conversation... The Publishing Industry Gets Its Own Social Network. February 1, 2011 | 5 Comments The publishing industry is one that gets a lot of attention from many different places.
For all of this attention, though, there has never been a single location that brought together the many different voices of publishers, authors and agents all talking about the industry they have devoted their lives to. The magazines for the publishing industry are too insular, and broader social media discussions tend to be too broad. Today, a site called The GateKeepers Post is proposing to fill the gap by launching with a slate of top notch contributors from every corner of the publishing world all sharing their thoughts about the industry.
Social Metrics
Rich Media Advertising on Mobile Devices with Chhavi Upadhyay « Market Edge with Larry Weber. Social Media Strategy and Business Organizational Structure. Every school operates under a business organizational structure that controls the way things get done.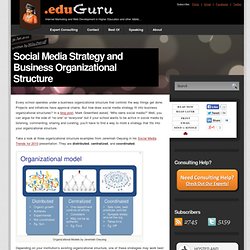 Projects and initiatives have approval chains. But how does social media strategy fit into business organizational structures? In a blog post, Mark Greenfield asked, "Who owns social media?" Well, you can argue for the side of "no one" or "everyone" but if your school wants to be active in social media by listening, commenting, sharing and curating, you'll have to find a way to mold a strategy that fits into your organizational structure. Take a look at three organizational structure examples from Jeremiah Owyang in his Social Media Trends for 2010 presentation. Meetup Redesign Gets Thumbs Down - PRNewser. Social Media. Foursquare's University Badges Now Available at All Colleges & Universities. Foursquare has just announced that its "Foursquare for Universities" program is now available at every college and university around the world.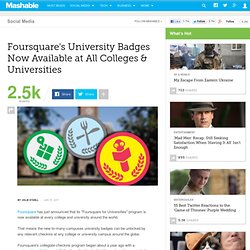 That means the new-to-many-campuses university badges can be unlocked by any relevant checkins at any college or university campus around the globe. Foursquare's collegiate checkins program began about a year ago with a partnership with Harvard. At the time, the idea behind the partnership was to help students connect with colleagues, friends and professors through the app and to help campus visitors find their way around interesting and useful on-campus locations. Last fall, Foursquare launched Foursquare for Universities, an official program to partner with many different schools. The program, which also made way for custom badges for each school, eventually grew to include more than 100 colleges and universities.
2-D Codes: The 10 Commandments for Marketers. Jamie Turner is the chief content officer of the 60 Second Marketer, the online magazine for BKV Digital and Direct Response.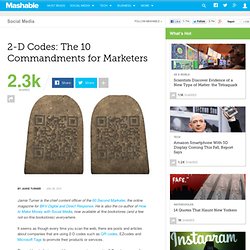 He is also the co-author of How to Make Money with Social Media, now available at fine bookstores (and a few not-so-fine bookstores) everywhere. It seems as though every time you scan the web, there are posts and articles about companies that are using 2-D codes such as QR codes, EZcodes and Microsoft Tags to promote their products or services. The problem is that many of these companies are using 2-D codes as novelty items instead of using them to drive real, tangible revenue to their businesses.
I've spent the past few months analyzing several hundred different uses of 2-D codes across the globe. Why Social Media Is Vital to Corporate Social Responsibility. Melissa Jun Rowley is a freelance entertainment correspondent for CNN, a writer for Causecast, and producer for "That Morning Show" on E!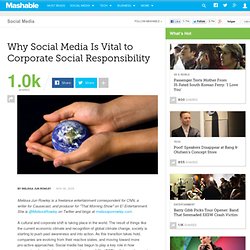 Entertainment. She is @MelissaRowley on Twitter and blogs at melissajunrowley.com. A cultural and corporate shift is taking place in the world. The result of things like the current economic climate and recognition of global climate change, society is starting to push past awareness and into action. Old Spice To Use Chosen Superfan To Promote Next Ad. The next Old Spice commercial will go out to an audience of one: The brand is going to seed the ad to one superfan to disseminate within his or her social network. The move comes after the brand's spokesman, Isaiah Mustafa, returned yesterday with a 74-second video explaining that he's back.
Mustafa was the star of the brand's "Smell Like a Man, Man" campaign, which garnered more than 24 million views on YouTube last year, making it the most-viewed ad of 2010. (Subsequent videos featuring Mustafa responding to fans' questions brought in millions more views.) The company will choose the superfan based on his or her social media support. Homeless People Start Tweeting in New Awareness Initiative. It's easy to ignore someone when you don't know or care to know anything about them. But it's different when that person shows up in your social media stream, telling you about a lonely day on the street or simply wishing you a happy Valentine's Day. Underheard in New York is an initiative to help homeless New Yorkers speak for themselves through Twitter. Four homeless people — Danny (@putodanny), Derrick (@awitness2011), Albert (@albert814) and Carlos (@jessie550) — were given their own prepaid cell phone, a month of unlimited text messaging and a Twitter account.
Dell To Launch Social Media Listening Command Center [EXCLUSIVE] Dell's CEO Michael Dell and CMO Karen Quintos will officially launch the company's Social Media Listening Command Center today. We first heard wind of this development in October when Dell's Vice President of Social Media and Community Manish Mehta announced that Dell had plans to launch the program at Altimeter's Rise of Social Commerce Conference. Just more than two months later, that announcement is coming to fruition with the opening of the center. Shortly after the October announcement, Mehta commented on a blog post by Altimeter's Industry Analyst Jeremiah Owyang about the project's purpose: "Our new 'Ground Control' is about tracking the largest number [of] possible conversations across the web and making sure we 'internalize' that feedback — good and bad... "Dell's Ground Control is also about getting that information to the right people wherever they are in the Dell organization, globally and functionally.
What Is Your Brand's Social Voice? LinkedIn Now Allows Advertisers to Target Users by Job Title & More. Article. 3 Ways to Capitalize on the Opportunity Economy. How to Gain Competitive Insight With Social Media. Curation Becomes Social: Pearltrees Launches 'Team' Version.
Social networking sites are a 'modern form of madness' Police Lesson - Social Network Tools Have 2 Edges. On The Media: This Week. Content Marketing. Penn Olson. Conversation Agent. Why Everything you Know about Influence is Wrong.
---