Interesting/useful
Apollo's Children
BBC - Things To Do: Home
Knowmore.org - Question Your Goods. Vote With Your Wallet.
In Google We Trust (Your Identity)
PasteBin - Paste your code here.
Three tables showing rates of lung cancer among drinkers and non-drinkers, then adjusted for smokers and non-smokers
Any set of figures needs adjusting before it can be usefully reported | Ben Goldacre | Comment is free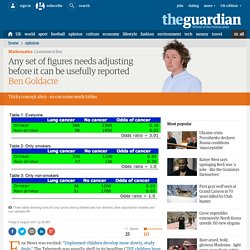 If you reload an inkjet cartridge with human cells, can you print skin? YES! : bioephemera
Laser light used to cool object to quantum ground state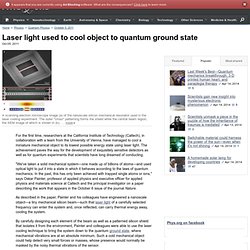 A scanning electron microscope image (a) of the nanoscale silicon mechanical resonator used in the laser cooling experiment. The outer "cross" patterning forms the shield while the central beam region, the SEM image of which is shown in (b), forms an optical cavity where laser light is used to cool the mechanical motion of the beam. Numerical simulations of the localized optical field and mechanical breathing motion of the nanobeam are shown in panels (c) and (d), respectively. Credit: Caltech/Painter, et al. For the first time, researchers at the California Institute of Technology (Caltech), in collaboration with a team from the University of Vienna, have managed to cool a miniature mechanical object to its lowest possible energy state using laser light. The achievement paves the way for the development of exquisitely sensitive detectors as well as for quantum experiments that scientists have long dreamed of conducting.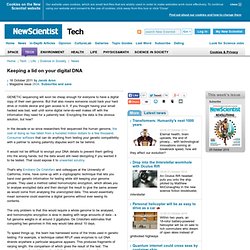 Keeping a lid on your digital DNA - tech - 16 October 2011
GENETIC sequencing will soon be cheap enough for everyone to have a digital copy of their own genome. But that also means someone could hack your hard drive or mobile device and gain access to it.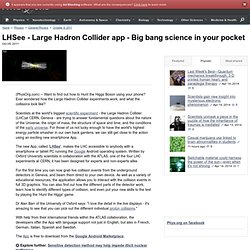 (PhysOrg.com) -- Want to find out how to Hunt the Higgs Boson using your phone? Ever wondered how the Large Hadron Collider experiments work, and what the collisions look like? Scientists at the world's biggest scientific experiment - the Large Hadron Collider (LHC)at CERN, Geneva - are trying to answer fundamental questions about the nature of the Universe, the origin of mass, the structure of space and time, and the conditions of the early universe . For those of us not lucky enough to have the world's highest energy particle smasher in our own back gardens, we can still get close to the action using an exciting new smartphone App.
LHSee - Large Hadron Collider app - Big bang science in your pocket
Brilliant: This Android app lets blind users type on a touchscreen [Video]
Ankit Daftery is an engineering student at the Veermata Jijabai Technological Institute in Mumbai, India and he decided to take it upon himself to add the ability for the blind to type on an Android device.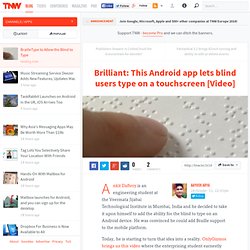 Siri vs iRis [SassiBoB Review]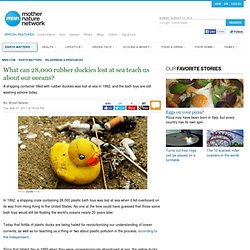 In 1992, a shipping crate containing 28,000 plastic bath toys was lost at sea when it fell overboard on its way from Hong Kong to the United States. No one at the time could have guessed that those same bath toys would still be floating the world's oceans nearly 20 years later.
What can 28,000 rubber duckies lost at sea teach us about our oceans?
LittleDog Learns Several Terrifying New Tricks - Gizmodo
Oliver Sacks: What hallucination reveals about our minds Medicina 2.0
[via onlinecolleges.net ] With classes, homework, and projects–not to mention your social life–time is truly at a premium for you, so why not latch onto the wide world that Google has to offer? From super-effective search tricks to Google hacks specifically for education to tricks and tips for using Gmail, Google Docs, and Google Calendar, these tricks will surely save you some precious time.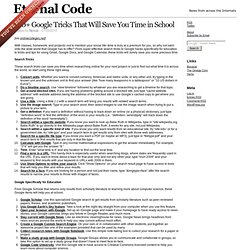 KnujOn.com - The Internet Buck Stops Here
Izu-shotō - Aoga-shima
UK Clear Sky Map
by Maria Popova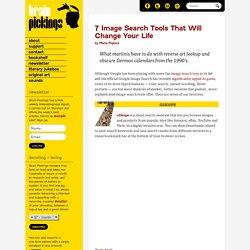 Free Photo Editing Programs
bookofjoe
nerdbastards.com | Entertainment for the Socially Awkward