Outils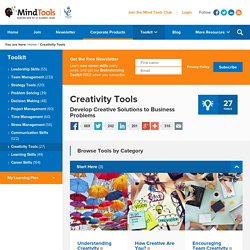 Develop Creative Solutions to Business Problems © iStockphoto This section of Mind Tools teaches more than 20 techniques that you can use to develop creative and imaginative solutions to business problems. Start by taking our 3-minute self-test, which helps you assess and develop your business creativity skills. Next, take a look at our brainstorming section, which explains a range of approaches that suit different situations.
Dropbox / 6 Comments Posted by Drew Houstonon April 09, 2014 Today, we launched Mailbox for Android, turned on new Dropbox for Business features, and introduced the world to Carousel, our new gallery app. These experiences are just a first step towards making Dropbox a home for life. And today, we're thrilled to announce three amazing additions to our leadership team to help us get there. We're thrilled to promote Sujay Jaswa to be our CFO. Sujay was our first business executive, and has created and led the business side of Dropbox since joining in 2010.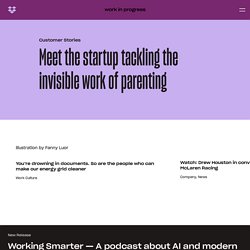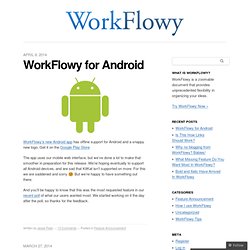 Some people have been complaining in the comments that I haven't been blogging. "How could you possibly be so busy as to not blog at all? Not even a word?" They ask.
WorkFlowy Blog - Organize your brain.
Find the best solution by involving your friends, colleagues or clients. A feedback session with customers or the decision on the new logo. tricider is the easiest way, to gather all opinions and ideas. It´s brainstorming and voting, all in one and online! Even hard decisions can be easy with tricider. Free and no registration. Save time - discussing and voting online.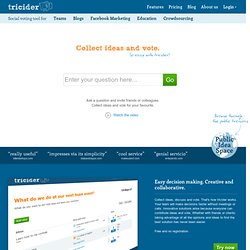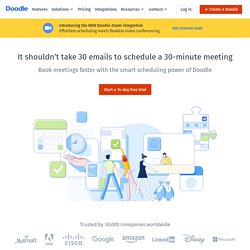 Find a date for a meeting 2x faster Doodle cooperates with your calendar No switching between your calendar and Doodle Avoid conflicting bookings Automatically sync appointments to your calendar
Evernote peut stocker de nombreux types de contenus différents, et les simples textes sont les plus communs. Que ce soit une note écrite pour vous, une portion d'une page web que vous aimeriez sauvegarder, ou un email reçu dont vous voulez garder la trace, Evernote sait comment le gérer. En gardant ceci à l'esprit, créons votre première note. C'est aussi simple que cela. Si vous le voulez, vous pouvez augmenter ou diminuer la taille de la police, ou changer sa couleur.