Storytelling
The following is an excerpt from a paper I wrote 20 some years ago while I was in Jungian analytic training. The larger paper is an interpretation of the movie Alien as an archetypal night sea journey of the hero. This excerpt chronicles the evolution of Jung's perspective on the hero's journey and is being posted in honor of the October 7, 2009, publication of Carl Gustav Jung's Red Book . The Red Book is Jung's personal journal documenting his own night sea journey, what he called his "confrontation with the unconscious." Jung began the Red Book in 1913 following the devastating break with his friend, colleague, mentor, and father figure, Sigmund Freud. The Night Sea Journey
Hero's Journey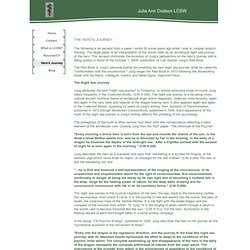 Joseph Campbell To be a Quantum Revolutionary means to be brave, and not afraid to be a hero and go on the hero's journey. Nor are you afraid of living a life well lived. To go on the hero's journey, and to live a life well lived, means to go against the grain of society, to go against tribal thinking and to go your own way, to take the road less traveled.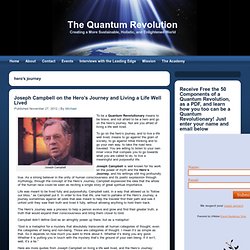 Hero's Journey | The Quantum Revolution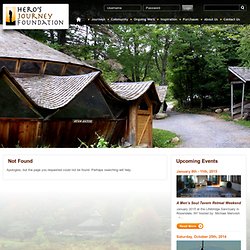 March « 2012 « Hero's Journey Blog
This blog post is the introduction essay to a new Web Course from the Hero's Journey Foundation, called Walking In Two Worlds . For more information, or to enroll in the course, click on the icon below. As humans, we walk on two feet, And live in two worlds. – Michael Meade, Fate & Destiny
Welcome to Overthinking It , where we subject the popular culture to a level of scrutiny it probably doesn't deserve. If you like our articles , you can subscribe to our RSS feed for free updates. Don't forget to check out the podcast (and get it in iTunes ). Recently, I was "flashing back," if you will, to last summer, back when I first started watching Lost and writing this crazy column. Back in June and July, I asked a lot of silly questions: Who are the Others? Can science and faith ever be reconciled?
TV | Overthinking Lost: Season 6 Episode 1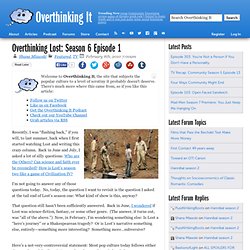 The Hero's Journey of Tiger Woods
Begin Your Brand Storytelling Journey with These 10 Steps
February 9, 2013 in Brain , Confidence and Self-Esteem , Emotional Intelligence , Empowerment , Happiness , Leadership , Neuroscience of Leadership , Personal Power Personal growth is a challenge for many people because we over identify our sense of self with our behavior. While behavior may illustrate 'how you think' or 'how you see' life at this moment, really our attitudes and beliefs can and do change over time.
Neuroscience of Change | The Efficace Group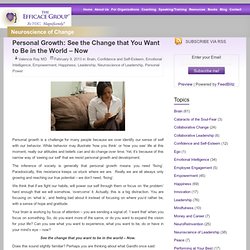 Monomyth/Hero's Journey/Destiny
www.curriculumsupport.education.nsw.gov.au/secondary/english/assets/pdf/hero.pdf
The Game of Thrones Season 3 Premiere: All Talk, and What's Wrong With That? - The "Game of Thrones" Roundtable
There's a movement sweeping business, design, and communication right now.
Owning Your Story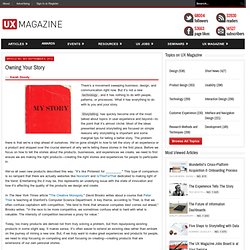 The Magic of Storytelling: A Rhetoric for Beginners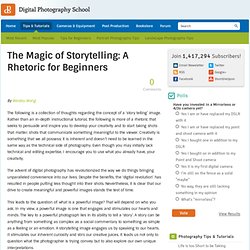 By Wesley Wong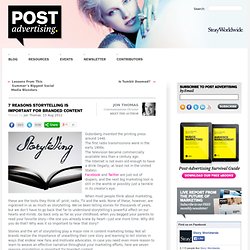 Gutenberg invented the printing press around 1440. The first radio transmissions were in the early 1900s. The television became commercially available less than a century ago.
7 Reasons Storytelling is Important for Branded Content via
How to create a must-read short story anthology
On Being Creative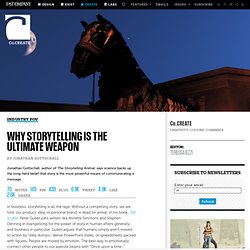 In business, storytelling is all the rage. Without a compelling story, we are told, our product, idea, or personal brand, is dead on arrival. In his book, Tell to Win , Peter Guber joins writers like Annette Simmons and Stephen Denning in evangelizing for the power of story in human affairs generally, and business in particular.
thinksmart.typepad.com/convergence_2005/files/springboard_stories.pdf