Random
Bin Jiang Centre for Advanced Spatial Analysis University College London 1-19 Torrington Place, London WC1E 6BT, UK Tel: +44 171 391 1255, Fax: +44 171 813 2843 Email: b.jiang@ucl.ac.uk A Space Syntax Approach to Spatial Cognition in Urban Environments Abstract Geographic space is a large scale space which is beyond the human perception, and can not be seen from a single viewpoint. Maps and drawings provide one way of perceiving and understanding geographic spaces. Here another approach to spatial cognition is addressed.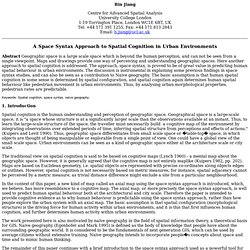 Bin Jiang
Presentations | Space Syntax
Since my last post a lot of my time has been spent researching, model making and burring my head into my sketch book. I have especially looked in greater detail at the brief and programme schedule required by this building and how this effects my original concept design.Below are just some of my "thinking sketches" coupled with some earlier sketches. Following on from an informal crit with a project architect at the office (Napper Architects), I have been looking to the combination of the two.I have already made models (pictures to be posted) and in the following days I will be modelling the ideas examined from this combination.Two projects I have been looking at over these holidays are Cedric Price's Fun Palace and Archigram's walking City, more on these to projects to be published. The final image attached is a 3d model of the proposed site with the existing buildings demolished and the Bigg Market shown as one great public space.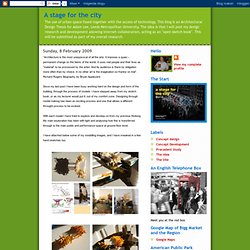 A stage for the city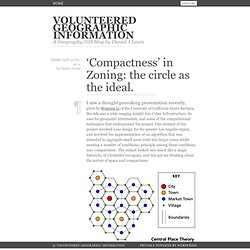 February 26th, 2011by Daniel Lewis I saw a thought provoking presentation recently, given by Wenwen Li of the University of California Santa Barbara, the talk was a wide ranging insight into Cyber Infrastructure, its uses for geospatial information, and some of the computational techniques that underpinned the project. One element of the project involved zone design for the greater Los Angeles region, and involved the implementation of an algorithm that was intended to aggregate small areal units into larger zones whilst meeting a number of conditions, principle among these conditions was 'compactness'. The output looked very much like a single hierarchy of Christaller hexagons, and this got me thinking about the nature of space and compactness. Christaller's hexagons are the defining illustration of something called 'central place theory', a geographical abstraction that idealises settlement pattern based upon an underlying space which is assumed to be isotropic.
Volunteered Geographic Information » 'Compactness' in Zoning: the circle as the ideal.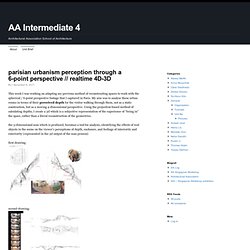 This week I was working on adapting my previous method of reconstructing spaces to work with the spherical / 6-point perspective footage that I captured in Paris. My aim was to analyse these urban rooms in terms of their perceived depth for the visitor walking through them, not as a static construction, but as a moving 4-dimensional perspective. Using the projection-based method of calculating depths, I create a 3d which is a subjective representation of the experience of "being in" the space, rather than a literal reconstruction of the geometries. the 3-dimensional scan which is produced, becomes a tool for analysis, identifying the effects of real objects in the scene on the viewer's perceptions of depth, enclosure, and feelings of interiority and exteriority (represented in the 3d output of the scan process)
parisian urbanism perception through a 6-point perspective // realtime 4D-3D
JORGE AYALA: Landscape Urbanism Lab | Final Projects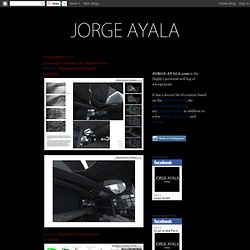 18 December, 2010 Landscape Urbanism Lab | Final Projects [Tristan]_ Infrastructural Ecologies |
Paper rings by Tithi Kutchamuch and Nutre Arayavanish
Designers Tithi Kutchamuch and Nutre Arayavanish of TT:NT have designed a range of fold-out paper jewellery, launched at Origin at Somerset house in London last month. Update: this project is included in Dezeen Book of Ideas, which is on sale now for £12. The collection consists of twelve ring designs, which are laser-cut from paper and sold flat for the user to assemble. Rings are available in a sheet with all twelve or individually. The following is from TT:NT: Birthday Ring is the laser-engraved-fine paper card that can be able to fold into flower-shaped ring.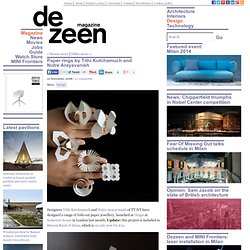 Parametric Paperstrip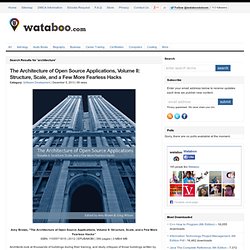 Search for "architecture" - Wataboo | Best Free Ebooks
The Architecture of Open Source Applications, Volume II: Structure, Scale, and a Few More Fearless Hacks Amy Brown, "The Architecture of Open Source Applications, Volume II: Structure, Scale, and a Few More Fearless Hacks" ISBN: 1105571815 | 2012 | EPUB/MOBI | 390 pages | 3 MB/4 MB Architects look at thousands of buildings during their training, and study critiques of those buildings written by masters. Download Now Bookmark & Share Digital Design and Computer Architecture, Second Edition
Ben Aqua, NEVER LOG OFF, 2013 (Limited edition t-shirt designed for #FEELINGS)We are no longer mostly dealing with information that is transmitted form a source to a receiver, but increasingly also with informational dynamics—that is with the relation between noise and signal, including fluctuations and microvariations, entropic emergences and negentropic emergences, positive feedback and chaotic processes. If there is an informational quality to contemporary culture, then it might be not so much because we exchange more information than before, or even because we buy, sell or copy informational commodities, but because cultural processes are taking on the attributes of information—they are increasingly grasped and conceived in terms of their informational dynamics.- Tiziana Terranova, Network Culture: Politics for the Information Age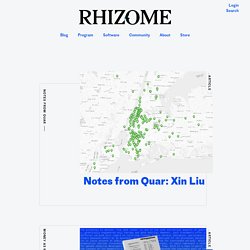 Work | Design Interactions at the RCA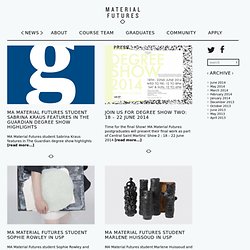 2013 Degree Show! Come and see the 2013 Textile Futures final year show exploring the future of materiality! From Wednesday June 19th until Sunday June 23rd. Find us in The Street at Central Saint Martins! Wednesday 19th – Friday 21st June, 12-8PM Saturday 22nd – Sunday 23rd June, 12-6PM Last entry 30 minutes prior to closing time. Don't miss our Lunchtime Talks series: > Luxe is More: Morgan Bajardi (Engineered Illusions), Emilie F.
School of Architecture
09.02.2011 / MICHAEL WEINSTOCK : MAS CAAD ETHZ 2010-2011 · ITA(Institute of Technology in Architecture), Faculty of Architecture ETH Zurich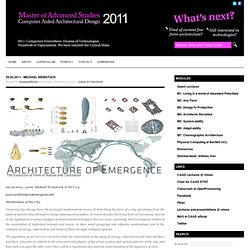 Posted by mascaad2010 on Sunday, February 6, 2011 · Leave a Comment 09.02.2011, 14:00, Michael Weinstock @ HCI J 4 www.architectureofemergence.com Metabolism of the City
charles and ray eames
Charley Harper
Welcome, Poster Cabaret focuses on modern concert posters and art prints. The site features over 2000 gig posters and art prints by: