BLOGS United States
Dynamist Blog. The Conscience of a Liberal. Paul Krugman. Paul Robin Krugman (born February 28, 1953) is an American economist, Professor of Economics and International Affairs at the Woodrow Wilson School of Public and International Affairs at Princeton University, Centenary Professor at the London School of Economics, and an op-ed columnist for The New York Times.[2][3] In 2008, Krugman won the Nobel Memorial Prize in Economic Sciences for his contributions to New Trade Theory and New Economic Geography.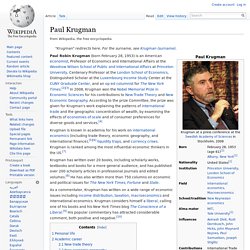 According to the prize Committee, the prize was given for Krugman's work explaining the patterns of international trade and the geographic concentration of wealth, by examining the effects of economies of scale and of consumer preferences for diverse goods and services. Krugman is known in academia for his work on international economics (including trade theory, economic geography, and international finance),[5][6] liquidity traps, and currency crises.
Krugman is ranked among the most influential economic thinkers in the US.[7] Daniel W. Drezner. Daniel Drezner. Daniel W.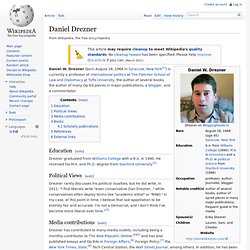 Drezner (born August 28, 1968 in Syracuse, New York[1]) is currently a professor of international politics at The Fletcher School of Law and Diplomacy at Tufts University, the author of several books, the author of many Op-Ed pieces in major publications, a blogger, and a commentator. Education[edit] Political Views[edit] Drezner rarely discusses his political loyalties, but he did write, in 2011: "I find liberals write "even conservative Dan Drezner...
" while conservatives often deploy terms like "academic elitist" or "RINO. " In my case, at this point in time, I believe that last appellation to be entirely fair and accurate. The Agitator. Virginia Postrel. Virginia I.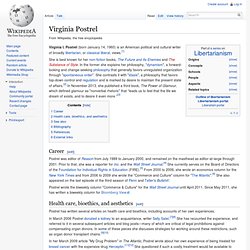 Postrel (born January 14, 1960) is an American political and cultural writer of broadly libertarian, or classical liberal, views.[1] Career[edit] Postrel wrote the biweekly column "Commerce & Culture" for the Wall Street Journal until April 2011. Since May 2011, she has written a biweekly column for Bloomberg View. Armchair Generalist. After six and a half years and with great regret, I must announce the shuttering of "Armchair Generalist.
" I have accepted a government civilian job with the Department of Homeland Security and will be moving out of the DC metro area in the near future. Unfortunately, the drive to reduce the number of evil contractors in the Defense Department have resulted in the termination of my contract, and I do need a paycheck for just a few more years. Belmont Club. In September 2013 the Guardian wrestled with a mystery.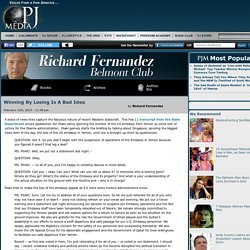 "'No one can explain why a rich country has no food' Toilet paper, rice and coffee have long been missing from stores, as Venezuelan president blames CIA plot for chronic shortages." Actually, an economist named Brad Schiller tried to explain it in March of the same year. He said the shortages were the result of Hugo Chavez's war against the Law of Supply and Demand. Ayaan Hirsi Ali. Ayaan Hirsi Ali, an outspoken defender of women's rights in Islamic societies, was born in Mogadishu, Somalia.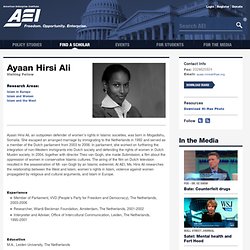 She escaped an arranged marriage by immigrating to the Netherlands in 1992 and served as a member of the Dutch parliament from 2003 to 2006. In parliament, she worked on furthering the integration of non-Western immigrants into Dutch society and defending the rights of women in Dutch Muslim society. In 2004, together with director Theo van Gogh, she made Submission, a film about the oppression of women in conservative Islamic cultures. The airing of the film on Dutch television resulted in the assassination of Mr. van Gogh by an Islamic extremist. At AEI, Ms. Ayaan Hirsi Ali en de strijd tegen de radicale islam.
Ayaan Hirsi Ali. Ayaan Hirsi Ali (Dutch: [ɑˈjaːn ˈɦirsi ˈaːli] ( When she was eight, Hirsi Ali's family left Somalia for Saudi Arabia, then Ethiopia, and eventually settled in Kenya.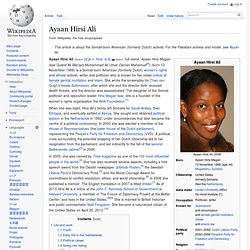 She sought and obtained political asylum in the Netherlands in 1992, under circumstances that later became the centre of a political controversy. In 2003 she was elected a member of the House of Representatives (the lower house of the Dutch parliament), representing the People's Party for Freedom and Democracy (VVD). Matthew Yglesias. Matthew Yglesias. Matthew Yglesias (/ɨˈɡleɪsiəs/; born May 18, 1981) is an American economics journalist and political blogger.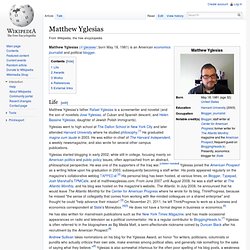 Life[edit] Matthew Yglesias's father Rafael Yglesias is a screenwriter and novelist (and the son of novelists Jose Yglesias, of Cuban and Spanish descent, and Helen Bassine Yglesias, daughter of Jewish Polish immigrants). Yglesias went to high school at The Dalton School in New York City and later attended Harvard University where he studied philosophy.[1] He graduated magna cum laude in 2003. He was editor-in-chief of The Harvard Independent, a weekly newsmagazine, and also wrote for several other campus publications. Michael J. Totten. If Cuba needed a Berlin Wall, Fidel Castro would have built one.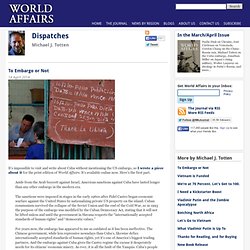 Fortunately for him—though not for his much-abused subjects—one of the world's last communist regimes is surrounded on all sides by water, cruelly trapping its people. Thus Castro's totalitarian state, Cuban exile Humberto Fontova wrote, "gave rise to psychic cripples beyond the imagining of even Orwell or Huxley: people who hate the sight of the sea." But the sea can't restrain all of them. Michael Totten. Michael J.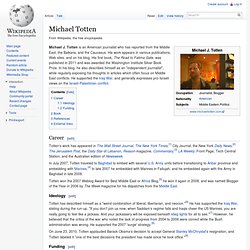 Totten is an American journalist who has reported from the Middle East, the Balkans, and the Caucasus. His work appears in various publications, Web sites, and on his blog. Michael Yon. Yon has had vocal feuds with the United States military hierarchy, and the nature of his reports are also controversial.[2] However, Yon at one time enjoyed "rock star" status among individual soldiers, according to Brian Williams of NBC.[4] Yon's alternative media reporting has been mentioned by numerous mainstream media agencies, and he has won accolades from the 2005, 2007,[5] and 2008 Weblog Awards.[6] In 2008, The New York Times reported that he has spent more time embedded with combat units than any other journalist in Iraq.[1] He shifted the focus of his blogging from Iraq to Afghanistan in August 2008.[7] His work is supported primarily by donations from readers.[8] Background[edit] Yon grew up in Winter Haven, Florida, where he says he essentially raised himself.
The Daily Dish. Andrew Sullivan. Andrew Michael Sullivan (born 10 August 1963) is a British author, editor and blogger, resident in the United States. A former editor of The New Republic and the author or editor of six books, Sullivan is an influential blogger and commentator. He was a pioneer of the political blog, starting his in 2000. He eventually moved the blog to various publishing platforms, including Time Magazine, The Atlantic, and The Daily Beast. The Spine. Marty Peretz. Martin H. "Marty" Peretz (/pəˈrɛts/; born December 6, 1938) is an American publisher. Formerly an assistant professor at Harvard University, he purchased The New Republic in 1974 and took editorial control soon afterwards.[1] Peretz is known for his strong support of Israel and support for the US Invasion of Iraq in 2003. Kevin Drum. A couple of days ago Paul Waldman wrote about Persecuted, a new movie that features a Christian evangelist who gets framed for murder by an evil senator and then spends the rest of the film running from government agents.
It all sounds pretty silly, and it's come in for plenty of mockery on the left. But after watching the trailer, I have to say that it didn't sound much sillier than plenty of other movies and TV shows I've seen. In Hollywood, evil businessmen have done a lot worse than this to environmental activists and the CIA has done a lot worse to national security whistleblowers. So fine. Why not make a silly movie about a persecuted evangelist instead of a persecuted journalist trying to expose the CIA? Kevin Drum. Kevin Drum (born October 19, 1958) is a liberal American political blogger and columnist. He was born in Long Beach, California and now lives in Irvine, California. Education[edit] Roger L. Simon.
Roger Simon. The Bleat. James Lileks. The Christopher Hitchens Web. Daily Hitchens. Christopher Hitchens. Christopher Hitchens. Hasidic Rebel. BuzzMachine. Jeff Jarvis. Political Animal. Steve Benen. Nobody's Business. Rogier van Bakel.