BLOGS United States
Dynamist Blog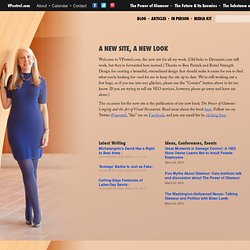 Welcome to VPostrel.com, the new site for all my work. (Old links to Dynamist.com still work, but they're forwarded here instead.) Thanks to Ben Parizek and Barrel Strength Design for creating a beautiful, streamlined design that should make it easier for you to find what you're looking for--and for me to keep the site up to date. We're still working out a few bugs, so if you run into any glitches, please use the "Contact" button above to let me know.
Joe Romm draws our attention to the third slice of the latest IPCC report on climate change, on the costs of mitigation; the panel finds that these costs aren't that big — a few percent of GDP even by the end of the century, which means only a trivial hit to the growth rate. At one level this shouldn't be considered news. It has been apparent for quite a while that given the right incentives we could maintain economic growth even while greatly reducing greenhouse gas emissions. But there is, in fact, some news that greatly strengthens the case that saving the planet would be quite cheap. First, a word about the general principle here.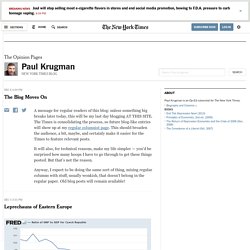 The Conscience of a Liberal
Paul Robin Krugman (born February 28, 1953) is an American economist, Professor of Economics and International Affairs at the Woodrow Wilson School of Public and International Affairs at Princeton University, Centenary Professor at the London School of Economics, and an op-ed columnist for The New York Times.[2][3] In 2008, Krugman won the Nobel Memorial Prize in Economic Sciences for his contributions to New Trade Theory and New Economic Geography. According to the prize Committee, the prize was given for Krugman's work explaining the patterns of international trade and the geographic concentration of wealth, by examining the effects of economies of scale and of consumer preferences for diverse goods and services. Krugman is known in academia for his work on international economics (including trade theory, economic geography, and international finance),[5][6] liquidity traps, and currency crises. Krugman is ranked among the most influential economic thinkers in the US.[7]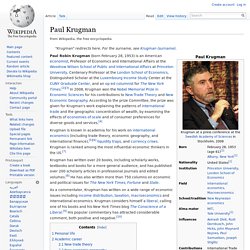 Paul Krugman
Daniel W. Drezner
The out-of-touch professor is a shopworn cliché that recurs in fiction and, unfortunately, in real life as well. Eighteen months ago, the head of the MacArthur Foundation lamented "the theoretical turn across the social sciences and humanities that has cut off academic discourse from the way ordinary people and working professionals speak and think." The U.S. Congress had already arrived at that conclusion, and in 2013, it eliminated National Science Foundation funding for political science -- a move that earned applause from mainstream commentators.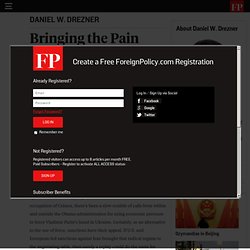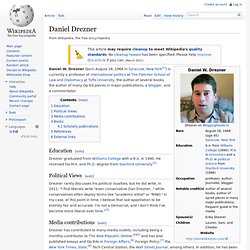 Daniel Drezner
Daniel W. Drezner (born August 28, 1968 in Syracuse, New York[1]) is currently a professor of international politics at The Fletcher School of Law and Diplomacy at Tufts University, the author of several books, the author of many Op-Ed pieces in major publications, a blogger, and a commentator. Education[edit] Political Views[edit] Drezner rarely discusses his political loyalties, but he did write, in 2011: "I find liberals write "even conservative Dan Drezner..." while conservatives often deploy terms like "academic elitist" or "RINO." In my case, at this point in time, I believe that last appellation to be entirely fair and accurate.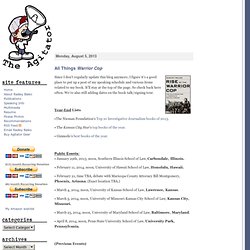 The Agitator
Since I don't regularly update this blog anymore, I figure it's a good place to put up a post of my speaking schedule and various items related to my book. It'll stay at the top of the page. So check back here often. We're also still adding dates on the book talk/signing tour. Year-End Lists •The Nieman Foundation's Top 10 Investigative Journalism books of 2013.
Virginia I. Postrel (born January 14, 1960) is an American political and cultural writer of broadly libertarian, or classical liberal, views.[1] Career[edit] Postrel wrote the biweekly column "Commerce & Culture" for the Wall Street Journal until April 2011. Since May 2011, she has written a biweekly column for Bloomberg View.
Virginia Postrel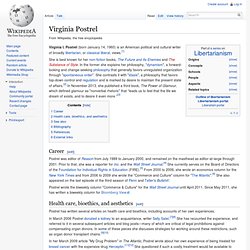 After six and a half years and with great regret, I must announce the shuttering of "Armchair Generalist." I have accepted a government civilian job with the Department of Homeland Security and will be moving out of the DC metro area in the near future. Unfortunately, the drive to reduce the number of evil contractors in the Defense Department have resulted in the termination of my contract, and I do need a paycheck for just a few more years.
Armchair Generalist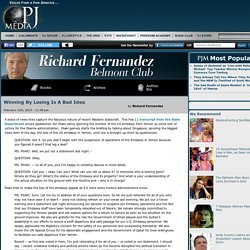 Belmont Club
In September 2013 the Guardian wrestled with a mystery. "'No one can explain why a rich country has no food' Toilet paper, rice and coffee have long been missing from stores, as Venezuelan president blames CIA plot for chronic shortages." Actually, an economist named Brad Schiller tried to explain it in March of the same year. He said the shortages were the result of Hugo Chavez's war against the Law of Supply and Demand.
Ayaan Hirsi Ali
Ayaan Hirsi Ali, an outspoken defender of women's rights in Islamic societies, was born in Mogadishu, Somalia. She escaped an arranged marriage by immigrating to the Netherlands in 1992 and served as a member of the Dutch parliament from 2003 to 2006. In parliament, she worked on furthering the integration of non-Western immigrants into Dutch society and defending the rights of women in Dutch Muslim society. In 2004, together with director Theo van Gogh, she made Submission, a film about the oppression of women in conservative Islamic cultures. The airing of the film on Dutch television resulted in the assassination of Mr. van Gogh by an Islamic extremist. At AEI, Ms.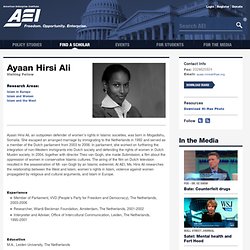 Waarom cookies? Cookies zorgen er bijvoorbeeld voor dat je ingelogd kan blijven op een website of dat bijvoorbeeld je locatie- en taalinstellingen worden onthouden. Daarnaast houden ze bij het online winkelen je digitale winkelwagentje bij. Ook kunnen websitehouders dankzij cookies zien hoe vaak hun sites - en welke pagina's - door bezoekers worden bekeken. Sommige cookies maken het mogelijk om je surfgedrag te volgen.
Ayaan Hirsi Ali en de strijd tegen de radicale islam
Ayaan Hirsi Ali (Dutch: [ɑˈjaːn ˈɦirsi ˈaːli] ( When she was eight, Hirsi Ali's family left Somalia for Saudi Arabia, then Ethiopia, and eventually settled in Kenya. She sought and obtained political asylum in the Netherlands in 1992, under circumstances that later became the centre of a political controversy. In 2003 she was elected a member of the House of Representatives (the lower house of the Dutch parliament), representing the People's Party for Freedom and Democracy (VVD).
Ayaan Hirsi Ali
Matthew Yglesias
Matthew Yglesias
Matthew Yglesias (/ɨˈɡleɪsiəs/; born May 18, 1981) is an American economics journalist and political blogger. Life[edit] Matthew Yglesias's father Rafael Yglesias is a screenwriter and novelist (and the son of novelists Jose Yglesias, of Cuban and Spanish descent, and Helen Bassine Yglesias, daughter of Jewish Polish immigrants). Yglesias went to high school at The Dalton School in New York City and later attended Harvard University where he studied philosophy.[1] He graduated magna cum laude in 2003. He was editor-in-chief of The Harvard Independent, a weekly newsmagazine, and also wrote for several other campus publications.
If Cuba needed a Berlin Wall, Fidel Castro would have built one. Fortunately for him—though not for his much-abused subjects—one of the world's last communist regimes is surrounded on all sides by water, cruelly trapping its people. Thus Castro's totalitarian state, Cuban exile Humberto Fontova wrote, "gave rise to psychic cripples beyond the imagining of even Orwell or Huxley: people who hate the sight of the sea." But the sea can't restrain all of them.
Michael J. Totten
Michael J. Totten is an American journalist who has reported from the Middle East, the Balkans, and the Caucasus. His work appears in various publications, Web sites, and on his blog.
Michael Totten
Michael Yon
The Daily Dish
Andrew Sullivan
The Spine
Marty Peretz
Kevin Drum
Kevin Drum
Roger L. Simon
Roger Simon
The Bleat
James Lileks
The Christopher Hitchens Web
Daily Hitchens
Christopher Hitchens
Hasidic Rebel
BuzzMachine
Jeff Jarvis
Political Animal
Steve Benen
Nobody's Business
Rogier van Bakel