Blogs, Journals, Articles etc.
Skintones - how to achieve this look? | Lift Gamma Gain - The Colorist & Color Grading Forum. Skintones - how to achieve this look?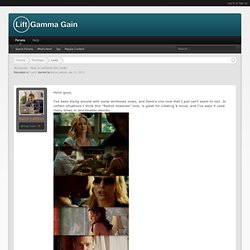 Discussion in 'Looks' started by Malte Løkken, Apr 12, 2013. Malte Løkken Message Count: 18 Hello guys, I've been trying around with some skintones looks, and there's one look that I just can't seem to nail. In certain situations I think this "Redish shadows" look, is great for creating a mood, and I've seen it used many times in blockbuster movies. Do any of you know how to make this redish look in the skintones, like shown in these pictures?
-are there any good techniques? And So it Begins...: My 11 Favorite Cinematographers. There's nothing I don't love or admire or respect or appreciate about the filmmaking process.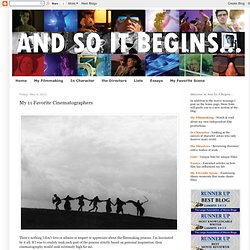 I'm fascinated by it all. If I was to crudely rank each part of the process strictly based on personal inspiration, then cinematography would rank extremely high for me. Being a Director is More of a State of Mind Than a Profession | Lights Online Film School was recently lucky enough to be able to chat with director Tomek Goldbaum-Wlazinski about his music video "Melt" for KAMP.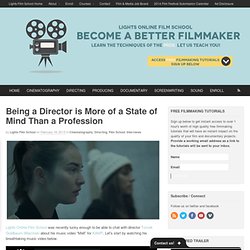 Let's start by watching his breathtaking music video below. Welcome Tomek! First of all, congratulations on an incredibly beautiful music video. Can you begin by telling us a little bit more about where the idea for this music video came from? How I Made My First Feature Film | Lights Online Film School recently had the opportunity to interview one of our newest students, Josh Beck, about his debut feature film entitled EVER.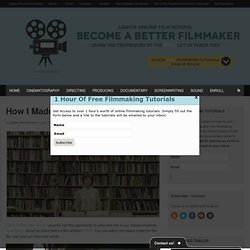 You can watch the teaser trailer for the film and read our interview below. Hello Josh and thank you for talking with us about your first feature film. First of all, a huge congratulations on getting your film shot! Using Color Temp to Create Depth and Dimension with your HD Video. I have been asked this question many times, "Do you white balance your camera?"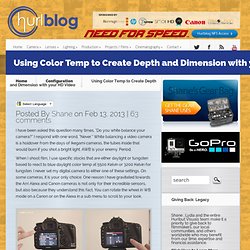 I respond with one word, "Never." White balancing a video camera is a holdover from the days of Ikegami cameras, the tubes inside that would burn if you shot a bright light. AWB is your enemy. Interview with Christophe Persoz, Director of The Endless Session | Cameraman.com. [iframe width="564" height="317" src=" width="564" height="317" frameborder="0"] Cinematographer Christophe Persoz is presenting here the trailer of his film called «The Endless Session ».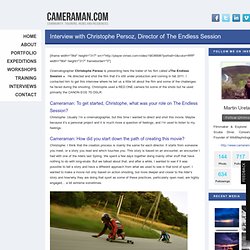 DaVinci Resolve: Using Limiters. A Look at SpeedGrade: Professional Color Grading within Adobe Creative Suite 6 » NYC Production & Post News. –This review is the first of a two-part series on Adobe SpeedGrade.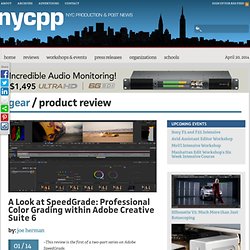 The release of the Production Premium version of Adobe Creative Suite 6 (CS6) last year contained a wealth of important new features in its various apps. I've already written an in-depth review of Premiere Pro that, in CS6, delivered on its promise of becoming a truly professional NLE. After Effects, a standard part of the toolkit for motion graphic artists and compositors everywhere, also had its fair share of important improvements, including a 3D motion tracker, ray tracing and enhanced caching. Filmmakers. Filmmaking isn't rocket science, but sometimes they are kissing cousins.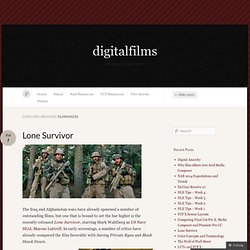 Such is the case of the documentary Particle Fever, where the credentials of both producer David Kaplan and director Mark Levinson include a Doctorate in particle physics. Levinson has been involved in filmmaking for 28 years, starting after his graduation from Berkeley, when he found the job prospects for physics in a slump. Instead he turned to his second passion – films. Behind the Scenes of Assassin's Creed. Group: News. One of the most celebrated indie debuts in years, BEASTS OF THE SOUTHERN WILD weaves a lyrical tale of a girl named Hushpuppy who must save her ailing father and defend her home in a bayou.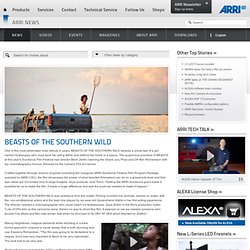 The auspicious premiere of BEASTS at this year's Sundance Film Festival had director Benh Zeitlin claiming the Grand Jury Prize and DP Ben Richardson with top cinematography honors, followed by the Camera d''Or at Cannes. Crafted together through dozens of grants (including the inaugural ARRI Sundance Feature Film Program Package supplied by ARRI CSC), the film showcases the power of what talented filmmakers can do on a grassroots level and that epic ideas are not limited only to large budgets. Says producer Josh Penn, "Getting the ARRI Sundance grant made it possible for us to make the film. It made a huge difference and was the push we needed to make it happen. " BEASTS OF THE SOUTHERN WILD was ambitious from the outset. Digitalfilms « a blog by Oliver Peters. Making of Beasts of the Southern Wild - Part I. A place for independent filmmakers to get real world advice. Motionographer | Digital Filmmaking, Animation, Motion Graphics, Design, Film, Visual Effects and Experimental Moving Image Storytelling.
The Art of Getting Paid. Tutorials. Creating a Project In this Lightworks 11.5 tutorial, the first in a ten part series, you'll learn to how to choose project settings and setup your project including how to change the output format. 10-part series produced by Peter Bridgman, updated to version 11.5 by Iain Churchill-Coleman.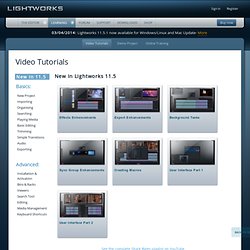 Fincher Film School: Paint It Black. PDF Download David Fincher has been labelled all variations of a 'prince of darkness'. Perhaps rightfully so, as his movies mostly are crafted with a signature color palette of dark tones, mostly green and blue. The 22 rules of storytelling, according to Pixar. I was going for the polar opposite of Hercules, taking every descriptor and looking for its opposite. But yes, I guess monster would work. Bit cliche, though, innit? Alan Edward Bell A.C.E. | A place to talk about visual tampering. What follows is an interview I did for a student named Jahnavi who approached me via email. I thought I would share it with you: ————- First off I have to say I am very impressed by the questions you asked.
I get asked to do this sort of thing a couple times a year by various students and by far your set of questions are the best. Hurlbut Visuals. Lilith. An Abandoned Country Estate in Yonkers & Scouting NY. Note: I DO NOT KNOW ANYTHING ABOUT ALDER MANOR AND WEDDINGS!! I've tried to figure it out, but the person in charge of weddings has never called me back, and it remains a complete mystery.
I receive emails daily complaining about a lack of response for weddings, and I just don't understand the situation. A Media Manager Has Your Back. Who is Martin de Thurah » Flux - A global creative community celebrating film, art, music and design. Detour Filmproduction. MF Films | Mario Feil Films. Garrett O'Brien Visuals » The Hobbit and The EPIC.
Canon EOS C300 – Review & short film | Nino Film - Blog - Nino Leitner - DSLR video, filmmaking & more. Nino Film - Blog - Nino Leitner - DSLR video, filmmaking & more | a film production blog. Tej Babra. Martin Scorsese's Film School: The 85 Films You Need To See To Know Anything About Film. Davidbordwell.net : home. A-cam SP-16 | A-Cam SP-16 | Products | Ikonoskop. The ASC -- American Cinematographer: Cosmic Questions. High Definition for PC. Prolost - Blog. 7 Tips for HD Color Correction and DSLR Color Correction. Darren Aronofsky. ALL THINGS SHINING. James River Film Journal | Writing on the art of film & film as art. New Wave Films - Welcome.
---