Blogs Anglophones
Modern Medieval
[Cross-posted from my personal blog.] I've been reading Matthew L. Jockers's recent book, Macroanalysis: Digital Methods and Literary History (Urbana, IL: U of Illinois P, 2013), and I find much of it compelling. One thing that Jockers mentioned--and my reaction to it--has been on my mind for the last few days: the massive availability of texts in our own digital culture. But I want to put pressure on this notion, especially in relation to medieval texts.
Early Modern Notes - Mozilla Firefox
I started blogging in about May 2004, near the end of the early phase of the history of blogging, although the history blogosphere and academic blogging was very much in its infancy. The very first blog carnival (begun 2002, I think) was the Carnival of the Vanities, a weekly US-oriented political blogs roundup. It spawned various imitators; I found none of them very interesting. But by summer 2004 carnivals for scholarly subjects were beginning to emerge, and these did grab my attention. My primary inspiration was the Philosophers' Carnival (which is still going strong too, I'm pleased to say). Carnivalesque began as an early modernists' carnival, and widened out to take in the medieval and ancient worlds a bit later.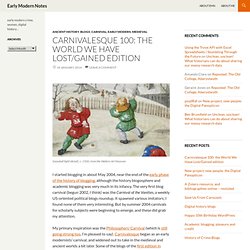 TudorHistory.org Blog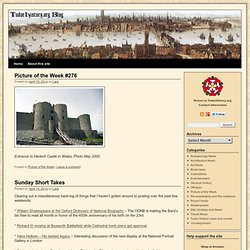 I'm delighted to be hosting Day 5 of the In the Footsteps of Anne Boleyn Virtual Book Tour with this guest post from Natalie and Sarah! Amberley Publishing is kindly giving away two copies of the book at each blog on the tour, so I've done another survey – a short one this time! – to collect entries for the drawing. Click here to take the survey and leave your email address if you wish to be entered in the drawing. (You can take the survey and just leave the email address field blank if you don't wish to be entered in the give-away.)
History Carnivals Aggregator - Mozilla Firefox
The History Blog - Mozilla Firefox
The burial mound of the Adena culture on west side of the Scioto River in Chillicothe, Ohio, has been radiocarbon dated to the first century A.D. The Adena culture extended from around 800 B.C. to 100 A.D., a time known as the Early Woodland period, and until now, that thousand-year range was as specific as archaeologists could get in dating the Adena Mound. There were multiple ancient American mounds in the area, but this particular mound is the type site, the find considered the most representative of the culture.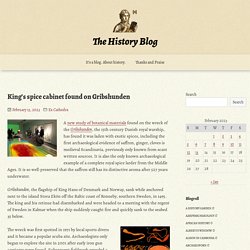 The History Blog