Start-ups
7 French startups that are hot right now. Le trio de LearningShelter boucle une première levée de fonds. Le monde du e-learning est aujourd'hui en pleine ébullition.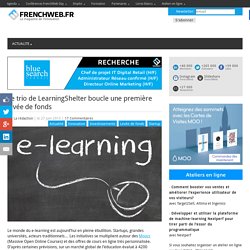 Startups, grandes universités, acteurs traditionnels… Les initiatives se multiplient autour des Moocs (Massive Open Online Courses) et des offres de cours en ligne très personnalisée. D'après certaines prévisions, sur un marché global de l'éducation évalué à 4200 milliards de dollars, 30 % du business pourrait basculer en ligne, contre seulement 2 % aujourd'hui. Imaginée par trois étudiants Alexandre Dana (ESCP), Grégoire Clermont (Epitech) et Charles Lefebvre du Preÿ (ESCP), la start-up LearningShelter propose, elle, un site de cours particuliers en ligne par vidéo-bulle. « Tout a commencé le jour où une maman m'a appelé pour que je donne un cours particulier à son fils… Seul problème, ils habitaient Annecy et moi à Paris !
Le chiffre d'affaires des start-up du web français - Web & Tech. Observatoire-des-levees-de-fonds-Internet-2012. 3 Day Start Up Paris. Quantité non valide.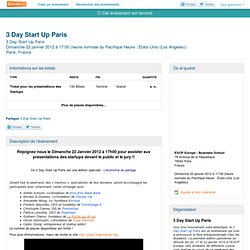 Veuillez saisir une quantité de 1 ou plus. La quantité choisie excède la quantité disponible. Veuillez saisir votre nom. Veuillez saisir une adresse e-mail. BlueKiwi, n°1 français des réseaux sociaux d'entreprise, repris par Atos. L'information a commencé à fuiter hier sur Twitter. « Apprently, #bluekiwi has been acquired by #ATOS ...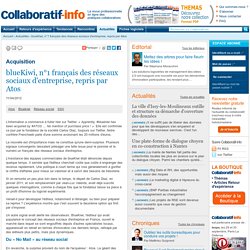 No mention of purchase price ! ». Elle est confirmée ce jour par le fondateur de la société Carlos Diaz, toujours sur Twitter. Notre confrère Frenchweb parle d'une somme avoisinant les 20 millions d'euros. La nouvelle est d'importance mais ne constitue qu'une demi-surprise. Deezer rides a doozy of a storm as CEO is ousted by investors. [France] Music search and discovering service Deezer is currently caught up in a storm of controversy: its co-founder and CEO Jonathan Benassaya has effectively been forced out by his investors.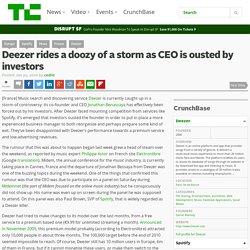 After Deezer faced mounting competition from services like Spotify, it's emerged that investors ousted the founder in order to put in place a more experienced business manager to both reorganize and perhaps prepare some kind of exit. They've been disappointed with Deezer's performance towards a premium service and low advertising revenues. The rumour that this was about to happen began last week grew a head of steam over the weekend, as reported by music expert Philippe Astor on French site Electronlibre (Google translation). Musique: Deezer va fusionner avec WorMee d'Orange - TIC et Net. Les deux concurrents ne vont bientôt plus faire qu'un.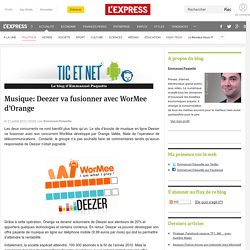 Le site d'écoute de musique en ligne Deezer va fusionner avec son concurrent WorMee développé par Orange Vallée, filiale de l'opérateur de télécommunications. Contacté, le groupe n'a pas souhaité faire de commentaires tandis qu'aucun responsable de Deezer n'était joignable. Grâce à cette opération, Orange va devenir actionnaire de Deezer aux alentours de 20% et apportera quelques technologies et certains contenus. En retour, Deezer va pouvoir développer son offre payante de musique en ligne sur téléphone mobile (9,99 euros par mois) qui doit lui permettre d'atteindre la rentabilité. Initialement, la société espérait atteindre 100 000 abonnés à la fin de l'année 2010. Netvibes Makes It To Profitability By Appealing To Businesses. Netvibes CEO Freddy Mini announced today that the startup founded five years ago has finally made it to profitability.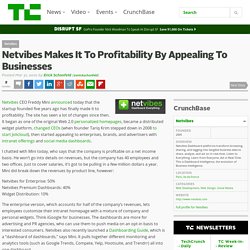 The site has seen a lot of changes since then. It began as one of the original Web 2.0 personalized homepages, became a distributed widget platform, changed CEOs (when founder Tariq Krim stepped down in 2008 to start Jolicloud), then started appealing to enterprises, brands, and advertisers with intranet offerings and social media dashboards. I chatted with Mini today, who says that the company is profitable on a net income basis. MobPartner lève 2,5 millions d'euros auprès d'Alven Capital et Newfund. CURIOOS bouscule et actualise les codes de l'art. Quel artiste sur son blog ou sur son portfolio n'a-t-il pas désiré rencontrer une audience, trouver des acquéreurs, imprimer son travail en haute définition pour enrichir les murs des collectionneurs ou des simples amateurs?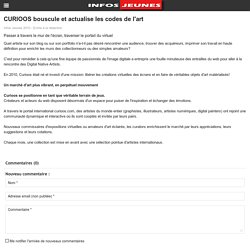 C'est pour remédier à cela qu'une fine équipe de passionnés de l'image digitale a entrepris une fouille minutieuse des entrailles du web pour aller à la rencontre des Digital Native Artists. En 2010, Curioos était né et investi d'une mission: libérer les créations virtuelles des écrans et en faire de véritables objets d'art matérialisés! Un marché d'art plus vibrant, en perpétuel mouvement.
123people acquired by PagesJaunes Groupe. [Austria/France] According to investir.fi and various other sources, the world's leading people search engine 123people, which strives from Austria, has been acquired by the leading french yellow pages company PagesJaunes.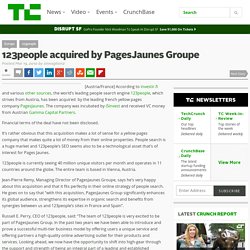 The company was incubated by i5invest and received VC money from Austrian Gamma Capital Partners. Financial terms of the deal have not been disclosed. It's rather obvious that this acquisition makes a lot of sense for a yellow pages company that makes quite a lot of money from their online properties. People search is a huge market and 123people's SEO seems also to be a technological asset that's of interest for Pages Jaunes.
New French startup fund launches with €24 million. In previous years it's fair to say that France has not exactly been a hotbed of entrepreneurship, despite actually coming up with the word entrepreneur.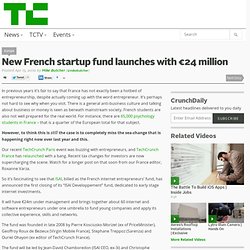 It's perhaps not hard to see why when you visit. There is a general anti-business culture and talking about business or money is seen as beneath mainstream society. French students are also not well prepared for the real world. For instance, there are 65,000 psychology students in France – that is a quarter of the European total for that subject.
However, to think this is still the case is to completely miss the sea-change that is happening right now over last year and this. LeNewz – a realtime coverflow-style iPhone news reader. LeNewz, developed by Paris-based Triviumsoft, offers a more visual way of browsing news on the iPhone.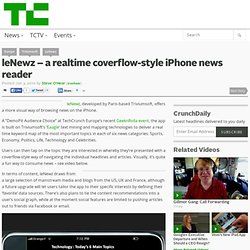 A "DemoPit Audience Choice" at TechCrunch Europe's recent GeeknRolla event, the app is built on Triviumsoft's 'Eaagle' text mining and mapping technologies to deliver a real time keyword map of the most important topics in each of six news categories: Sports, Economy, Politics, Life, Technology and Celebrities. Users can then tap on the topic they are interested in whereby they're presented with a coverflow-style way of navigating the individual headlines and articles.
Visually, it's quite a fun way to consume news – see video below. Private travel club VoyagePrive.com launches in US. [France/US] The #3 online travel boutique in France, VoyagePrivé, has just announced its launch in the US. The company has been expanding internationally for the last year, with offices in Spain, Italy and the UK in addition to their Aix-en-Provence headquarters. Founded in 2004 by some of the former management team from Lastminute France and Orange, VoyagePrive has become the leading invitation-only travel site with over 4 million members. Their users benefit from reductions of 30-60% on exclusive luxury travel deals and packages, which the company guarantees to be at the lowest price at the time of purchase – otherwise users are reimbursed the difference.
---