Chuck Palahniuk
Chuck Palahniuk
Chuck Palahniuk
Chuck Palahniuk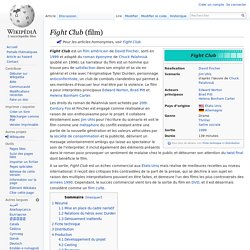 Fight Club Wikipédia
Un article de Wikipédia, l'encyclopédie libre. Fight Club est un film américain de David Fincher, sorti en 1999 et adapté du roman éponyme de Chuck Palahniuk (publié en 1996). Le narrateur du film est un homme qui trouve peu de satisfaction dans son emploi et sa vie en général et crée avec l'énigmatique Tyler Durden, personnage anticonformiste, un club de combats clandestins qui permet à ses membres d'évacuer leur mal-être par la violence.
YouTube - fight club movie trailer
Fight Club
Choke
Choke
Edit Storyline Sex addict and colonial theme park worker, Victor Mancini, has devised a complicated scam to pay for his mom's hospital bills while she suffers from an Alzheimer's disease that hides the truth about his childhood. He pretends to choke on food in a restaurant and the person who "saves" him will feel responsible for Victor for the rest of their lives. Written by Anonymous

Criticism
Janet Maslin, New York Times: In his tireless pursuit of the outrageous, the author of ''Fight Club'' has written a novel about a murderous song. Chuck Palahniuk's impressively febrile imagination now yields ''Lullaby,'' the story of a sweet-sounding weapon of mass destruction. Given Mr.
about lullaby