Chuck Palahniuk
Chuck Palahniuk
Chuck Palahniuk
Chuck Palahniuk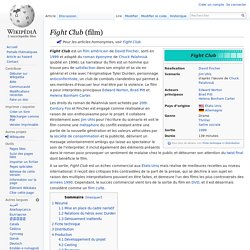 Fight Club Wikipédia
Un article de Wikipédia, l'encyclopédie libre. Les droits du roman de Palahniuk sont achetés par 20th Century Fox et Fincher est engagé comme réalisateur en raison de son enthousiasme pour le projet. Il collabore étroitement avec Jim Uhls pour l'écriture du scénario et voit le film comme une métaphore du conflit existant entre une partie de la nouvelle génération et les valeurs véhiculées par la société de consommation et la publicité, délivrant un message volontairement ambigu qui laisse au spectateur le soin de l'interpréter.
YouTube - fight club movie trailer
Fight Club
Choke
Choke
Criticism
Janet Maslin, New York Times: In his tireless pursuit of the outrageous, the author of ''Fight Club'' has written a novel about a murderous song. Chuck Palahniuk's impressively febrile imagination now yields ''Lullaby,'' the story of a sweet-sounding weapon of mass destruction. Given Mr.
about lullaby