Beer
Beer is an alcoholic beverage produced by the saccharification of starch and fermentation of the resulting sugar. The starch and saccharification enzymes are often derived from malted cereal grains, most commonly malted barley and malted wheat. [ 1 ] Most beer is also flavoured with hops , which add bitterness and act as a natural preservative , though other flavourings such as herbs or fruit may occasionally be included. The preparation of beer is called brewing . Beer is the world's most widely consumed [ 2 ] alcoholic beverage ; it is the third-most popular drink overall, after water and tea . [ 3 ] It is thought by some to be the oldest fermented beverage. [ 4 ] [ 5 ] [ 6 ] [ 7 ]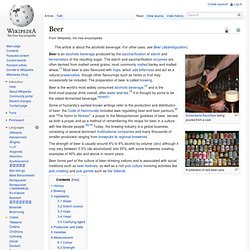 Beer
Un article de Wikipédia, l'encyclopédie libre. La bière est une boisson alcoolisée obtenue par fermentation , fabriquée à partir d' eau , de malt ( céréale germée, principalement de l' orge , parfois additionné d'autres céréales) et depuis le Moyen Âge , de houblon . Plus généralement, il s'agit d'une boisson alcoolisée obtenue par transformation de matières amylacées par voies enzymatiques et microbiologiques [ 1 ] . Remontant à l' Antiquité (la fabrication de bière sikaru est attestée à Sumer au IV e millénaire av. J.-C. ), elle est l'une des boissons les plus populaires à travers le monde .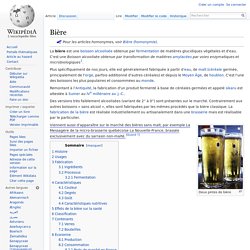 Bière
RealBeer
Biere - Tout sur la biere et les brasseries
Liste des marques de bières
Guinness
Welcome to Stella Artois
Foster's Group Home
Carlsberg.com - Probably the Best Website in the World
Beer Makes Women Beautiful
Beer goggles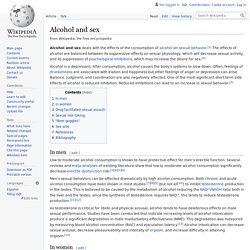 Alcohol consumption has a number of effects on sexual intercourse and sexual behavior . [ 1 ] The effects of alcohol are balanced between its suppressive effects on sexual physiology, which will decrease sexual activity, and its suppression of psychological inhibitions, which will increase the desire for sex. [ 2 ] Alcohol is a depressant. After consumption, alcohol causes the body's systems to slow down. Often, feelings of drunkenness are associated with elation and happiness but other feelings of anger or depression can arise.
YouTube - Cool Funny Turtle Commercial - Brahma Beer (Brazil)