Desserts
German Brownie Torte. Three Safe-to-Eat Cookie Doughs: Chocolate Chip, Sugar, and Cake Batter! I'm siiiiick.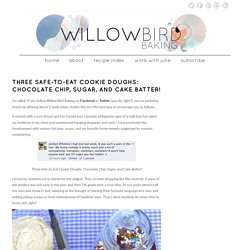 If you follow Willow Bird Baking on Facebook or Twitter (you do, right?) , you've probably heard me whining about it lately (okay, maybe this isn't the best way to encourage you to follow). Monkey Bread with Bourbon Crème Anglaise. It didn't totally blow up my radar, however, until only a few weeks ago.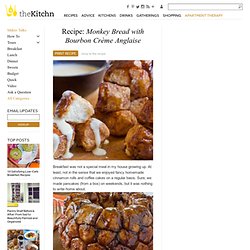 I was celebrating a bachelorette with some of my favorite girlfriends at a too-cool-for-school Atlanta restaurant. We had already overindulged in one too many courses of food, but our waiter gently encouraged us to order the sampler platter of desserts. Never one to say no to sweets, I caved against my (stomach's) better judgement.
I couldn't begin to tell you what else was on that giant tray of desserts. It was the monkey bread that took it all home for the gold. Cranberry Orange Trifle with Candied Walnuts. Buttermilk Pound Cake, Cranberries, Candied Walnuts, Orange Mascarpone Cream Here is a holiday trifle that I couldn't wait for Christmas to make.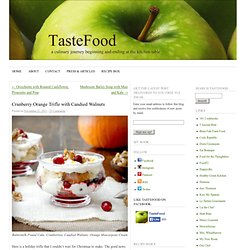 The good news is that it's perfect for Thanksgiving, too. This sumptuous dessert is sweet, tart, crunchy and creamy at once. Buttermilk poundcake is blanketed with layers of cranberry compote, orange infused mascarpone whipped cream and candied walnuts. (Do you see why I couldn't wait?) Churros con Chocolate. In Madrid, there is one dessert place that is a must-visit destination.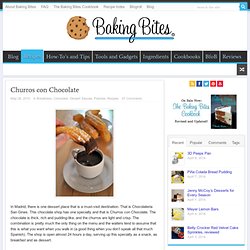 That is Chocolateria San Gines. This chocolate shop has one specialty and that is Churros con Chocolate. The chocolate is thick, rich and pudding-like, and the churros are light and crisp. The combination is pretty much the only thing on the menu and the waiters tend to assume that this is what you want when you walk in (a good thing when you don't speak all that much Spanish). The shop is open almost 24 hours a day, serving up this specialty as a snack, as breakfast and as dessert.
Ultimate Chocolate Chip Cookie n' Oreo Fudge Brownie Bar. On Wednesday, I wondered what would happen if you combined Oreo Stuffed Chocolate Chip Cookies with Oreo Stuffed Brownies.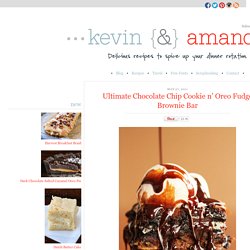 On Thursday I found out. And on Friday… Vanilla Bean-Coconut Cupcakes with Coconut Lime Frosting | FoodBabbles. There's only one way to put this… When cupcakes enter our house, they just don't stand a chance.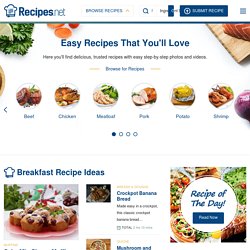 If you want to have more than one, you better get while the gettin's good because Mike is a huge fan of cupcakes. Generally, he likes to keep things simple. A good chocolate cake topped with vanilla frosting is the way he likes his cupcakes. Nothing fancy and he's happy as can be. Coca-Cola Cupcakes - StumbleUpon. I don't drink coca-cola.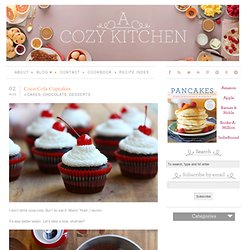 But I do eat it. Weird. Yeah, I dunno. Dippin' Dots Banana Split Ice Cream Recipe. Red Velvet Cheesecake Brownies | Sweet Pea's Kitchen - StumbleUpon. Red Velvet Cheesecake Brownies These Red Velvet Cheesecake Brownies are rich, decadent and so perfect for Valentine's Day!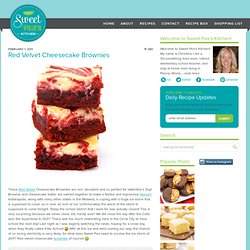 Brownie and cheesecake batter are swirled together to make a festive and impressive dessert. Indianapolis, along with many other states in the Midwest, is coping with a huge ice storm that is supposed to cover us in over an inch of ice. Molten Lava Chocolate Chip Cookie. Need I say more?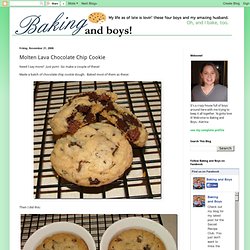 Just yum! Go make a couple of these! Made a batch of chocolate chip cookie dough. Baked most of them as these: Then I did this: Oatmeal Chocolate Chip Cookies.
---